Welcome! I hope you had a wonderful weekend! Today's post is a little different than the usual DIY or craft project. I'm showing you some "behind the scenes" images of some blog posts of mine from creating to staging. I've joined up with 5 other brave souled bloggers; each showing you and me their take on what "behind the scenes" means to them. I'm super excited to see how everyone approaches it.
What I've felt since the beginning of this blog almost a year ago is that I never wanted to give the impression that everything is perfect and in it's rightful place in my home. It is none of those and I'm not too sure I kept that frame of mind. Aiming for perfection can really take the fun out of things. I'm really happy and a bit relieved to show you some past projects and what things were going on outside of the cropped edges. What you didn't see and I guess what I didn't want to show.

The first picture you'll see is of the final staged image. The following picture(s) will involve what I saw and what my thoughts are now or were at the time.
What you saw of the Recovered Chair Using A Skirt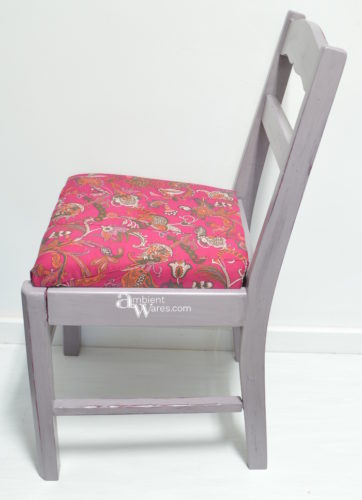 I saw this so I had to crop it out in my photo editing software.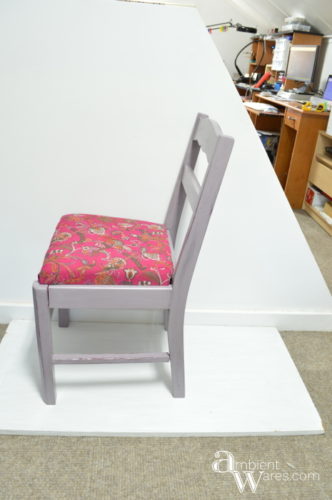 What you saw of the Sewing Table Turned Beverage Station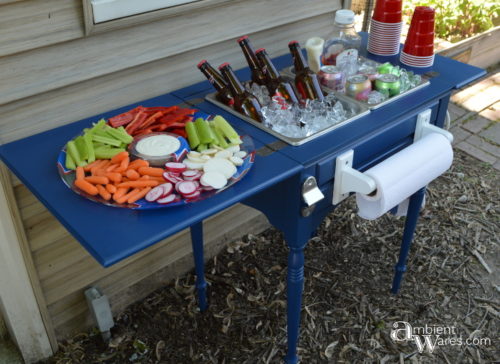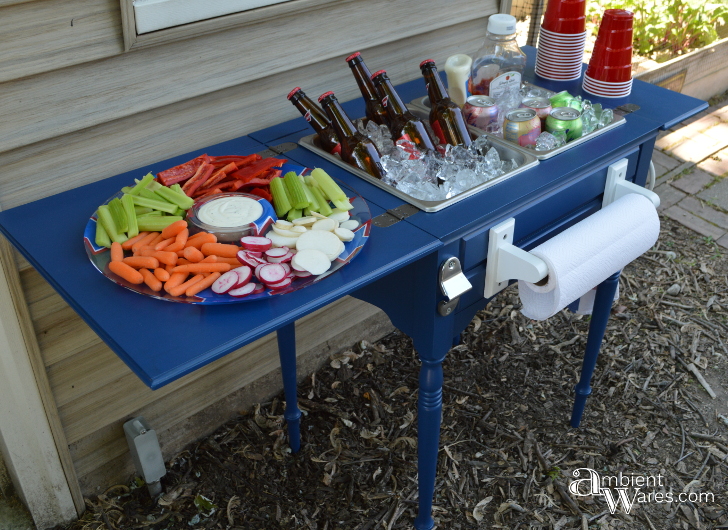 I saw a dog that could care less what I was trying to do. Happens all the time and he's definitely got me trained instead of the other way around.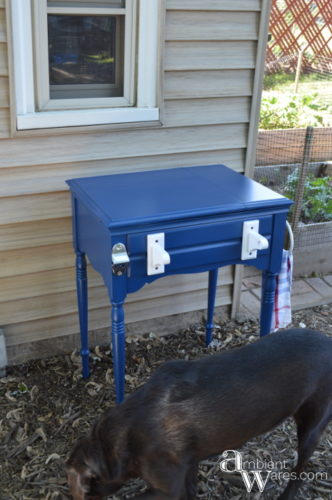 I also saw extremely dirty siding that I didn't bother cleaning. I debated and thought no one would notice it.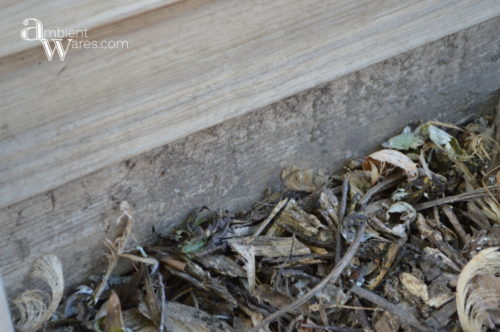 Here's what you saw of the Mid Century Record Holder I painted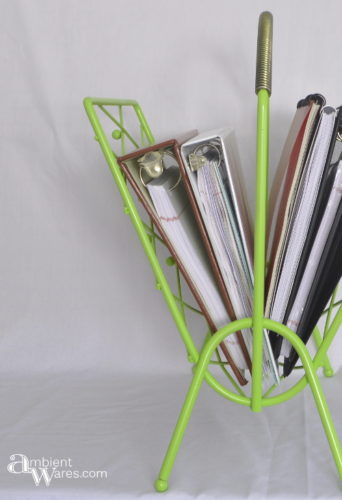 And here's all the junk cropped out.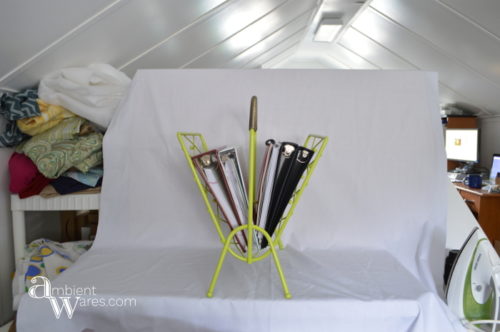 Also, if you look closely, you'll see the top image is more green than the one below it. That's because I had to tweak it to look more like what the paint looked like. Sometimes certain colors just refuse to show up correctly. It's also hard because each screen seems to render a different color.
Below, I moved the table over to another wall thinking I'd get a different look as far as lighting. Which I didn't. You'll notice the same color change. To me, on my monitors, the top image shows the color more in line with what it actually is.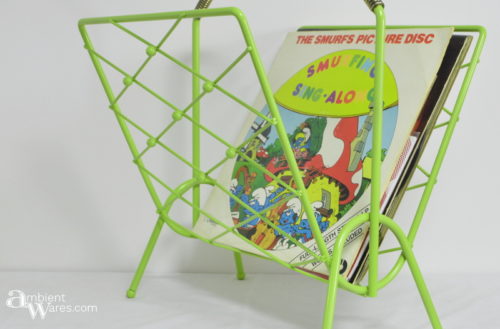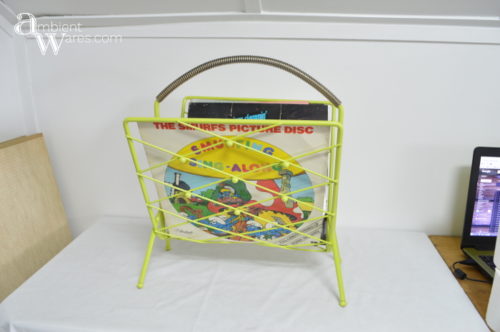 I had the hardest time staging the 2 bistro chairs. Sometimes, I just can't see how something should look along with making it look natural. This is what you saw which still isn't great.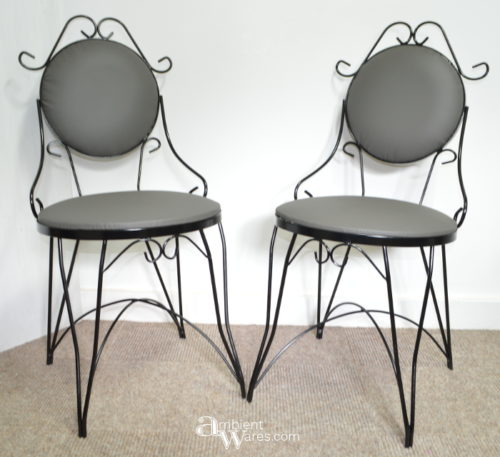 Yeah, let's just stick some weird things in between and it'll be all good, right?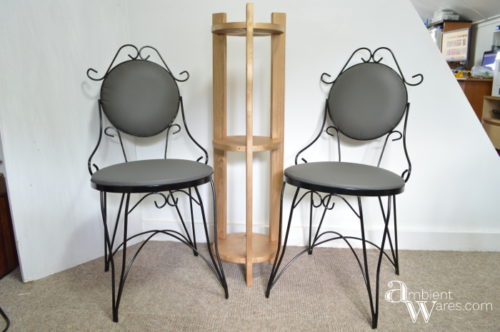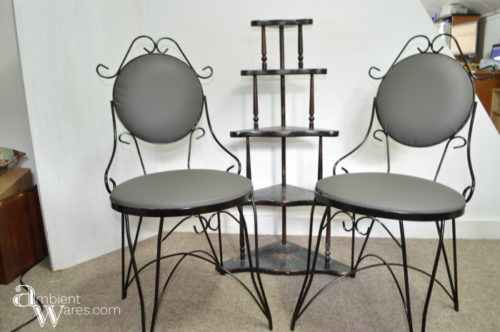 Oh, I'm not done, let's try a 3rd item. Anyone care to sit in front of a warm fire on 2 ice cream chairs? Oooh, me! Me! Cause that's a heavy duty firewood holder.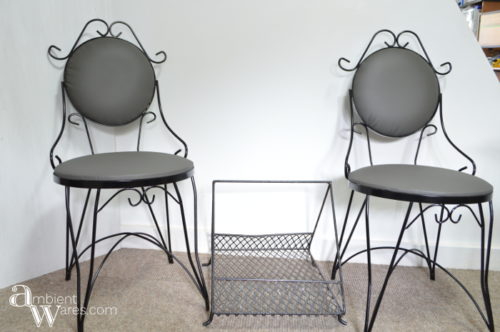 This is the final image you saw of the Refurbished Chair with Added Storage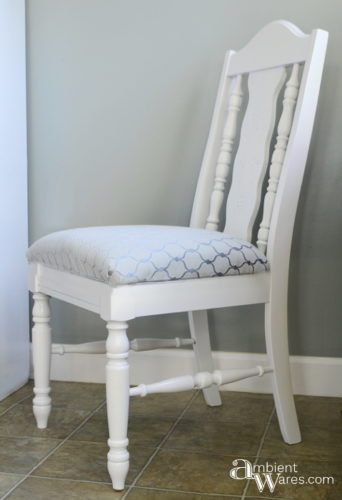 This is what was all around it. This room holds our freezer, some plants, shoes, and there's a 5 shelf bookcase holding ALL of the items we had down at our booth that we've since closed 🙁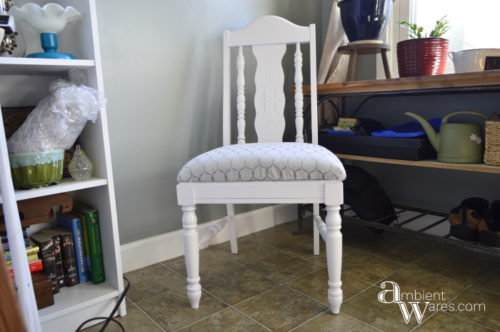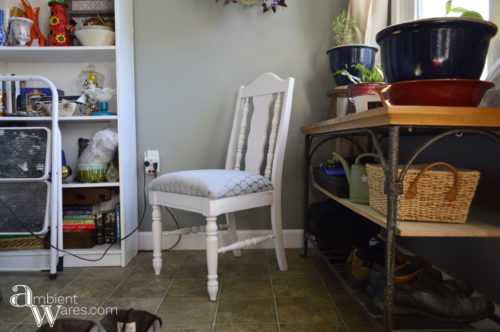 Our house is on the smaller side. In the image below, I'm in the dining room, looking into the living room. I set up the camera on the dining room table. Can you see the tripod and my red sweatered arm taking this pic in the big mirror? You get bonus points if you "spot" the stains on the carpet.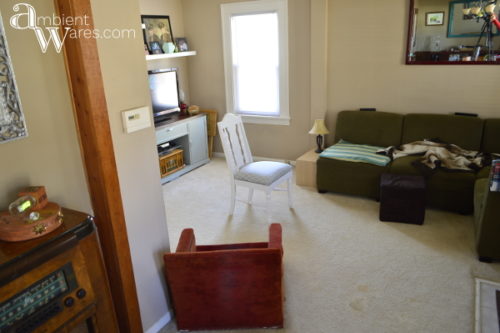 Here's the Foot Stool Turned Basket. This pothos plant makes a lot of appearances in recent days. I just love it because I've had it for years.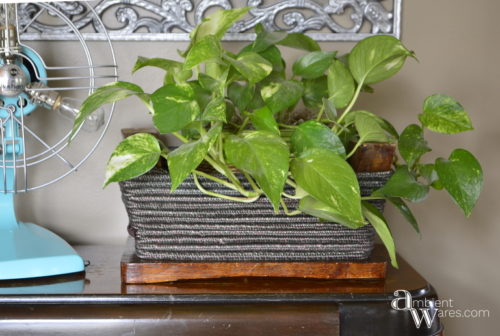 This is one of the many pictures I took. It's pretty dark and not focused. I couldn't crop it and still make it look good. I was too far away. I really just tend to move stuff around until one works. This goes back to me not being able to envision what would make it look natural.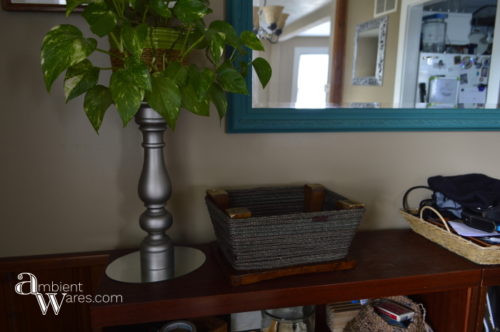 Here's my simple painted mirror project. See, there's the plant again.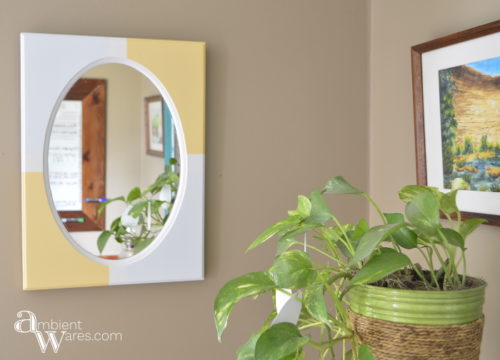 This "behind the scenes" photo was taken using my smart phone which is older and doesn't take good photos at all if you can't tell. It would be so much easier at times if I could just quickly snap a photo with my phone and post directly to social media but, it just wouldn't look good or detailed at all. No amount of tweaking the settings is going to make it look better.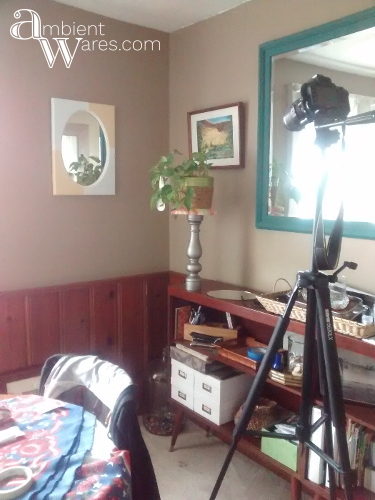 This is the recent Spring basket I made. I spy a pothos!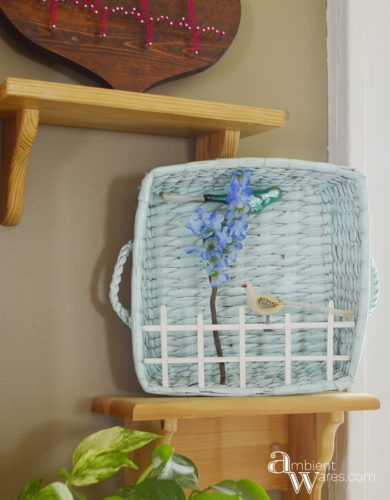 We have a craft/office space in our attic to work in as you saw in some of the earlier pictures but, I sometimes work at the dining room table until I need a change of scenery and move back upstairs.
So, this is what it looked like when I was gluing and arranging the basket.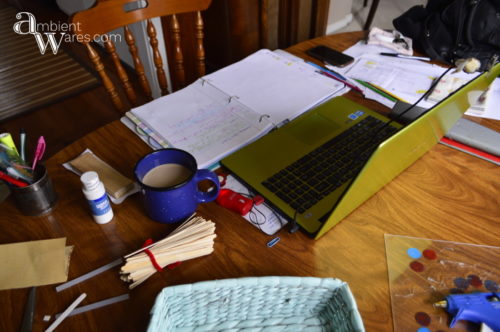 This is me moving things to the table as I was trying to stage the basket on the shelves.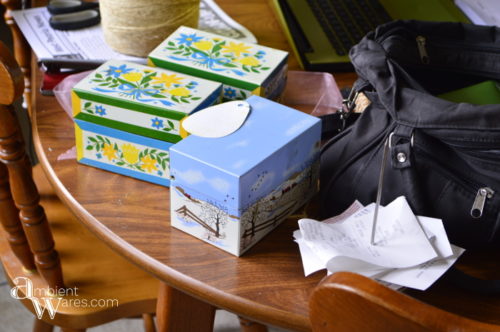 I figure I'll just show you our entire house. Yikes. Lucky for you it isn't huge 😉 I didn't worry about lighting and you'll see clutter and messes. I've said it before, it's a balancing act between getting my creativity out and maintaining an uncluttered, non messy space. Both of which effect my mood. I believe the answer is having a very, very large garage sale this year. The attic is the messiest since we do spend most of our time here.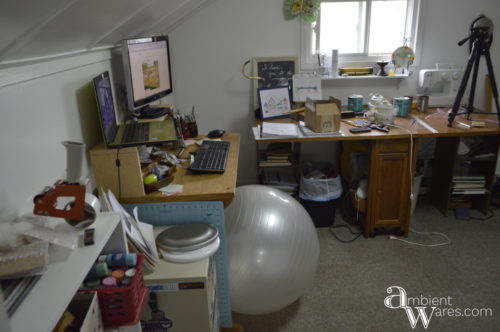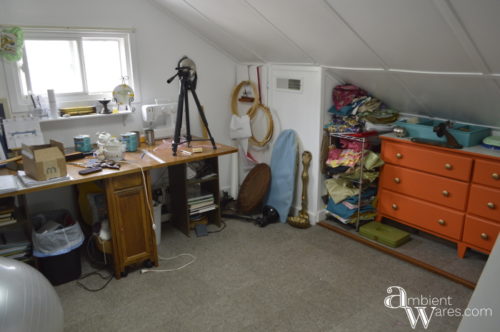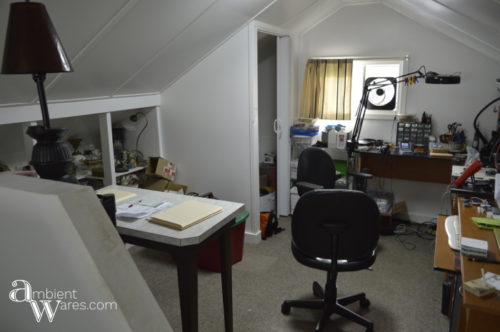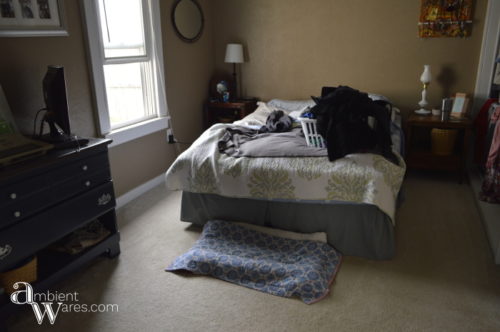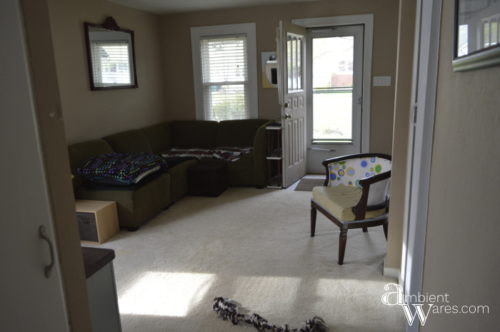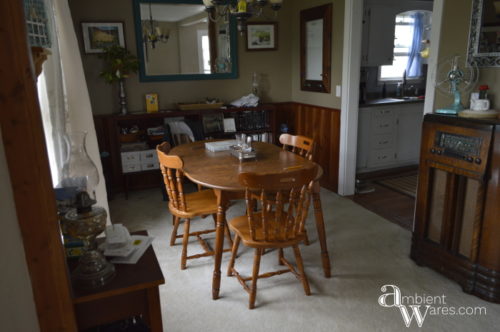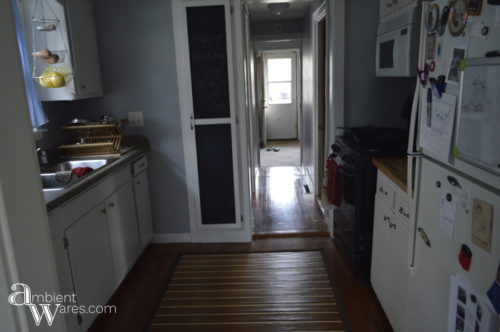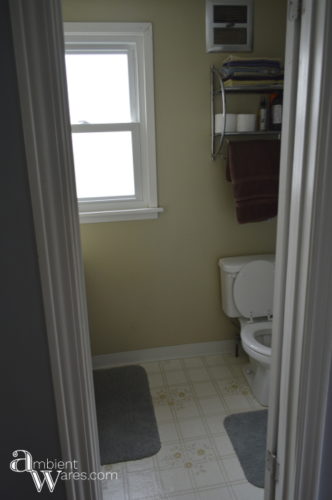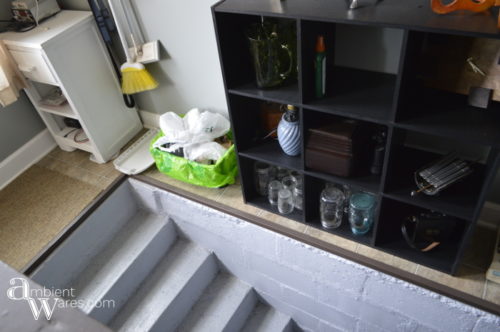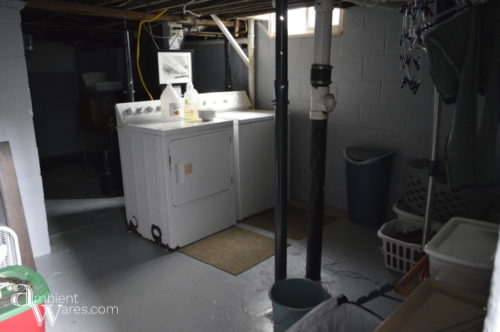 Well, I don't know if this was interesting, fun, boring or just disturbing. I love my home but, it's nothing fancy. Is a behind the scenes look something you would like to see more of in bloggers' posts or do you just want to get to the final pictures?
Now, you and I should really head on over to all the blog hop participants. I'm just as curious as you!
Click image below to PIN!