This chair makeover started last year and I honestly don't remember why I stopped it. My guess is my tendency to scoot onto some other project idea entirely. As per usual, I picked it up at the thrift store because it was green sticker day which meant it was only $.50. You know I'm a hound for whatever color means 50 cents. It was calling for a makeover which is all I knew at that point.
I tend to miss most imperfections when buying furniture pieces which is horrible if I'm looking for a quick turnaround. So, when I come across something for a steal, it usually means there are multiple things wrong with it.

I'm also OK with fixing things because I learn a lot each and every time. I did notice one little finial missing, the seat cushion was stained up pretty good, and flattened in a way almost like it was spilling over the frame. What I didn't see was a big gouge missing from the back piece.
Please know this post includes some affiliate links. If you click on a link and make a purchase, I receive a small commission with no extra cost to you. Thank you. Click here for my full disclosure.
DIY Chair with Added Storage Under the Seat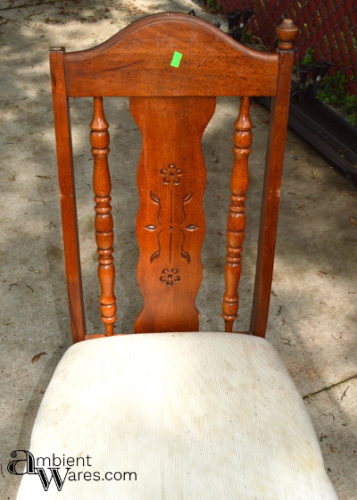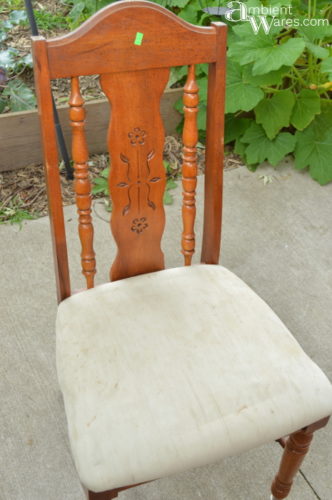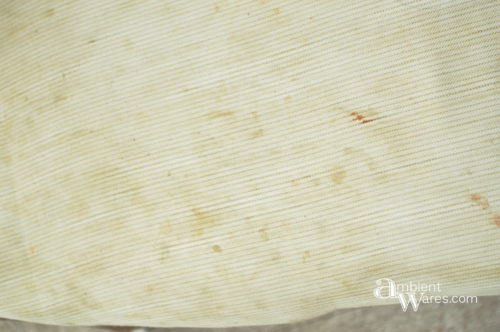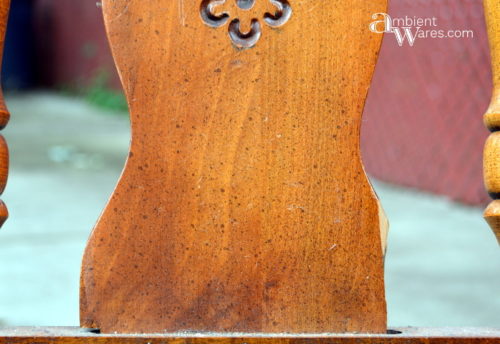 All I really want to know is, was it really worth $7.00? I know it isn't a ridiculous amount of money but, c'mon now. I guess that's why no one scooped it up, huh?
I removed the finial by sneezing on it. Removing the seat first, I flipped it over to tackle the broken piece.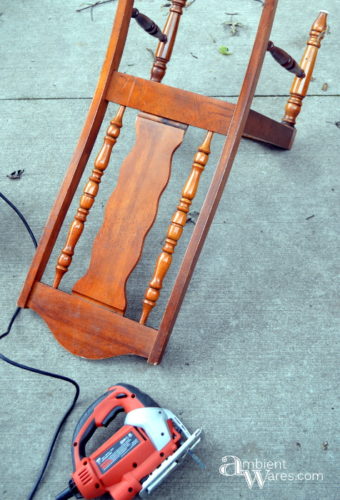 With the
jigsaw
, I sliced down both the broken side and the OK side to make them even with each other.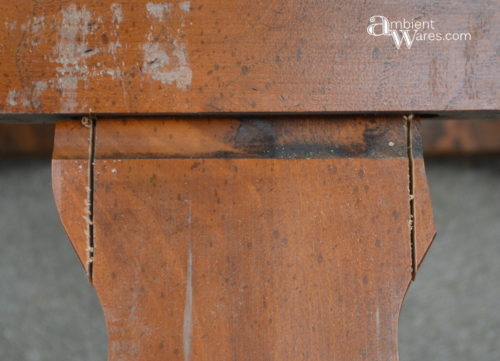 Removing those pieces left gaps that I filled with wood filler, let dry, and sanded down with the palm sander. At that point I sanded the entire chair alternating between palm sander, hand sanding, and using a sanding pad. I also made sure to add a little curve back to the 2 sides I'd jigsawed.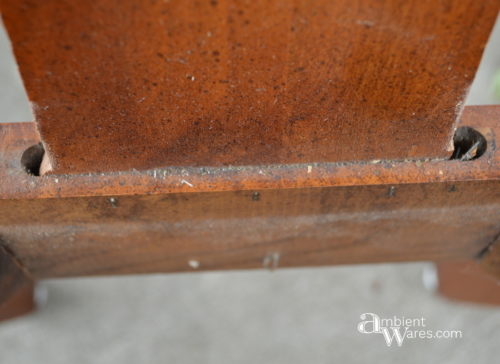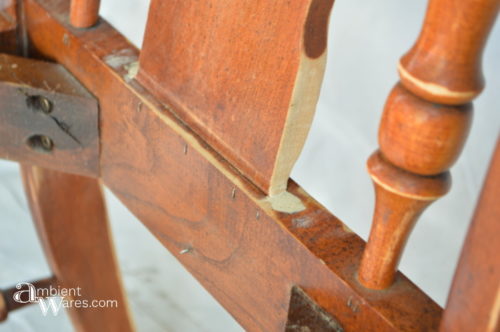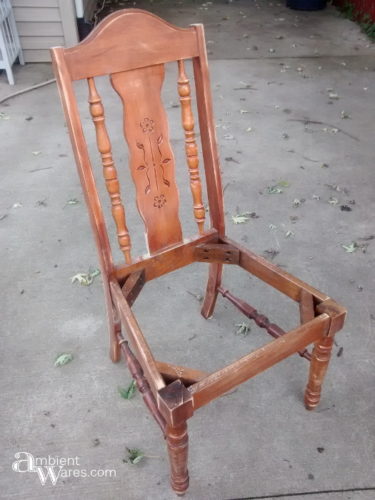 Last year, I used the paint sprayer and got a couple coats of primer on it. Paint did bleed through so when I started working on it again this year, I went the canned spray paint route. First I used primer then semi gloss. Covers entirely with no problems just like with the tube TV. It was nice enough weather to get some projects done and I wanted as quick of a process as I could get before it got back down to normal, cold temps.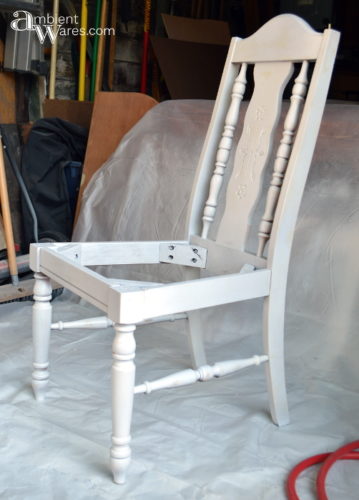 You can see the bleed through before I spray painted.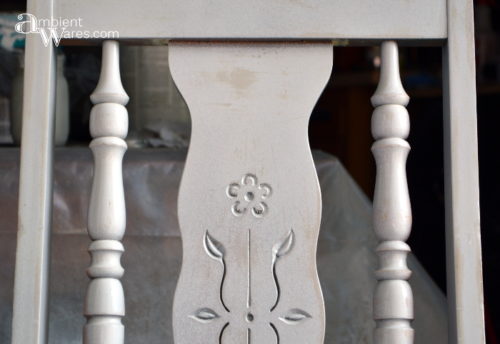 I didn't get a picture of the original wooden seat after removing the fabric but, here's how the new one looked after I'd traced it and cut it out with the jigsaw. I'm wondering if someone had redone the seat before and that would explain why the cushion looked like it was spilling over? I knew it was too big but, I really just wanted to make sure.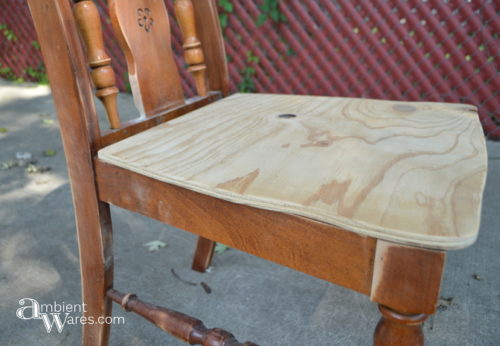 Now that the piece was manageable, I drew in pencil underneath to get it more in line with the chair's frame and cut.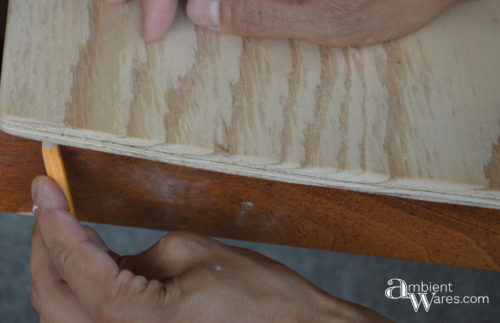 I kept the foam as it didn't show any signs of stains or disintegration and it didn't have a funky smell. I did trim it though since my new seat was smaller.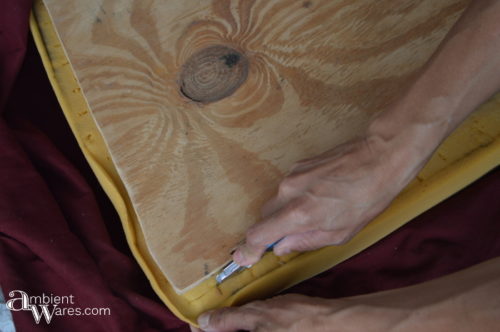 For covering the cushion, I followed this video and it's the best video I've seen on recovering a cushion and the result is the best seat cushion I've ever recovered!
The seat isn't attached here, I was just checking it out. I also got this unbelievably gorgeous and shimmery fabric at the thrift store. Lots of it.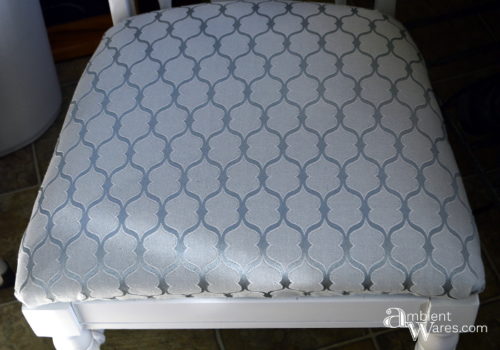 Now, the other side of the seat made me smile more than the top. Since the chair will have storage, I wanted the underside to be just as pretty as the top. I even lined up the design along the front. It wasn't necessary but, sometimes I get an idea and have to go with.
All I did was trace out the seat onto another piece of fabric. Starting in a corner, I folded it under for a clean line, stapled, and repeated all the way around. We have this stapler and I love it. Although, I believe it may be cheaper if you happen to have a Harbor Freight by you. I also wrote a bit about how it doesn't have safety when I posted about this chair I recovered.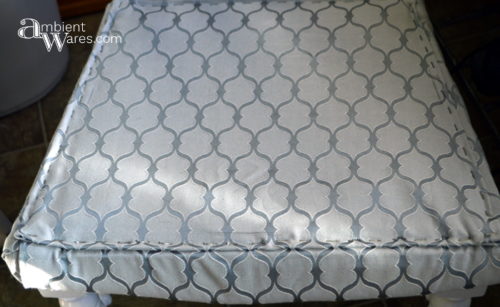 In order to figure out the shelf's measurements, I measured the underside of the chair at it's widest points which would hopefully ensure it wouldn't be too small. I can always take away and obviously can't add if I take out too much.
The trickiest part was the fact it was tapered. It was longest along the front at 19″ tapering back to 14 3/4″ wide at the back.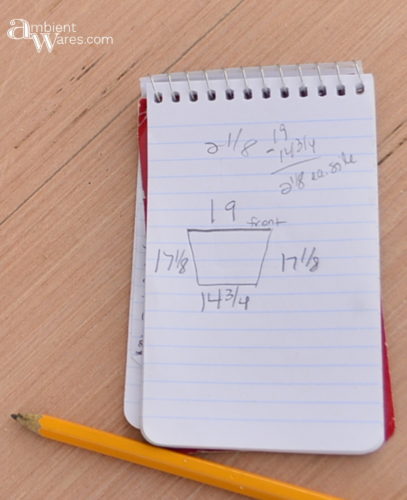 I first cut out a 3/16″ piece of scrap along the 19″ lines and 17 1/8″ lines. I'd cut along the yellow line after I held it up to the chair just to make sure I was thinking correctly with the measurements.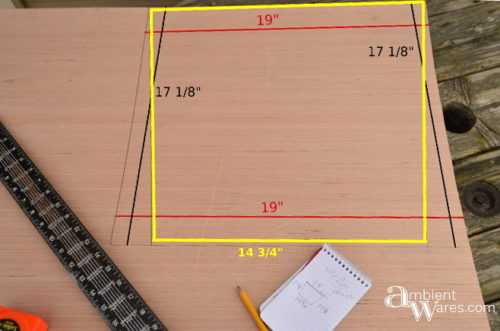 Hmm, too big. At least it was near the right size and I could get a better look for how to proceed. Until I get the piece to the size I need, I won't be able to fit it underneath which is where it'll be attached.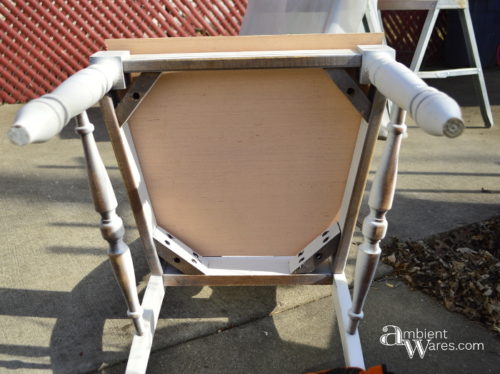 Originally I thought I would attach this shelf piece to the bottom edges of the frame but, changed my mind to instead attach it to the 4 diagonal pieces on the bottom and since the seat won't be screwed down permanently, it wasn't a big deal to cover up the screw holes in the middle of those diagonals. From underneath, I sloppily traced onto the wood, along the angles from all 4 corners.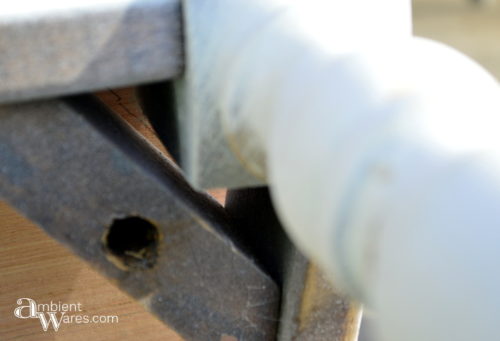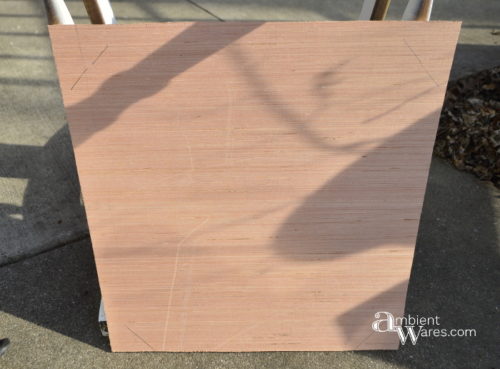 Almost there. I'll trim it a bit more until it rests within the chair's frame.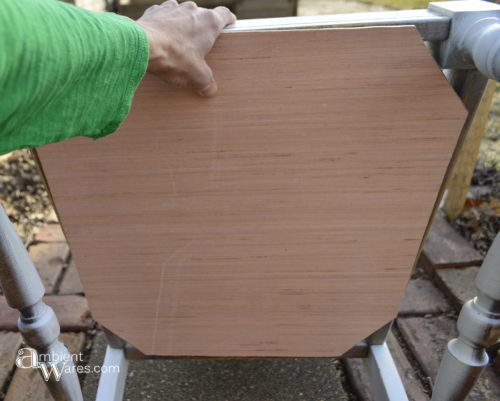 I spray painted the bottom of the shelf piece just because. On the side that will show when the seat is lifted off, I'll mod podge the same fabric onto it.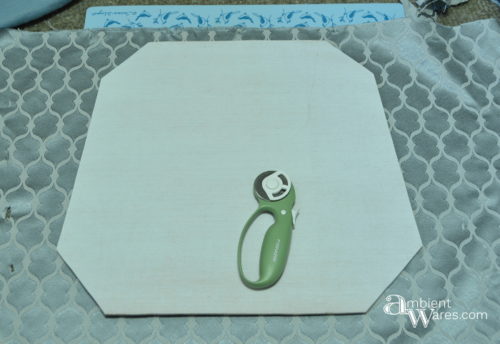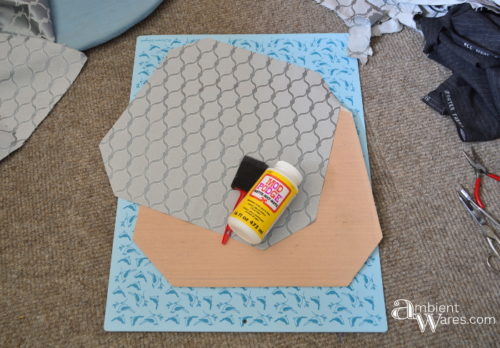 I found  after I'd glued the fabric down, I still needed to trim the wood. I sliced off some fabric and put it through the band saw. Do you see that little dark spot in the lower left corner below? That's a glob of mod podge I didn't catch before it had dried. I ended up mod podging the top and now it's all as dark as that spot.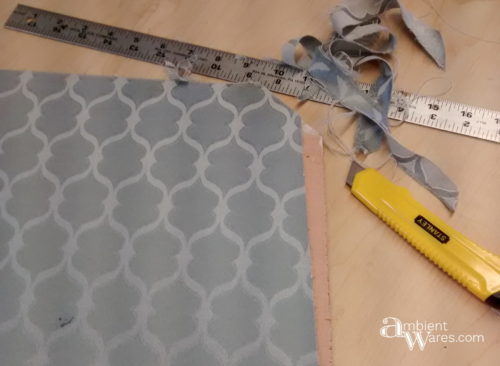 Drat, there's a gap in the back and a little in the front. I made some cording using the same fabric and hot glued around. This video shows you how to make cording even though it goes into more detail than what I needed for this project.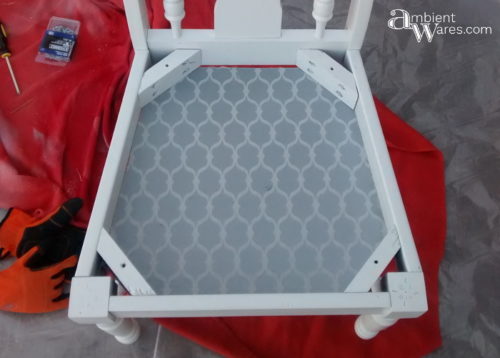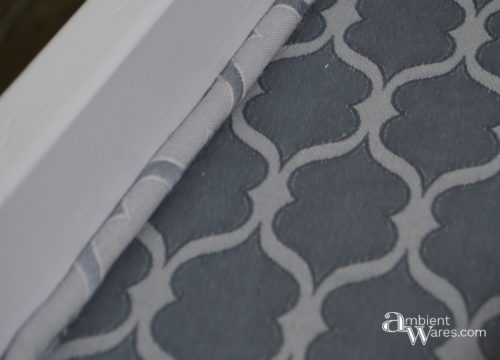 Since the chair seat will not be attached, I added some "stoppers" so that the seat wouldn't easily slide off which I really don't think it would have. I painted them white after I knew where they'd go.
This also gives me an excuse to show you our baby. He's 5 years old and scared of everything which is why I had to take a pic of him sitting so close to me while I was drilling. More importantly he's sleeping while I'm drilling!! You're witnessing something we rarely see.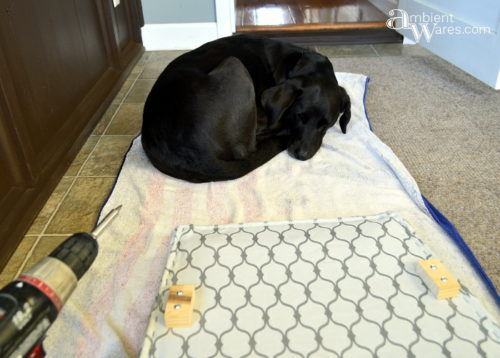 Once those were done, I sprayed the cushion with some Scotch Gaurd and that was it.
Alice in Wonderland was my favorite book when I was young and I still have it. It's been through a lot, covered in water damage and doodles. I think I would have loved to have a chair like this as a kid. A chair made especially for me. A chair with hidden storage almost like a sewing stool. What do you think of it?!