Don't you just sometimes want something to look good even if it doesn't function any better or differently than what you already use? I have a perfectly fine yet perfectly boring and clunky typical store bought plastic 1 inch binder. What drives me crazy is the fact that I can't bend the front cover all the way back. So, it lays on my tiny little desk top surface all sprawled out basically double the size of an 8 1/2″ x 11″ piece of paper. I have this idea that maybe, just maybe, if I make something that's little more "me" that'll it'll force me to get stuff done. Is that a silly way of thinking or what?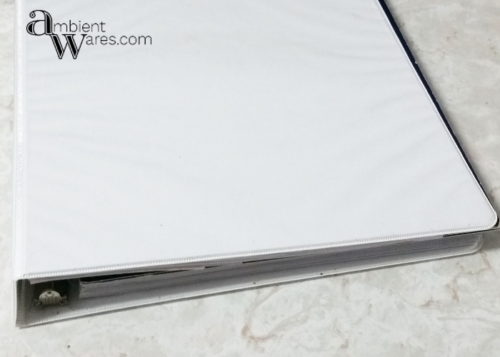 How to Make A Simple Wooden 3 Ring Binder
Please know some links in this post are affiliate links. If you click on a link and make a purchase, I may receive a small commission with no extra cost to you. Thank you. Click here for my full disclosure.
So, off to the store I went and begrudgingly bought a new piece of hobby/craft wood (I hate buying new). It's basically thin plywood but, has a sticker stating it's for craft and/or hobby use which doesn't include airplane construction. Ummm, OK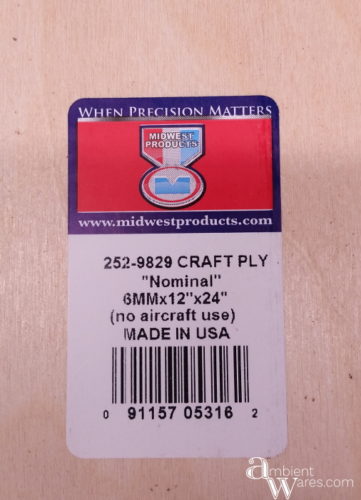 It measured 12″ x 24″ and cost $4.69. I measured my original white binder and came up with 11 1/2″ x 9 1/2″. I also wanted it to hold my file dividers. I measured out the binder size onto the wood, making sure the file folder fit. Then I cut it with the bandsaw.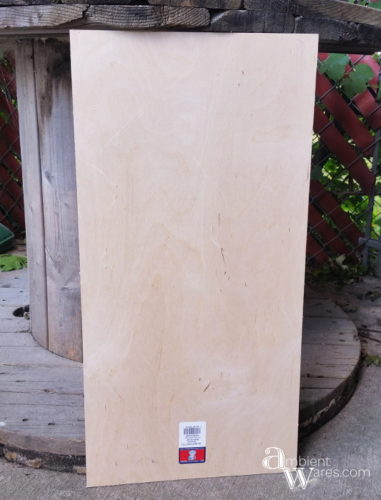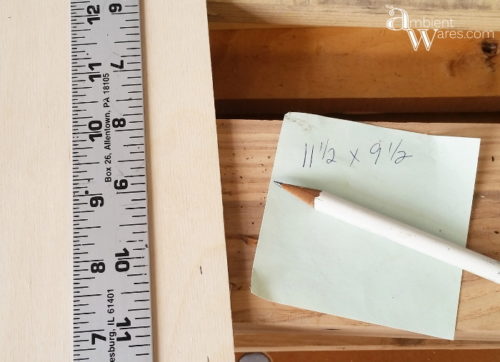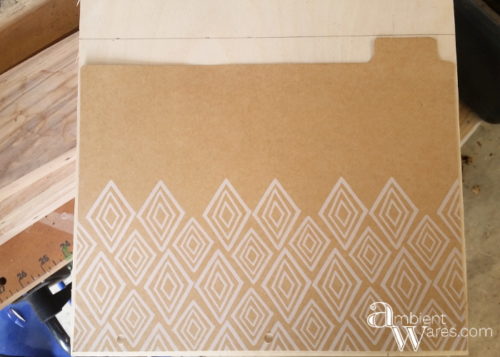 I then transfered the holes of the file folder onto the wood with pencil and drilled them out. First I used a 5/32″ bit then upped it to 5/16″ bit.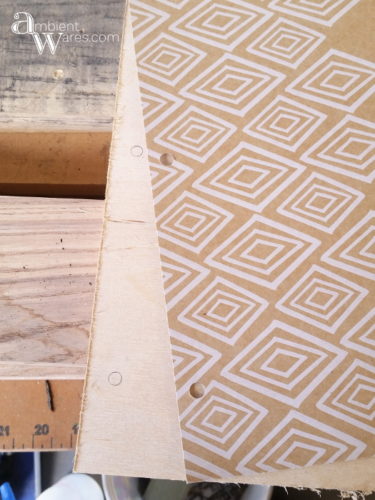 I really should have used 2 pieces of scrap and sandwiched the good wood in between by clamping. I would've traced the holes onto the top scrap piece and drilled through it, then the binder, and into the bottom scrap because it ended up splintering pretty good.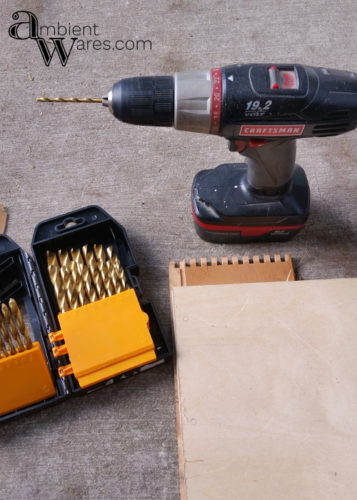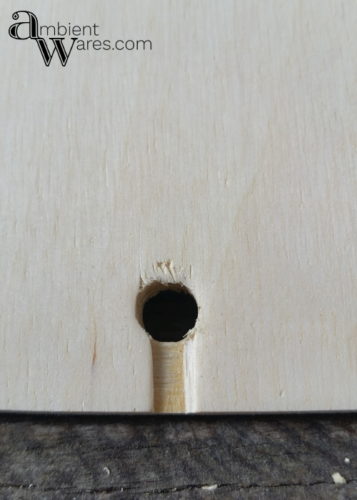 I sanded it down including the holes for the loose leaf rings with a thin file, similar to these.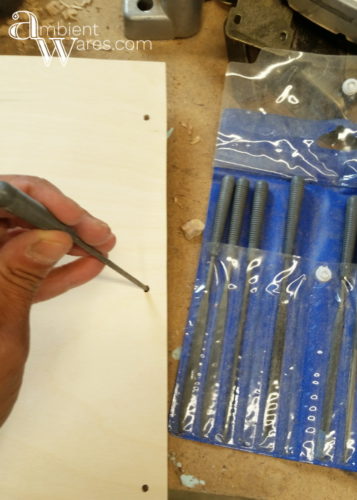 I first stained the wood in that classic gray that I love so much as you can see on this Cosco stool makeover as well as my mail organizer but, guess what, I didn't like it. I did like the designs on the file divider though and thought I'd just freehand them onto the front and back covers of the binder. I still didn't like the combo of the gray and the brown.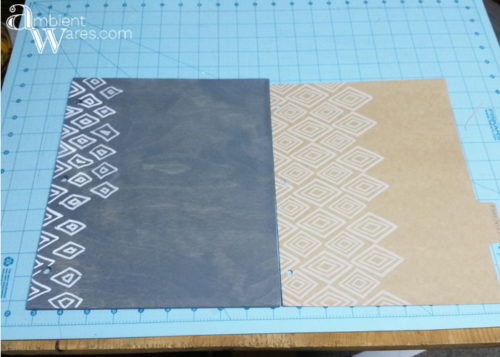 Then I had the bright idea of painting a poo brown color. Yes, that's all I could think about as I was smearing it (pun absolutely intended) all over.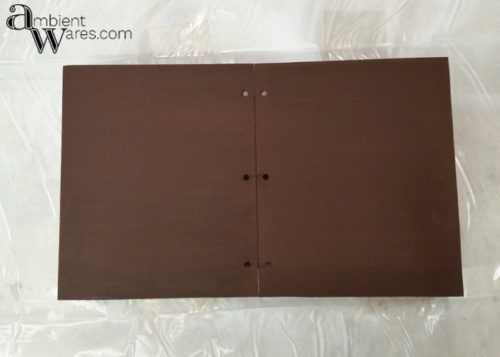 Then I moved onto a beautiful blue called Oasis Blue in satin. I got it on sale for $2.99. I'm wondering if it was being discontinued since that was the only color on sale that cheap. They had 2 cans left and I bought 'em out.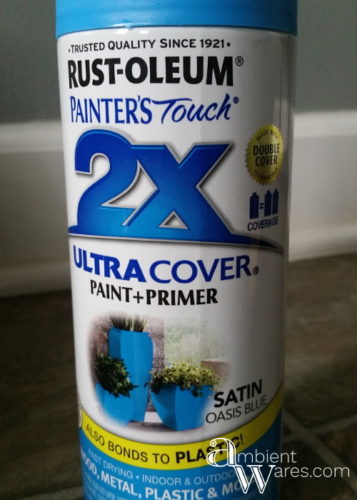 So yep, I spray painted them and still freehand drew the design using a white water based marker. It's kind of sloppy but, I certainly don't mind. By the way, I haven't yet sealed it but, I will use a spray sealer to protect the marker mostly.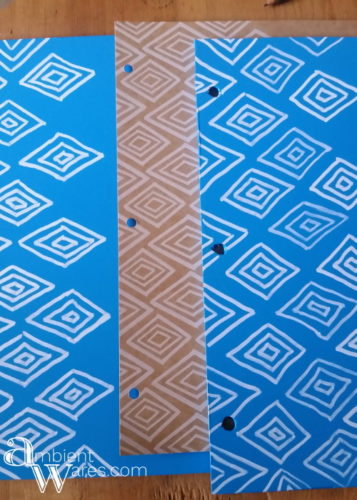 I used these loose leaf rings and filled up my new binder with all of my papers and the file dividers. I'm thinking I'll purchase 1 1/2″ rings because there's a bit more I'd like to add but, for now this works great and look, I can even fold the front binder cover all the way to the back! I will say, if you plan on taking things in and out repeatedly, I wouldn't go this route but, if it's more like a journal or for note taking, then definitely go with it.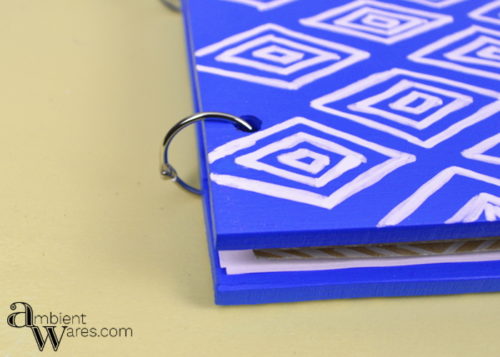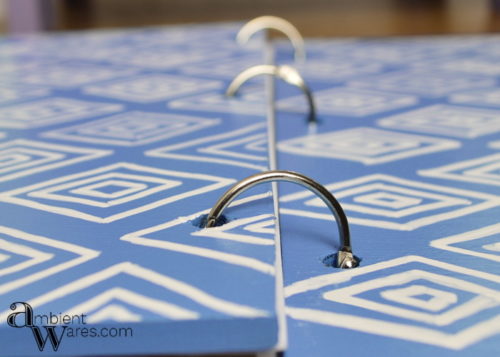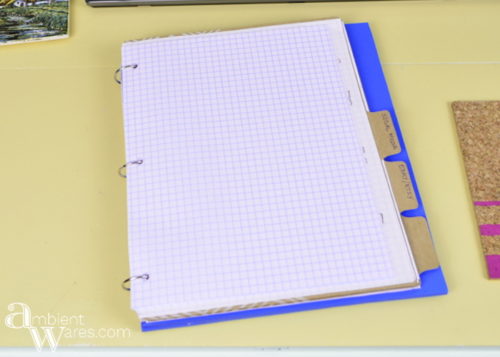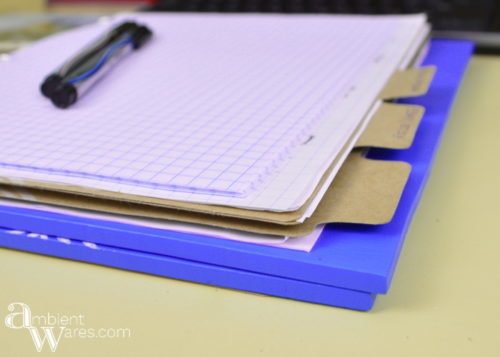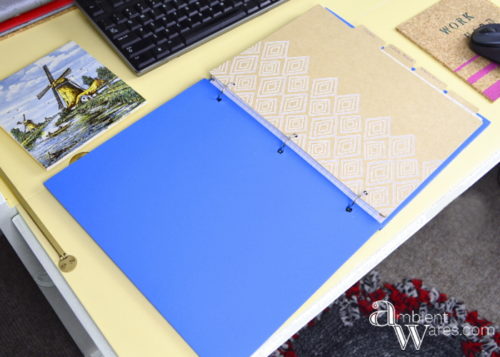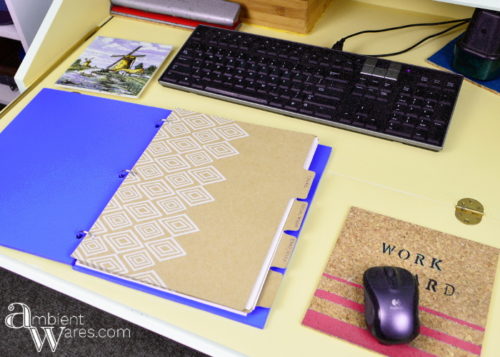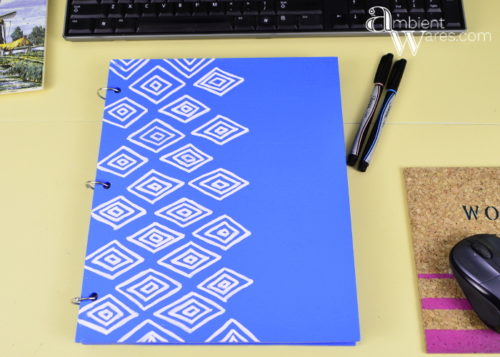 This is the secretary desk I refurbished. I like my monitor being directly in front of my eyes as opposed to looking down and these old secretaries weren't made with computers in mind, ya know? My laptop fits fine but, I need a keyboard and mouse hooked up so I can actually use it in this position. I love it regardless!
You can also see my newly refurbished letter/mail/envelope organizer I mentioned earlier off to the right.
So, do you think you'd ever make a binder to fit your style?