I found this old vintage Cosco stool at an estate sale and gave them a whopping 3 bucks for it. I actually tried to sell it at one point but, I guess no one was in the market for a beat up, horribly painted, dull stool. Lucky for me I kept it because I cannot be happier with this step stool makeover!
Vintage Cosco Step Stool Modern Farmhouse Styled Makeover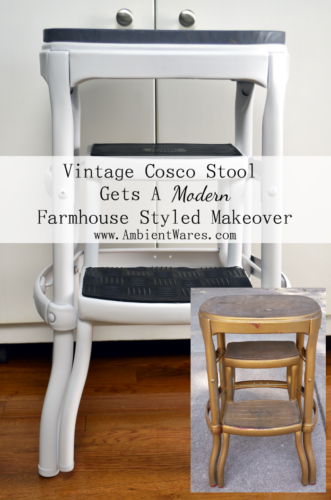 Please know some links in this post are affiliate links. If you click on a link and make a purchase, I may receive a small commission with no extra cost to you. Thank you. Click here for my full disclosure.
Searching on-line one day, I saw these modern farmhouse styled stools and the idea popped into my head to add a wooden piece to the top of my Cosco stool. This is when my blood really started to flow. I just had a feeling this was going to be one of my favorite furniture makeovers yet.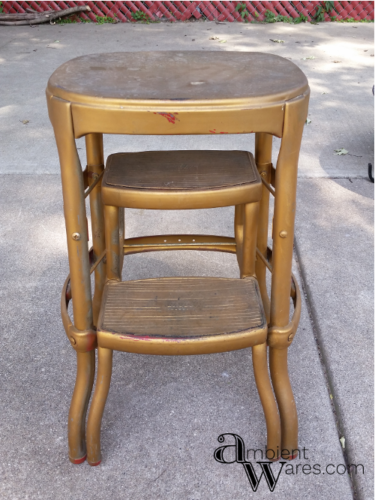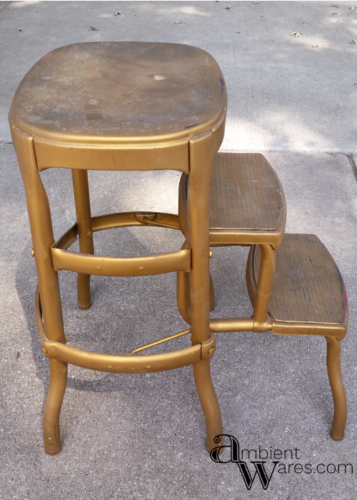 As I took out the stool to get some before shots, I got curious and started to pull up ever so slightly on the bottom Cosco rubber tread when SNAP! The corner popped right off. The rubber was so dry.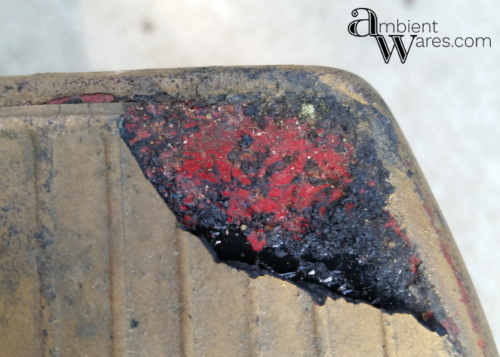 I debated on whether to take the stool apart which I didn't want to do but, I also wanted to start with as clean a slate as possible. The stool had drip marks all over it. Was nicked up and was painted gold over red.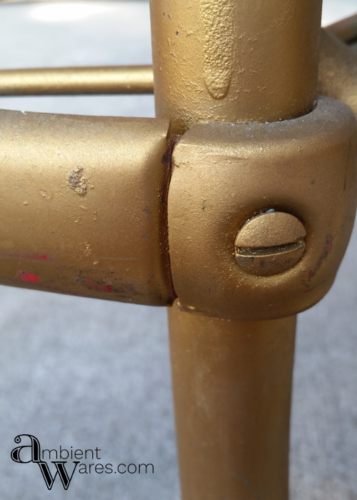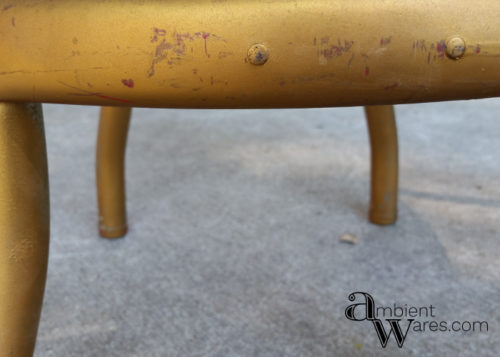 I began to dismantle the stool being sure to mark all of my pieces with masking tape just in case. The most important parts I found to mark were the step stool legs and the curved side pieces. I needed to remember which part faced upwards because it did determine if the stool would fluidly slide in and out. Can I just add I still put it together wrong and had to redo that part.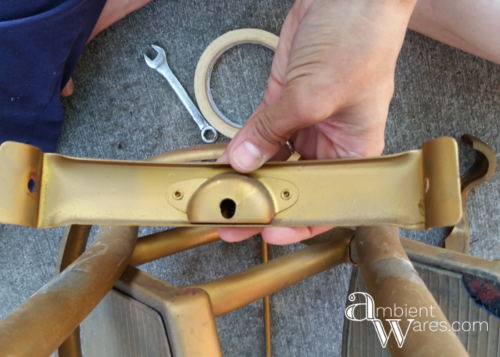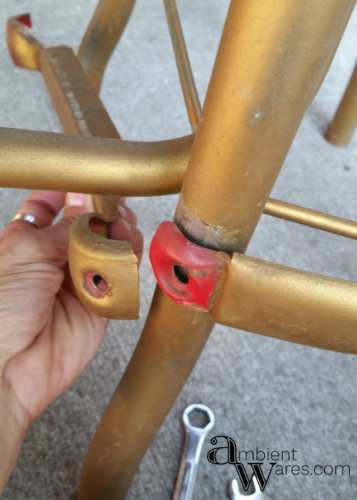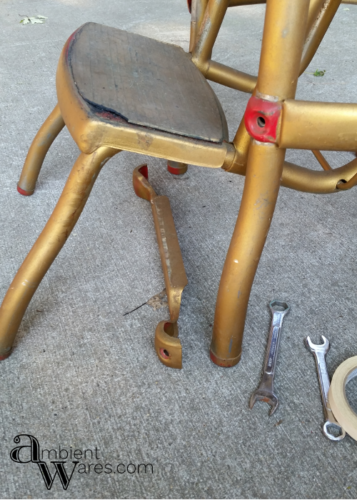 Throughout the tear down, I found the screws and bolts were all mismatched which I was fine with. It just meant sometimes I needed a 7/16″ wrench or a 5/16″ wrench. I also needed both a flathead and phillips head screwdriver. I don't think it was necessary at all to label the screws but, I didn't want to risk it.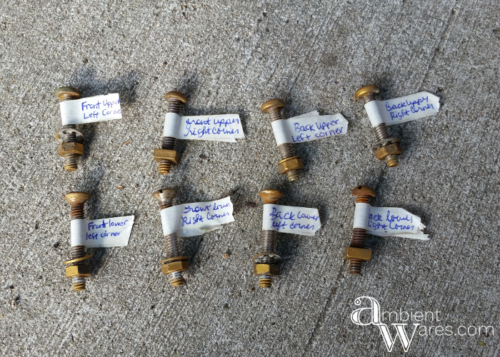 As I was taking it apart, trying to be very detailed in my markings, the damn thing just collapsed. This is why I'm glad I took so many pictures. Oh god, what have I done? At this point, I walked away from it. Then I thought, what's the point of marking everything, if you're going to paint right over it? Then I thought, well, I don't want to paint the pieces first and then fight to get it back together certainly scraping up the new paint job. I did the best I could and thankfully the ridiculous amounts of pictures I took helped me see which way certain pieces of the step stool should go.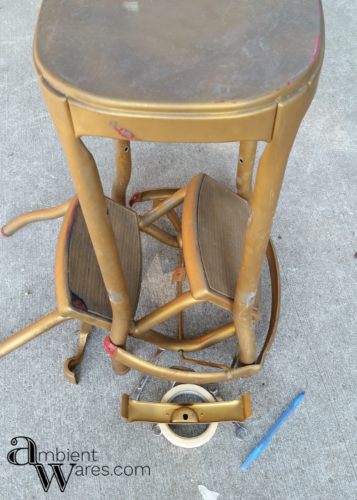 The step stool part was still intact so I moved on to removing the rubber treads. These too, were painted in gold. I used our Wagner hot air gun on low along with a putty knife to remove them. You have to keep the hot air gun moving and not keep it in one place for too long. Pay attention to the hand holding the putty knife so you don't burn it. Maybe wear a heavy duty glove.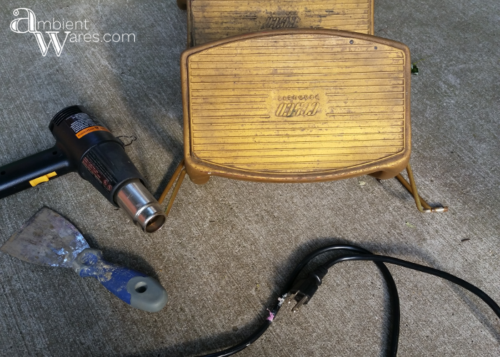 Once the rubber treads were removed, I was left with the adhesive and the most pristine, soft, and smooth, untouched red color. It was like brand new.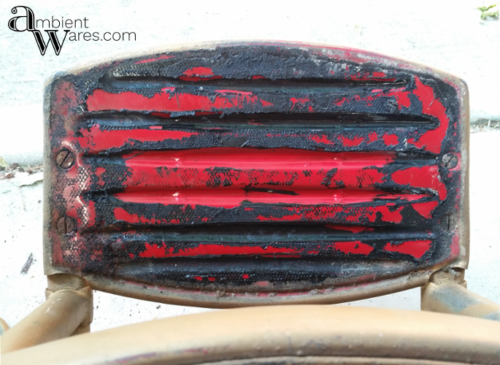 Then I took the step stool itself apart.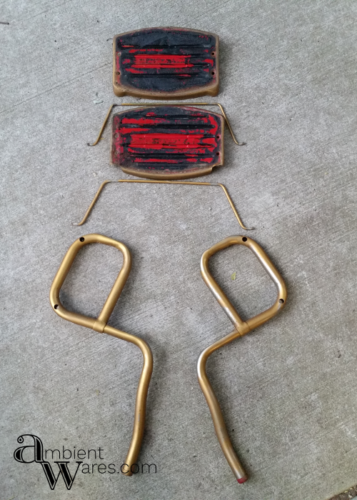 I sanded down all the pieces using 100 & 150 grit sandpaper with both my palm sander and mouse sander, similar to this, until I ran out of paper for the mouse along with a lot, and I mean a lot, of hand sanding.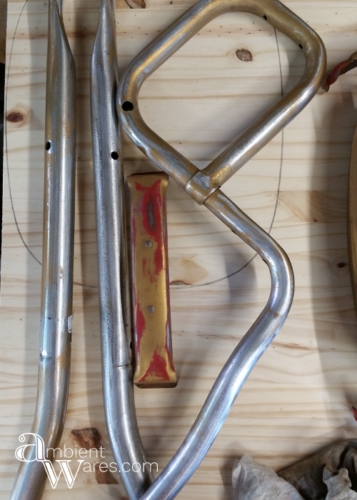 In order to get the glue off the steps, I poured acetone into a bucket just big enough for one piece to fit and placed it adhesive side down. I didn't want to waste the acetone. I also put a lid on top of it to soak a bit since it evaporates really quickly. Wearing gloves and using a fine steel wool, I rubbed gently and the adhesive just melted off except for a couple really stubborn parts.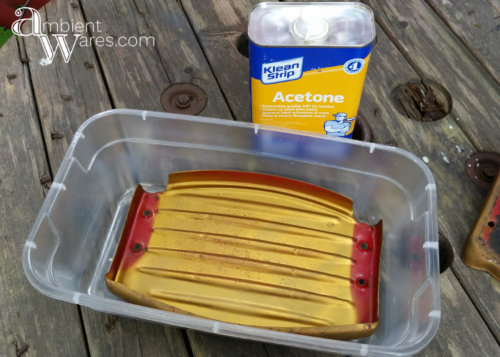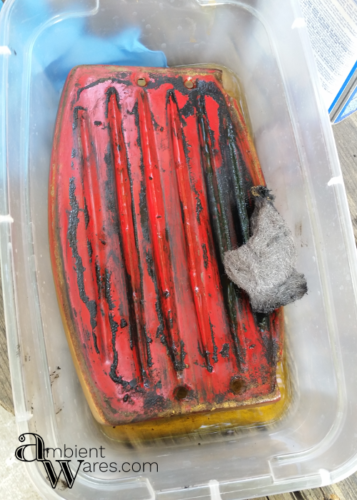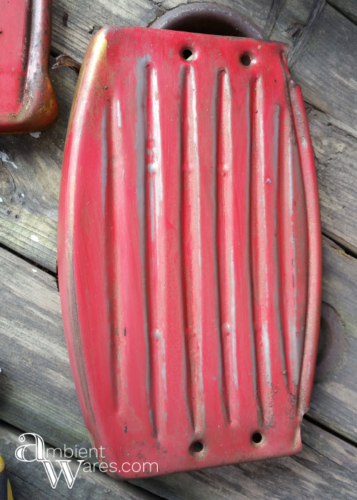 I also put the good tread in the acetone and the paint came right off. If your acetone is dirty, all you'll really do is just rub the junk that came off, right back on. Another reason why I don't want to pour too much at any one time. I let the junky acetone evaporate and poured more in. Just know you'll most likely ruin a tub so use something you don't care about.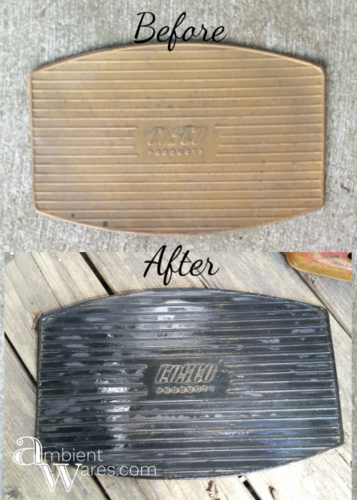 I asked on Facebook if I should paint the tread black just to shine it up and got a response that I should. However, after cleaning more thoroughly and spraying a little WD-40 on it, it shined right up so I left it as is.
I'm guessing it took me about 40 minutes to put back together and mainly because of one thing I couldn't figure out. It didn't seem to matter that I noted everything well. The pictures I took is what helped me figure it out.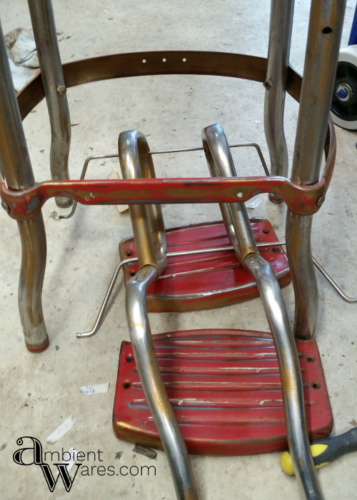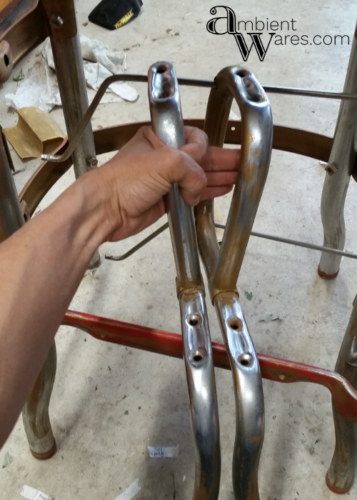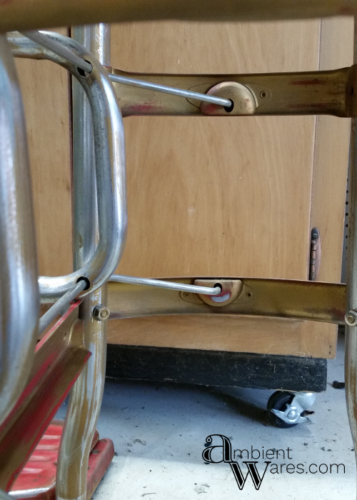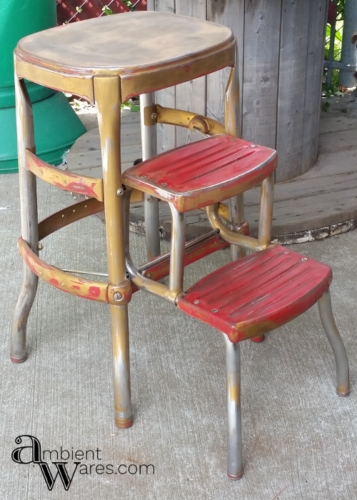 I sprayed it upside down first with 2 coats of primer, flipped and did the same things. Then I did the same thing with flat white. I probably did 5 coats of the white since, it seemed like I was always finding a spot that I'd missed. I then sealed it with a matte clear finish. I used an entire can of the primer, the paint, and the top coat.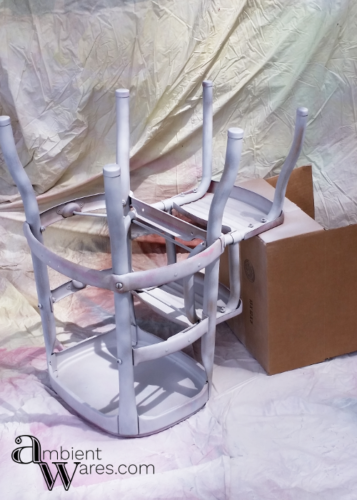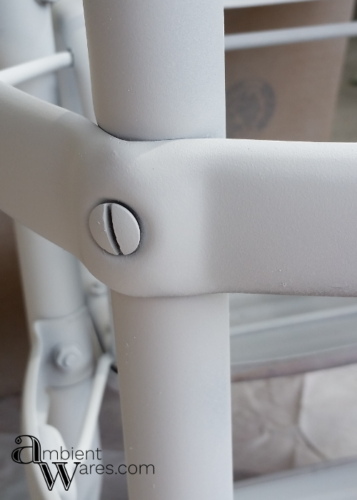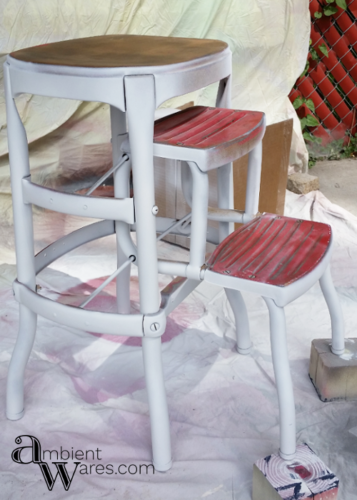 For the new wooden seat, I flipped the original over onto a new piece of 1″ x 24″ x 36″ Edge Glued Pine and traced it out. Using the jigsaw 1st, I cut out the section where the trace was. I then used the bandsaw (got at a garage sale for $60!) to detail cut. I sanded it with 80 grit paper with the palm sander and knocked off the "sharp" edge, slightly rounding it with 220 using the palm sander.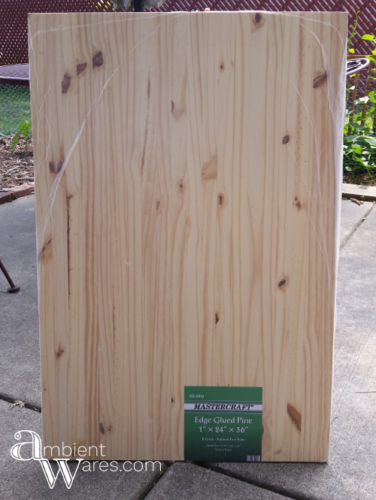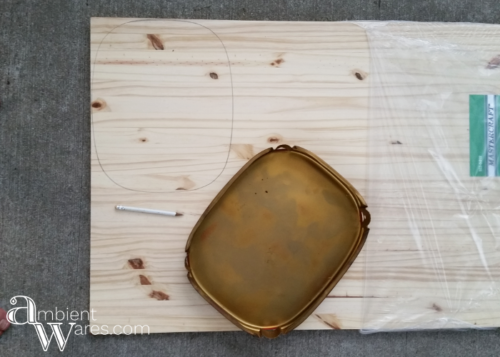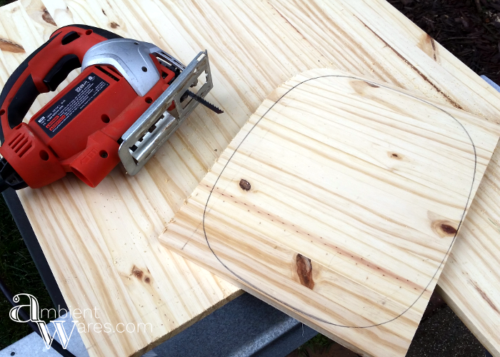 I bought a tiny can of Classic Gray wood stain. It's much cheaper at your local hardware store. I'm in love with it and it looks gorgeous. I ended up using 3 coats. I top coated with a wipe on polyurethane in satin.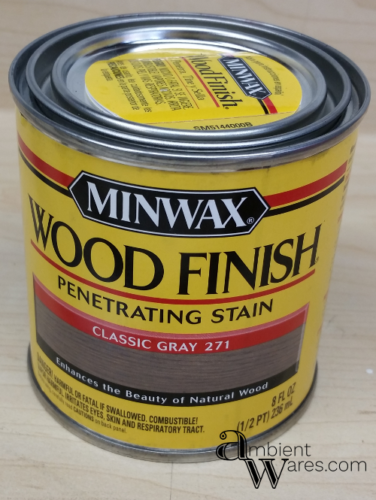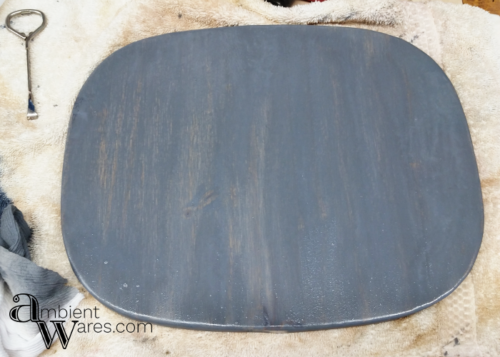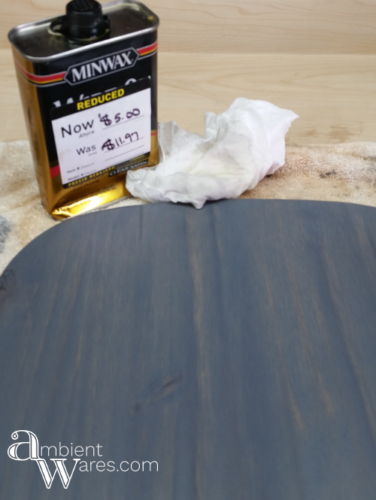 For the one tread that I'd need, I bought one at Menard's for $4.99. I placed the old, broken tread, onto the new one and traced it out the best I could since it was missing a chunk. The two stairs are different sizes so I couldn't trace the good one. I then cut with a pair of scissors which I think I may have dulled. I should have used the utility knife.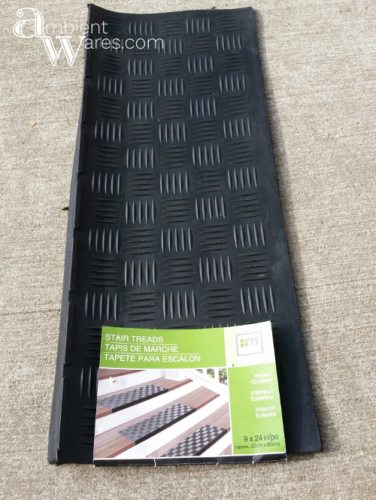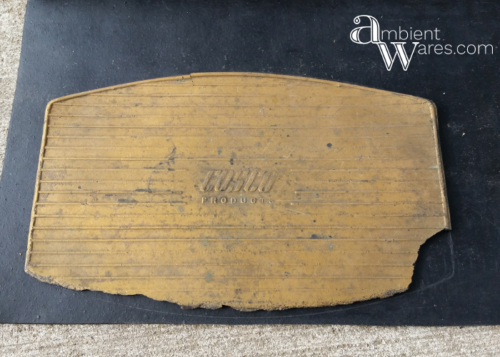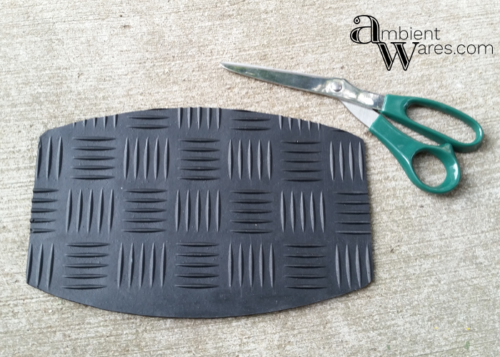 In order to attach the new wood seat to the top of the stool, I drilled four holes. I eyeballed them and chose my drill bit based on the screw I was using and how big the head was. Metal flakes may go flying so I'd wear goggles. I vacuumed up the metal bits. The underside of the seat will be very rough so you may want to sand the sharp bits off.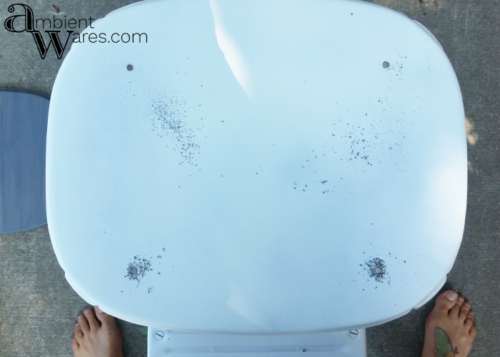 I placed the wood on top of the stool and from underneath, marked where the holes were in pencil. I then drilled pilot holes into the wooden seat. You want to make sure the pilot hole is smaller than your screw so it still has something to grab onto. I also taped the bit off so I didn't go down to far and through the wood.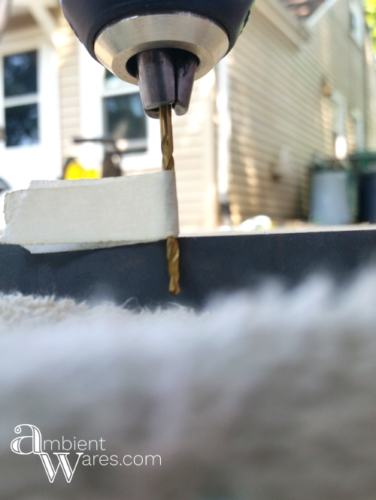 When it came time to attach the seat, I laid the wooden piece on the ground and had to get creative when flipping the stool upside down. I raised the legs (as if it were right side up) so I could get the drill in. I ended up tying a couple of pieces of twine around so they'd stay up. It actually crashed down a couple times because I didn't have a good enough grip and I lost some hairs worrying about paint loss but, luckily it didn't happen.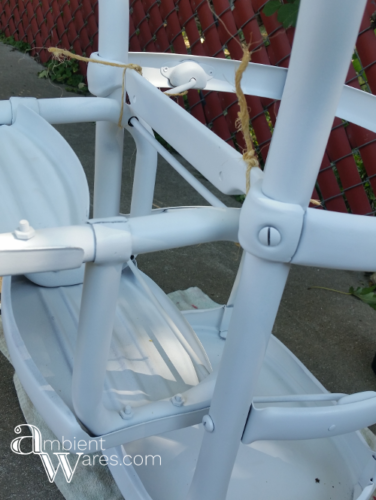 Last but, not least I attached the treads using a contact adhesive. I was a bit worried because I noticed after the fact, that metal was not one of the materials it could/should be used on. Although, they stuck on immediately and I wasn't about to potentially break the original Cosco tread just to see how stuck on it was. I smeared it all over with a rag making sure the edges especially were covered.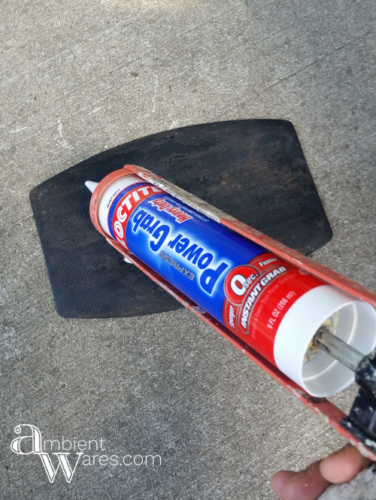 When I was all done, I was so proud of myself. I'm glad I took the time to take it apart. I'm glad I actually got it back together and I love how I was able to salvage one of the original treads. It's now my newest kitchen accessory but, let's be honest, I'll have to store it somewhere else since it can't fit in our small kitchen long-term. Look, it even matches…white stool, white fridge, black treads, black stove 😉 You don't turn down a free stove just because it doesn't match everything else, am I right?
What do you think?! Do you have an old stool you could do this to? I should mention I am afraid to move it too much with all the moving parts so I'm going to let it cure for probably a good week or so before I make any real use of it.