In case you missed Part 1, I talked about stripping down an old cane back barrel chair I found in someone's trash. This round I'll talk about creating the seat cushion.
While I can sew, I'm in no way experienced. I don't know terminology. I'm horrible with measurements and figuring out the right quantity of fabric is like guessing how many jelly beans are in the jar. I know I could figure it out; I just rarely do.

Refurbished Cane Back Chair
Seat Cushion – Foam
I traced out the original cushion on some large white paper and cut it out. I then placed the template onto a 1″ thick piece of foam, like I used on this chair, and traced it onto the foam with a marker. I ended up using 2 pieces stacked on top of each other which I know is ridiculous and I'll eventually get a single, thicker piece.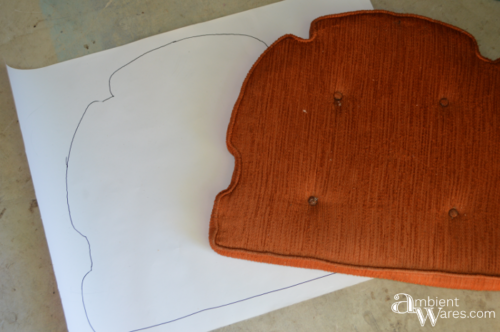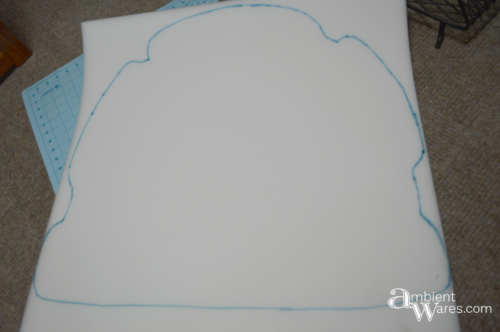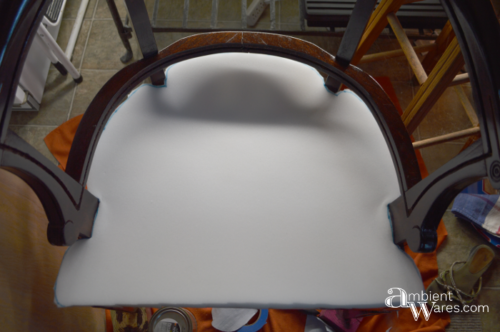 Seat Cushion – Sewing
I thought I'd challenge myself to make not only the cushion but also include piping and a zipper. I've sewn a zipper before but, not in this way.
I'd bought an enormous amount of brand new, unused, light blue corduroy fabric at a garage sale with this cane back chair in mind. I thought surely it had to be enough, you know, just by eyeballing it based on no reasoning at all and barring any disasters.

I watched this awesome video first regarding how to sew piping. Then I watched another awesome video on making a box cushion with piping and a zipper and most importantly for help in figuring out the pieces and what the measurements would need to be for each. Based on the 82″ in total length I'd need to go around the entire cushion, I also created 2, 82″ pieces that will become the piping.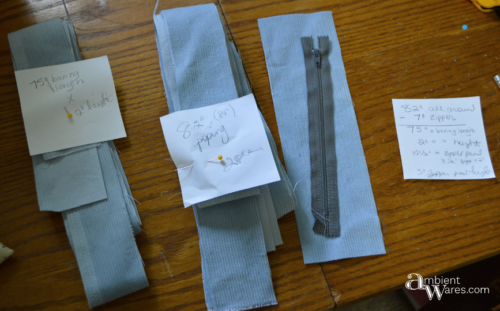 This is me at the table trying to comprehend how I'm going to do this. Don't mind the disaster.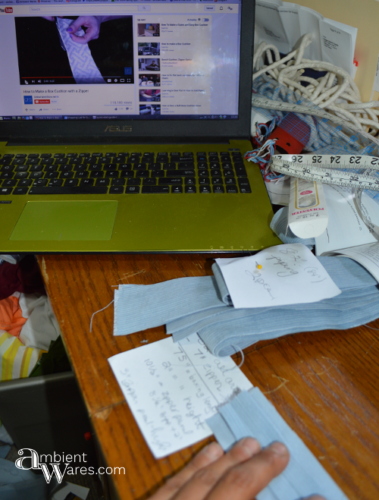 I created the zipper first (already had on hand) and was amazed how well it turned out.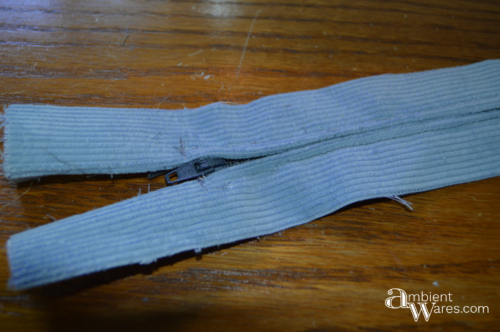 Almost as soon as I finished the zipper, I thought about how I'd never be able to stuff the entire cushion into or remove it through a little 7″ opening. So off to the store I skipped buying a 22″ zipper. I recalculated the boxing and zipper panel lengths and created a new panel.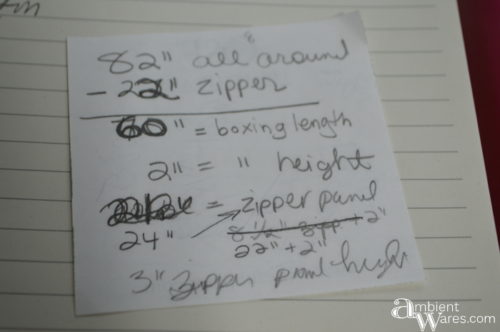 By this time I've got all the pieces I'll need to complete the cushion cover.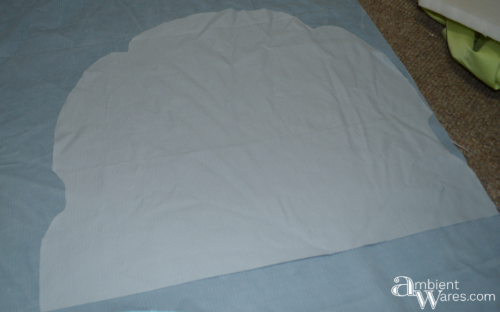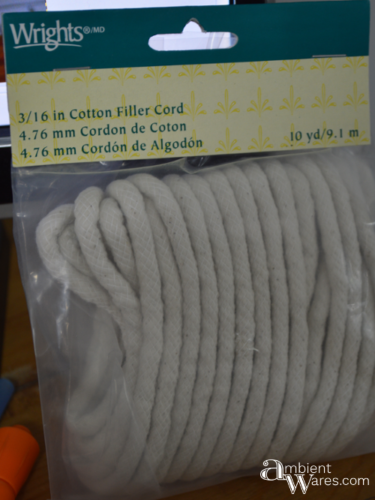 This is the order I sewed everything again based on the help from those two videos.
Sewed the zipper onto the zipper panel
Connected one end of the boxing to one end of the zipper panel
Wrapped the cording into the piping "shell" and sewed it to one side of the entire boxing length.
Repeated step 3 on the other side of the boxing length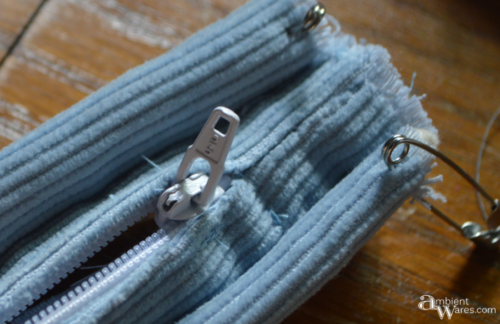 I was so excited to begin attaching the boxing to the top and bottom cushion pieces. That is until we had people over. They came the day I finished and I was really happy to show what I'd done. Almost immediately I'm told, "The zipper's in the wrong place." Whaaa???
Then it all comes flooding back…this is why I originally started out with a small, 7″ zipper to fit in the center back. At some point, I convinced myself that the flat part, which is the front, is was what sat in the back of the chair and a 22″ zipper was a must.
I can't explain how shocked I was at how I basically made it all work in my head even though it was completely wrong. I shudder to think where else this has happened in my life. Anyways, I'm really embarrassed by the whole thing but thankful it was pointed out to me before I connected everything.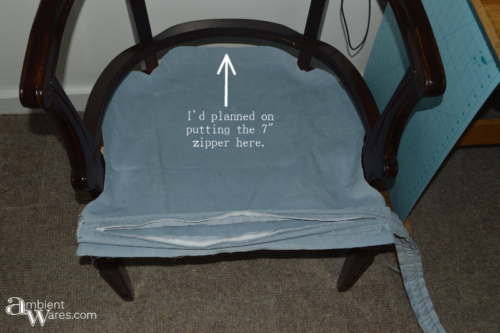 I know I could have sewn the longer zipper to the back but, my confidence took a serious hit and I was doubting I could sew the thick boxing, piping, and 22″ zipper around the curved parts without making it look all bunched up. So to remedy the problem I figured I'd shave off the parts that jutted out creating one smooth, curved piece.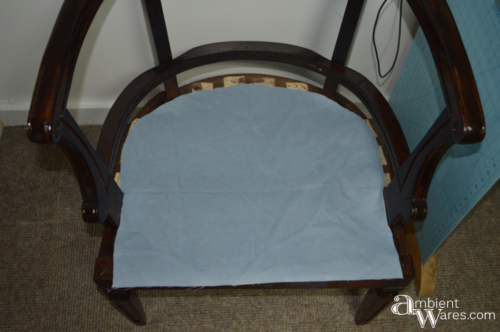 I began sewing the boxing to one side of the fabric cushion, followed by the other side and I had to shorten the boxing because I'd measured it to fit a larger circumference of cushion. Now that I'd chopped the curvy pieces off, the boxing didn't have to be so long. I referred to the the piping video over and over to marry the end pieces of cording.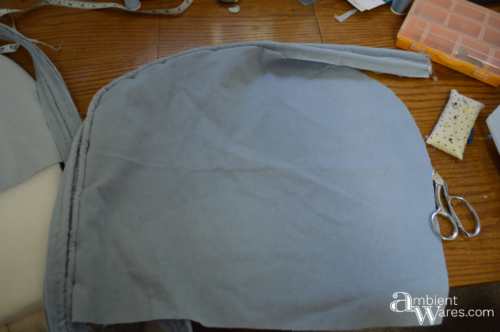 This is the wrong side and it looks like a mess of fabric.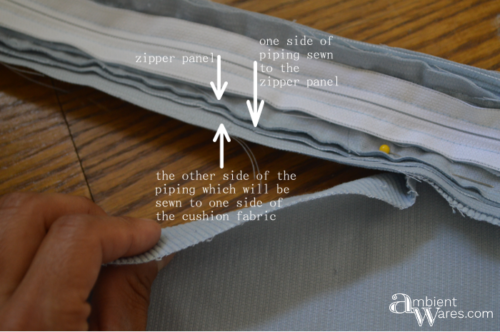 This is the right side.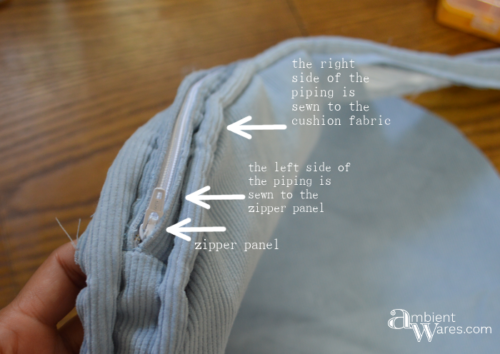 Thank goodness it's done. Zipper is in the back. All 22″ of it. It's a miracle. Stay tuned for Refurbished Cane Back Chair ~ Part 3 where she finally comes together and I sleep for days.
I'd really like to know if you've ever been in the middle of a project and took a detour because you were certain it was the right move only to find out it wasn't. How incredibly off were you?