Finally! The 3rd and final part of the refurbished cane back chair saga. In case you missed them, here's Part 1 and Part 2.
Actually, before I laid one finger on this chair, I Google-d cane back barrel chair in a slew of different worded ways to see if I could find one like mine with broken cane. While there were a ton of cane back chair refurbishing posts, I couldn't find one exactly like mine and most were in good shape and were just updated with paint and/or a new cushion. So, if you're looking on how to make a cane back barrel chair look new, I hope I can help.


Refurbished Cane Back Barrel Chair ~ Part 3 of 3
Please know some links in this post are affiliate links. If you click on a link and make a purchase, I may receive a small commission with no extra cost to you. Thank you. Click here for my full disclosure.
Base
I'd found some burlap at a thrift store and since this is what was used originally, I thought I'd give it a go. I stapled it all around using our air stapler. I spoke of it when I recovered this chair with an old skirt and this chair with added storage.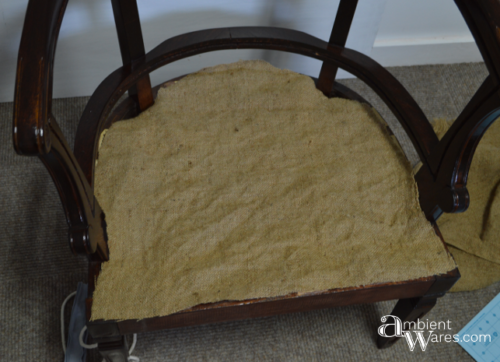 I didn't want to cover the entire bottom frame with fabric as it was before but, I did understand I needed something to cover the burlap. Even though this is not exactly how it was originally, this was my best solution. Of course, there are probably a ton of different ways it could've been done.
I measured across the front and the two sides (not the back), cut 3 strips of fabric, sewed them together so they met at the 2 front corners, and stapled close to the top edge. The back piece I did separately and in the same way.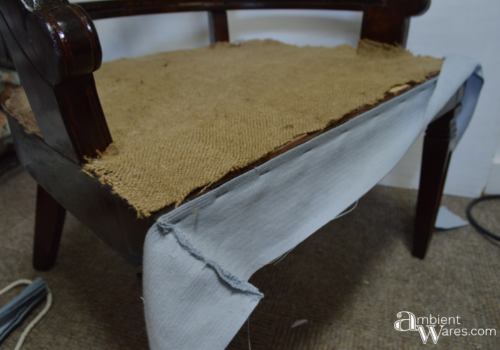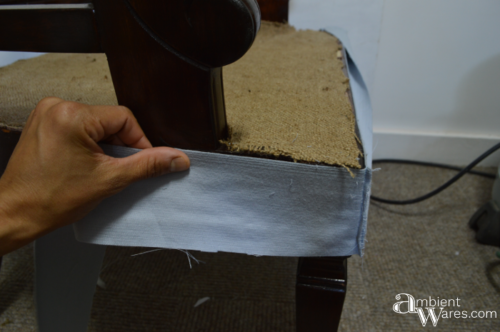 When I got to the end of each side where the back supports were, I folded the fabric in, then stapled.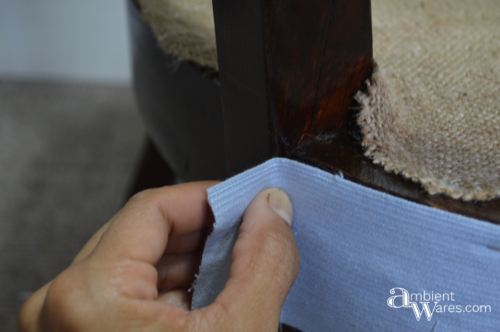 Once the three sides were attached, I slowly pulled the fabric upwards to reveal the correct side of the fabric. It was extremely snug.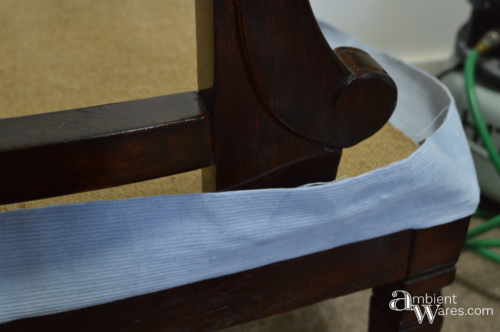 Then came the problem of the arms being in the way. I came up with the idea of cutting the fabric on either side of the arm and then I tucked and folded afterwards. I really needed 10 hands.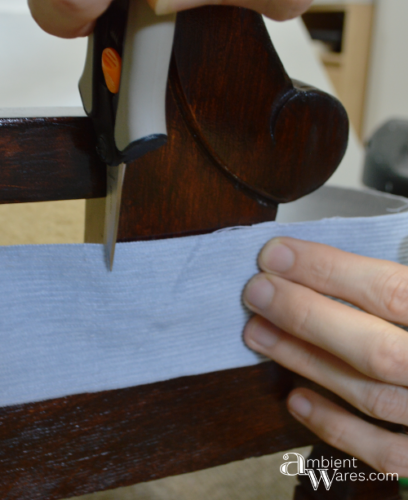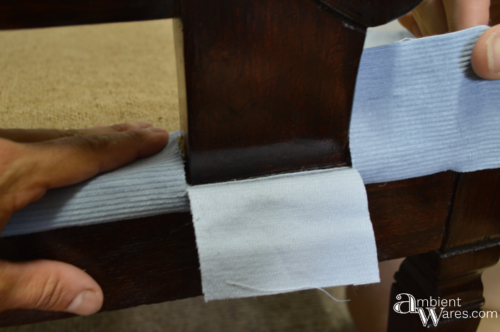 I snipped off the excess hanging down leaving a little to be tucked back down into itself.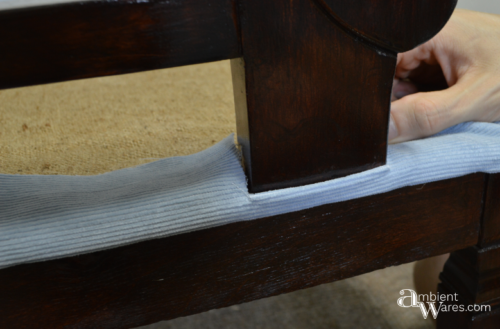 I then stapled again once all the fabric was folded over the burlap.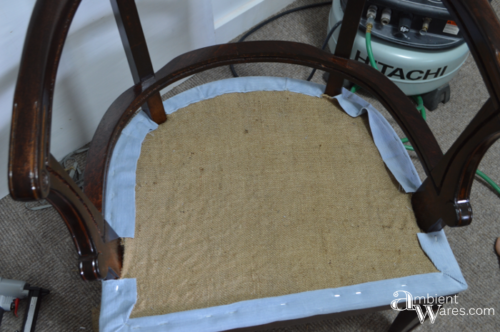 I put the cushion on just to see what it will look like when I find an issue. It doesn't cover the staples and a little bit of the burlap is showing. I was extremely irritated with myself for cutting this part of the cushion off when I ran into the zipper problem in Part 2. I should have left this jutted out part and the one on the other side. I didn't want to think about it just yet so I moved on.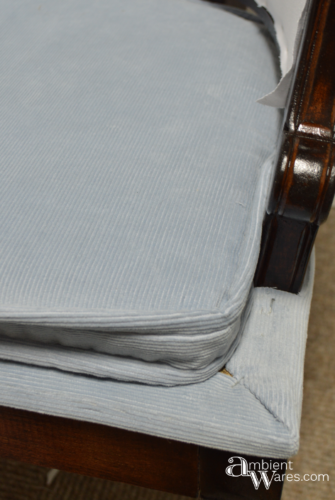 Backing
Amazingly enough, I did have enough of the blue corduroy fabric to do the entire chair but, there were yellowish stains I hadn't noticed before that wouldn't come out. I'm guessing it was due to age and storage.
For the back of the chair, I used a piece of plain white fabric from my stash. I cut it larger than necessary and stapled it just inside the groove where the cane used to be. I definitely needed more hands so I enlisted the help of Joe (which I do all the time). One would hold the fabric tight while the other stapled. The fabric was then trimmed all around.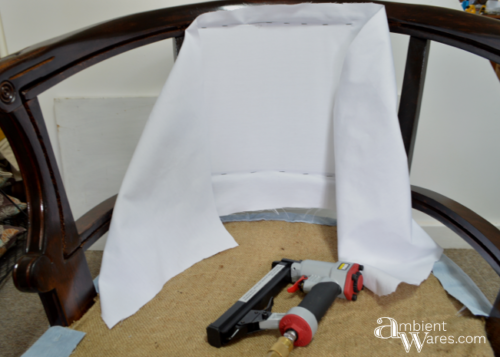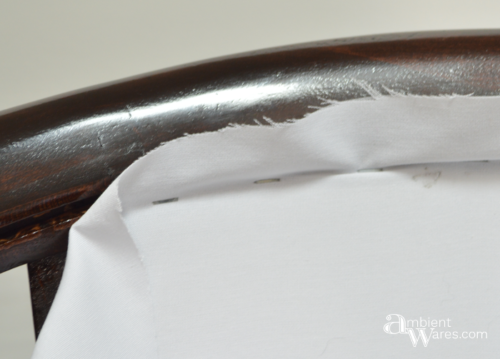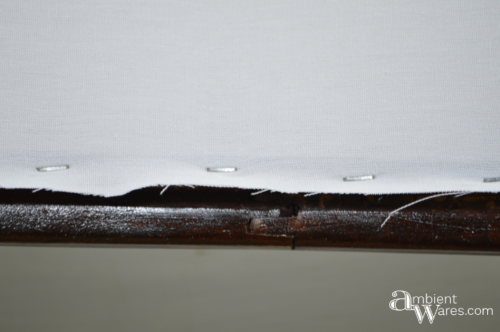 I'm loving how the back piece looks.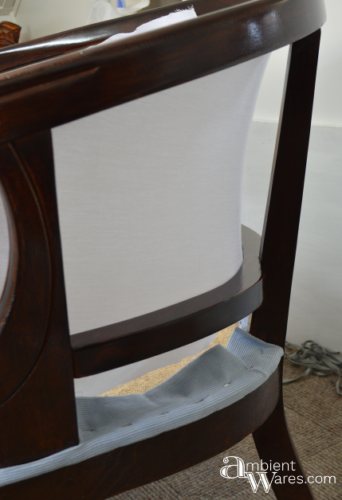 For the front piece of fabric, I decided to add yet another fabric to the mix. Why not? I found this one at a sale as well and I love it.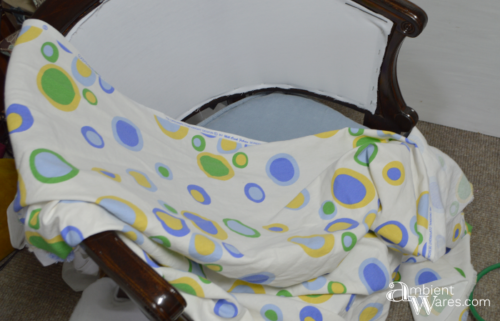 The front piece was attached in the same way as the back.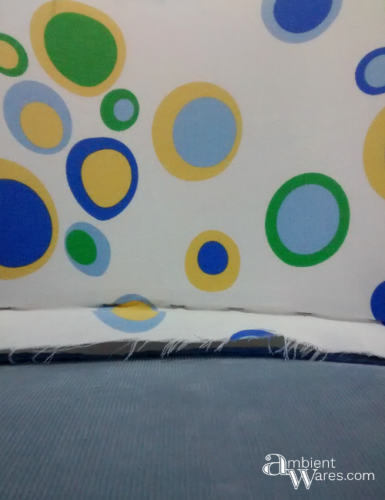 After trimming the excess, I hot glued piping I'd made using the same fabric. I squeezed some glue into the groove, pressed the piping in and repeated until the end.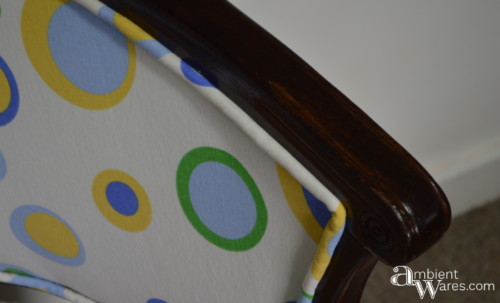 Back to the fact of the staples and burlap showing even when the cushion is in place. Here's my response.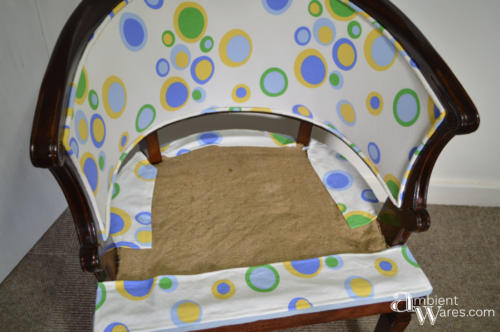 I cut the pieces, stitched up the edges to give them a clean finish and hot glued those down. I'm hoping this doesn't look flat out silly. I'd like to think of it as whimsical, fun, different, unique, etc. Then I worry I'm just fooling myself.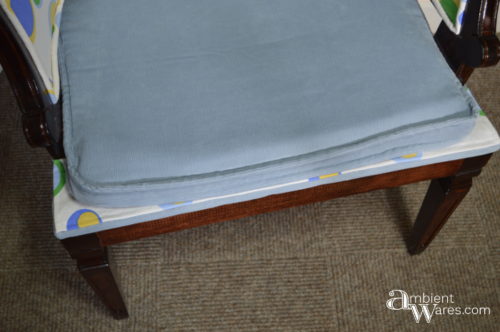 Just look at how curvaceous she is.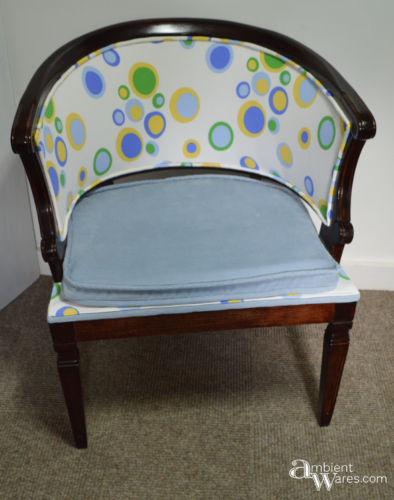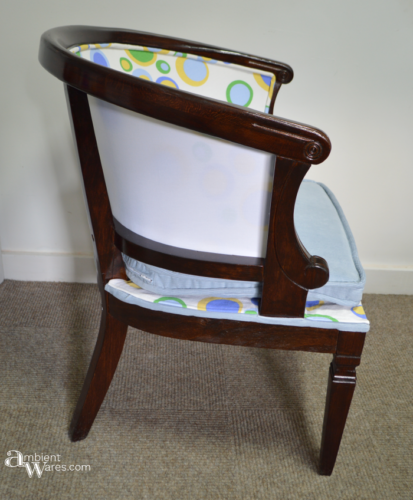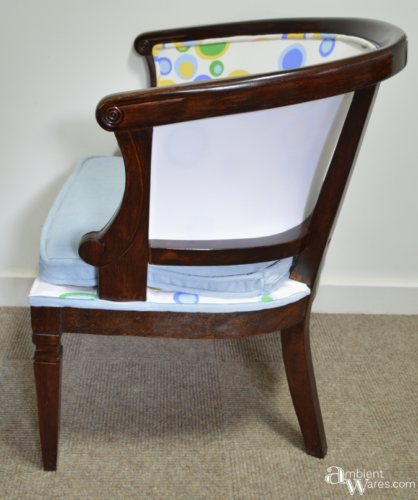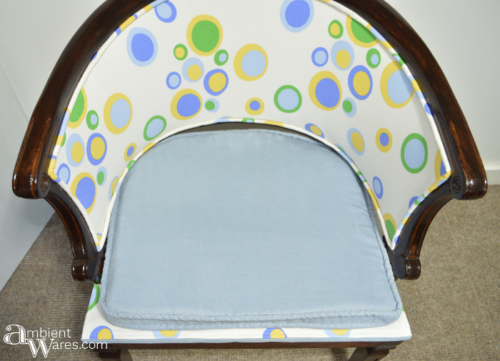 It's easy for me to say now, how I would do a ton of things differently. Thing is, I'd never be able to say that had I not tried it at all or given up; which is so tempting to do sometimes. I'm pretty sure I could do another entire post on all of the wrongs I committed but, who's got the time?!
I'm holding onto this chair and I plan on making another cushion that actually fits the shape of the base…in about 5 years or so. I learned an incredible amount and while I need a break from it, I'll be back.
What have you been putting off due to a fear of uncharted territories?