A couple of years ago I picked up 2 pretty dull bistro chairs. Only one had the original padded cushions which weren't even attached and were torn. A little ways into sanding them down I realized it would take forever and if they weren't rusty with peeling paint, I wouldn't have worried too much about it but, I wanted these bistro chairs to shine.

Refurbished Bistro Chairs
I called up my dad and he said he'd sandblast them like he did on this lamp. I'm telling you, I need him to teach me how to do this.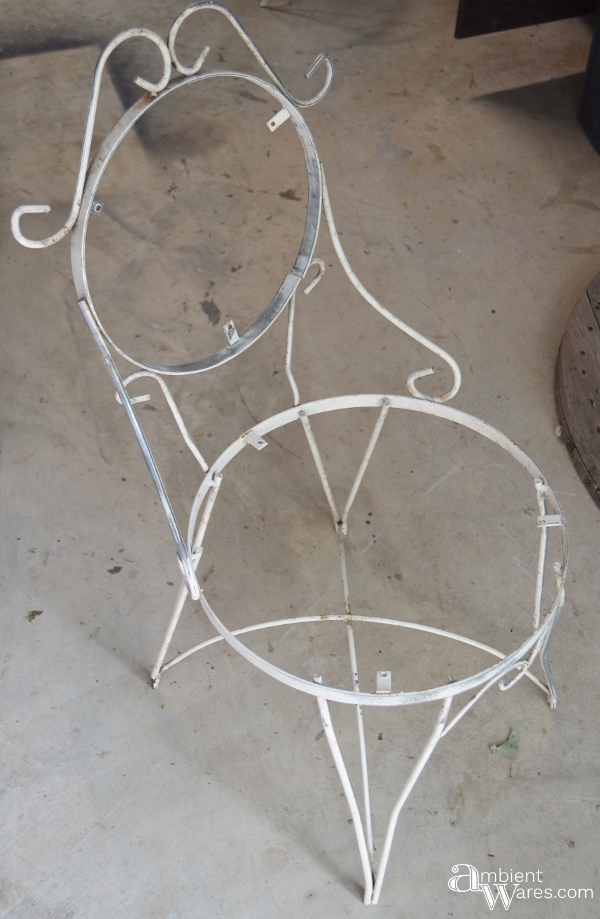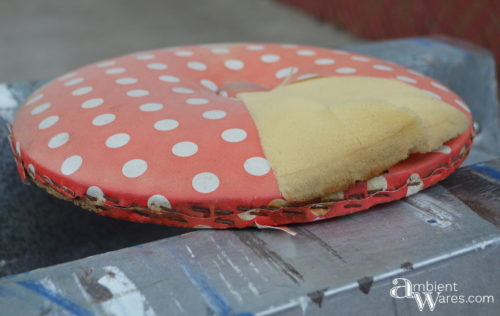 Please know this post includes some affiliate links. If you click on a link and make a purchase, I receive a small commission with no extra cost to you. Thank you. Click here for my full disclosure.
Frames
Once I got the chairs back, I spray painted them with rusty metal primer which is much cheaper at local hardware stores. The same thing I used on the record holder. Just because they'd been sandblasted did not mean they wouldn't get rusty again.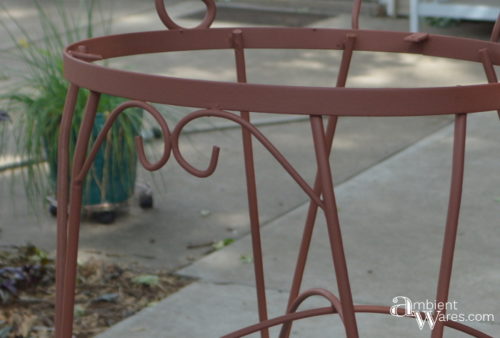 After primer, they got a few coats of black enamel gloss paint.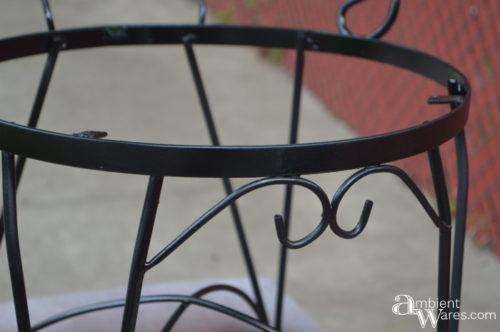 New Seats & Backs
I had one original seat and one original back. I was replacing both but, needed to copy them. They were traced out (2 of each) onto a piece of 1/2″ thick plywood and cut with our old jigsaw and sanded them smooth.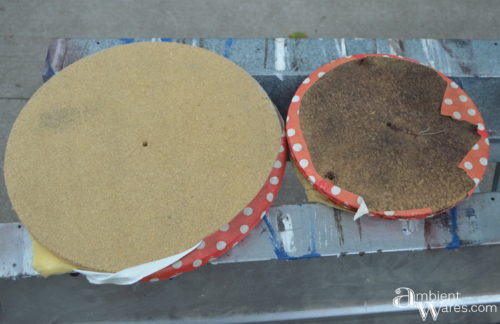 The originals had a button tufted in the middle which is why they had holes in the center. I decided I wasn't going that route.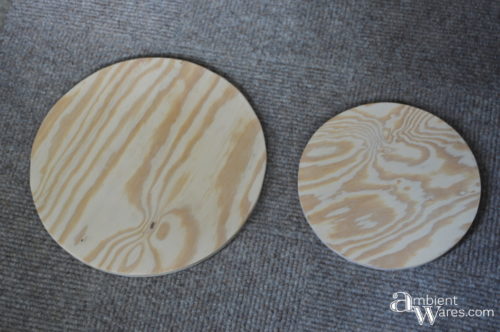 Covering with Fabric
For the fabric, I originally was going to work with a thin shower curtain I'd bought at a sale. I liked the design and thought it could easily be wiped clean but, it didn't react well to the power of the air stapler. The staples went through the fabric and snagged it. I stapled through it a dozen times to make sure it wasn't going to work.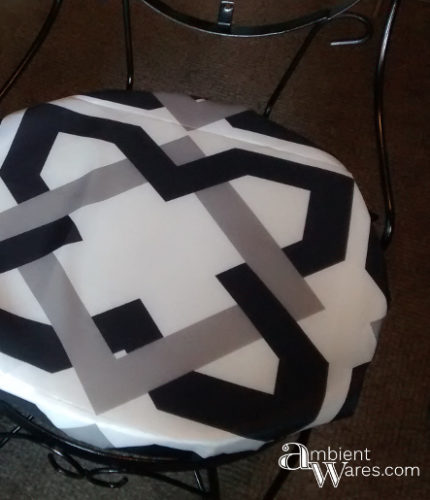 Nope, not gonna work.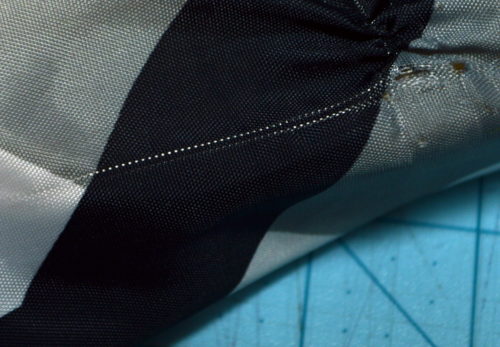 Around the time I was working on the chair, I was out thrifting as usual and came across a good sized piece of faux leather for $4.99.
I rarely buy fabric at actual fabric stores or on-line, especially in large quantities because I'd rather not spend that kind of money on something I will most likely not get right the first time.
I think it looks gray and sometimes green.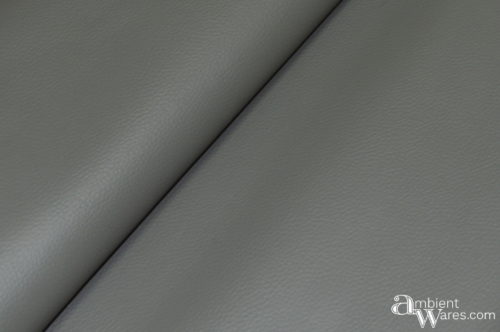 When it came to covering, the seat was much easier than the back. I cut out a piece of 1″ thick foam like I used on my cane back barrel chair. I'm not quite sure if I'm a fan of this brand or not. I haven't worked much with foam but, I have a feeling others are much better.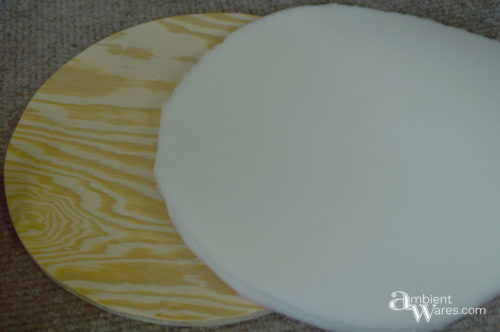 I laid down the fabric wrong side up, then the foam, then the wood seat. I cut around leaving a couple of inches or so. I pulled up the leather on one side of the seat and stapled (#1 below) would turn the seat to the opposite side and staple again (#2) and so on. Check out this refurbished chair post for my speech on being careful with our air stapler.
As the fabric I had to staple narrowed in size, it got a little tricky to keep it tight without puckering. At least the leather was a bit stretchy. I had to take it slow and take my time.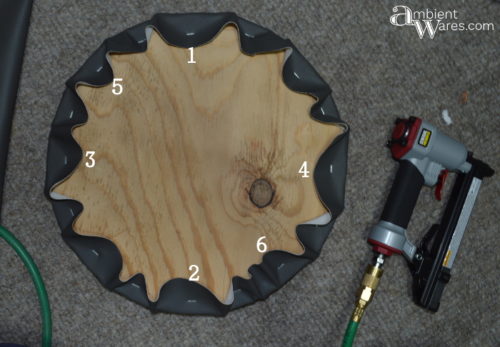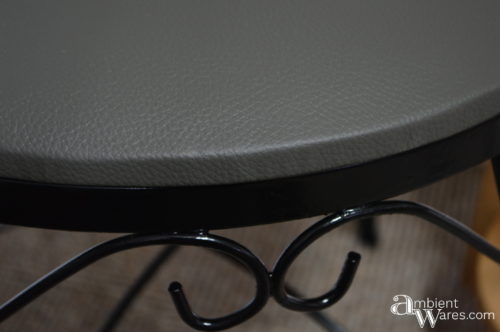 The backs were a true pain in the ass. The original had staples around the very thin edge for attaching both the front and back pieces. I tried this method 3 times and wasted a lot of fabric and staples before Joe suggested a 4th way which ended up working. See, I'm so glad I don't spend a lot on fabric.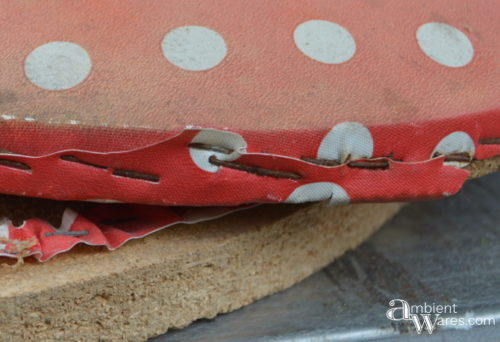 Since the chair back would only need cushioning on the front side, Joe suggested wrapping the back piece of fabric just like the seat; all the way around the front. That way, the foam (where you rest your back) would lay over the staples and suppress or hide any bulkiness. It would also prevent me from having an all out staple war around the thin edge.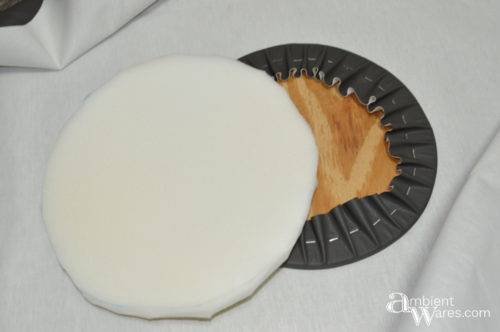 Since I only had to worry about stapling the front piece of fabric to the edge, it wasn't that bad.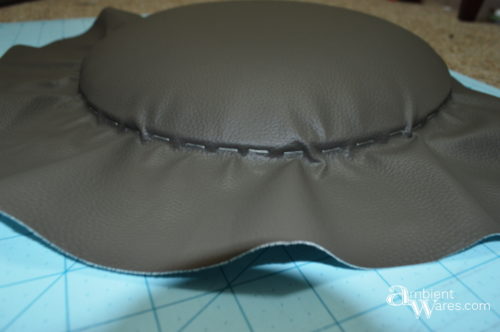 I trimmed the excess off by using a utility blade first. It's one of our must have DIY "tools", followed by snipping a little closer with scissors.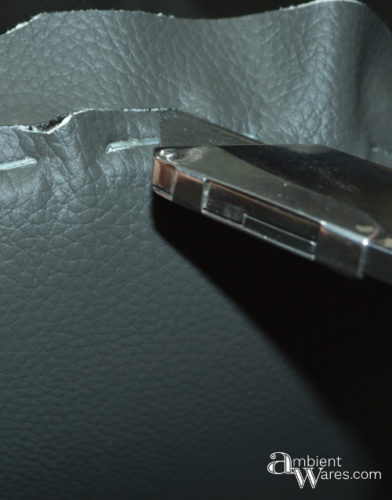 This way was so much easier, if not the easiest. The part my thumb is touching is the back side with no cushion and the top part is the front side with cushion.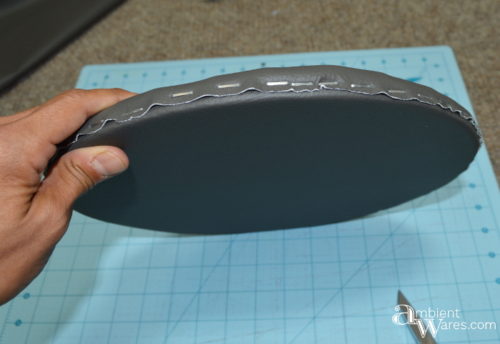 Attaching to Frame
The seats were easily screwed onto the frame.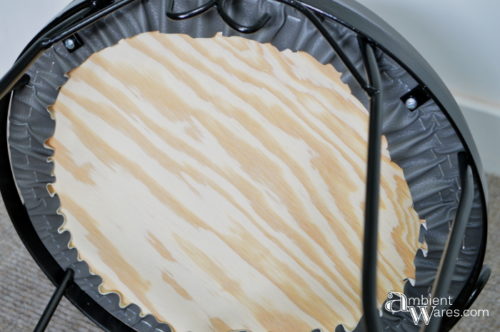 The backs, again, proved a little more difficult. Those had to be shoved gently wedged into the frame and the direction of the fabric didn't help. As we'd push it in, the fabric would get caught on the chair's metal frame.
Joe has this great little flat tool, a dental spatula, like the one in this set again, one of our fave little tools, which has come in very handy on many DIY occasions. As the backs were pushed in, he'd coax the fabric in using this tool. When the tucking was done, they were screwed onto the frame just as easily as the seats.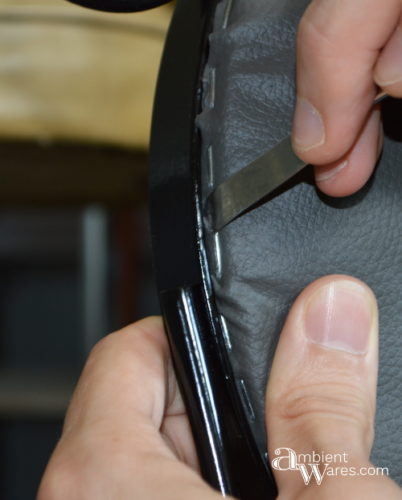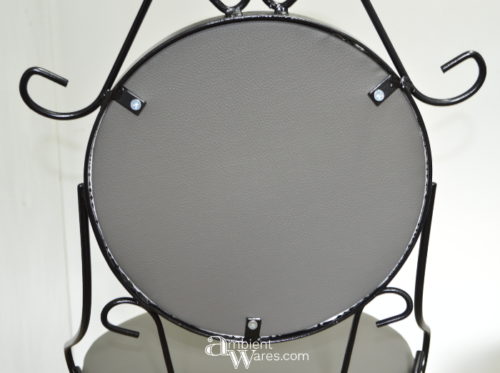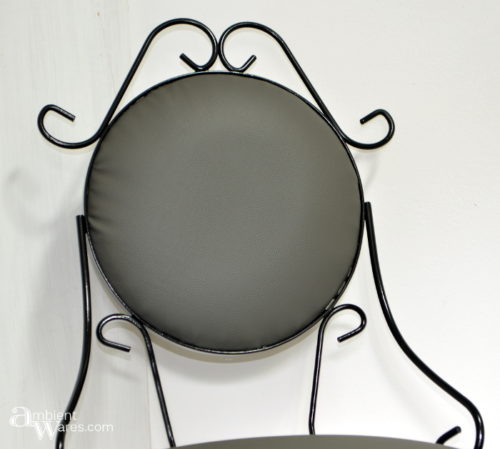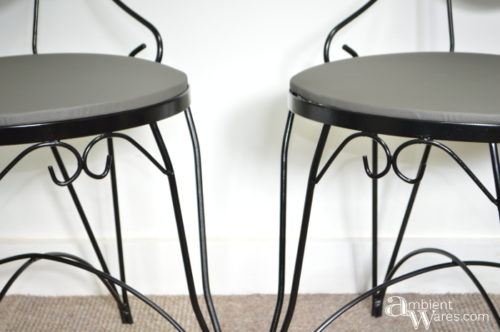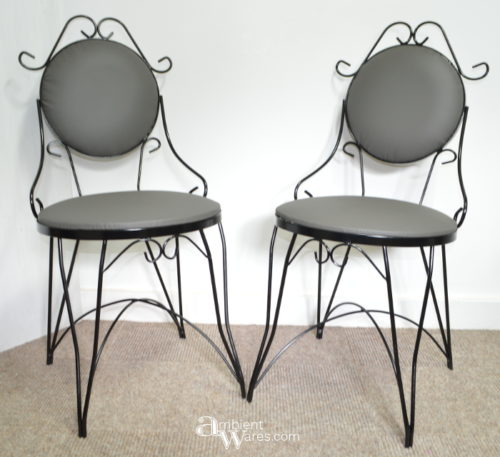 I hope this helps you in the future should you ever come across some beautiful old metal bistro chairs in need of some love.