A few years ago I went to the messiest yard sale in the largest backyard eva. Those are the absolute best. Tables full of junk and no prices. I'm a scavenger, really. I found these 2 seats and was told by the lady that her father had made them with the intention of making them stools. Well, for a buck each, they were mine. 
How to Make a Plant Stand From a Wooden Seat & Bed Frame Feet
The routed one on the left was in the running for when we made our steampunk-ish lamp but, it didn't make the cut.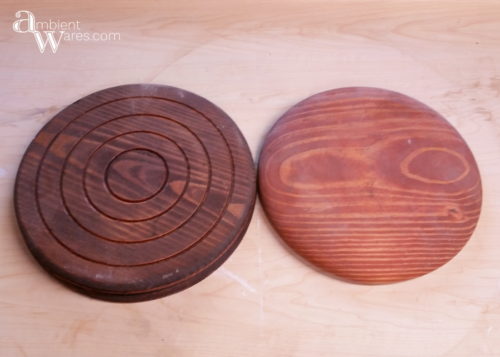 Please know some links in this post are affiliate links. If you click on a link and make a purchase, I may receive a small commission with no extra cost to you. Thank you. Click here for my full disclosure.
In the fall we were cleaning out our garage, throwing so much stuff away. I came across these bed frame feet for a frame we threw away moons ago. I'd only ever used them to prop stuff on as I spray painted. I looked at them wondering why on earth I'd kept them. I threw 'em away and continued cleaning. Then I was reintroduced to the stool seats and I thought of those bed frame feet. Then I dove back into the garbage to rescue them. Dumpster diving my own garbage.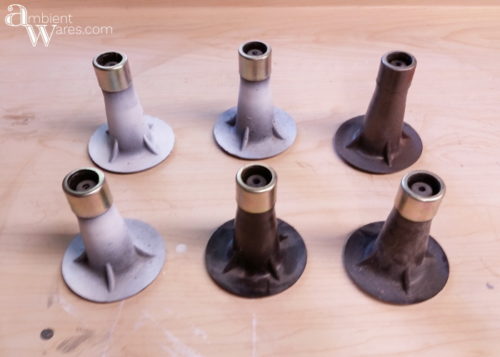 I didn't even know you can buy these feet as replacements! Whaaa? The caps easily come off and snuggly fit back down.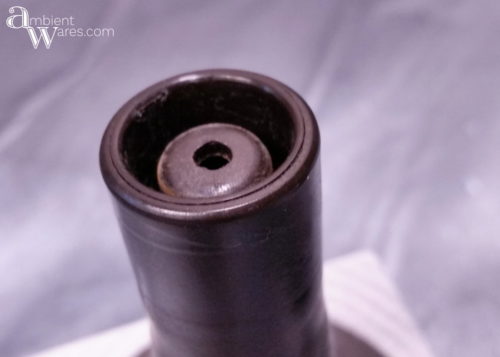 I painted the caps in rusty primer first then in hammered gray.
I painted the feet lemongrass yellow, just like on the wooden basket insert I made. I don't know what happened when I was painting the feet but, I got some major bubbling. I can only guess I re-coated it too fast.
Once dry, I scraped off the bubblies and coated again making sure it dried before re-coating. I really don't know why I try to paint plastic. Something always seems to go wrong. Have you had luck?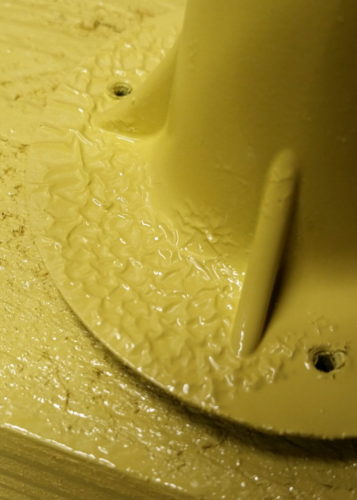 For the seat I sanded it down and stained it using red mahogany. If you follow me, you knew it was either the red like on this little dresser or the gray like what I used on the cosco stool or the mail organizer.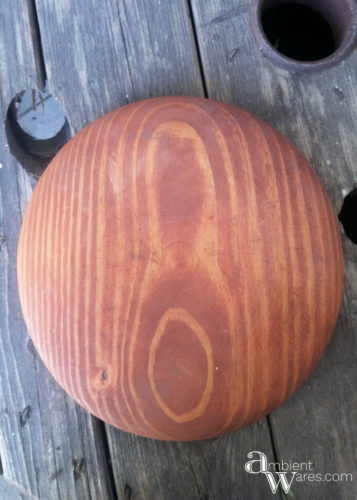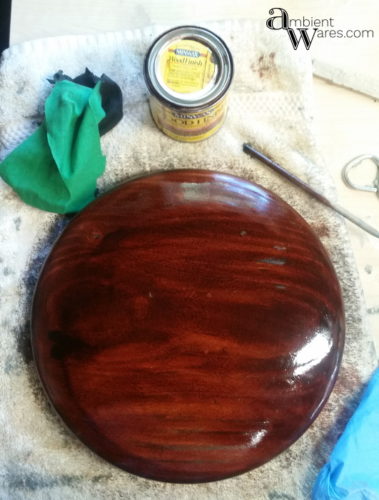 I'd pre-drilled into the plastic feet early on before painting. Once everything was dry, I placed the feet onto the wood to pre-drill again. Keep it straight which holes on the plastic feet match up to those on the wood.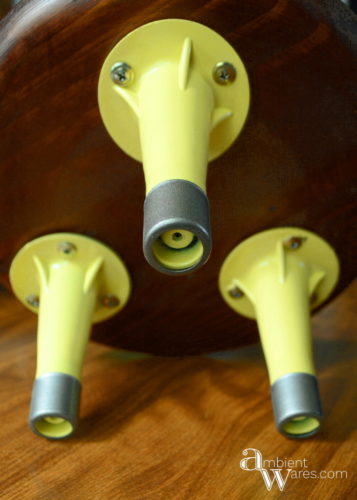 So, I just made a cute little plant stand from old bed frame feet and a would be stool seat.   I get no greater satisfaction than creating something from things that had an entirely different life or purpose before. Tell me, do you feel strongly about repurposing practically anything and everything?