One day I had what I thought was a strange idea. One that no one could have already thought up. I was going to be catapulted into wreath infamy and people will be beating down my blogging door asking for an autograph. What crazy idea, you ask? A cupcake liner wreath. Of course I Google-d it to see what I'd find truly expecting to find cupcake liner projects and wreath projects but, nothing with the two combined.
Well, I don't know what I was thinking because of course it had been done. It had been done beautifully. So why try? I'll tell you why. I've never made a wreath. I've never bought a wreath. I've never had a wreath on my front door. Don't hurt me, please. Why would you, I mean I made this totally adorable cupcake liner wreath after all 😉

Leave it to me, to use something that makes a project just a tad bit more difficult than what it had to be. At least I screw it up for you, right? Take it from me, use a foam wreath. The wreath I used was a straw wreath and far too bulky for the task at hand. I didn't think I'd have any problems and while the first 1/2 I'd say went fine, the latter half kinda got wonky. Although, you can't really tell unless your eyeballing it closely.
Please know some links in this post are affiliate links. If you click on a link and make a purchase, I receive a small commission with no extra cost to you. Thank you. Click here for my full disclosure.
Materials I Used
Straw Wreath – Mine was 10″ in diameter
Cupcake Liners – Got mine at the dollar store and I used 53
Scissors
Small Pins
Hot Glue Gun
Seam Binding
String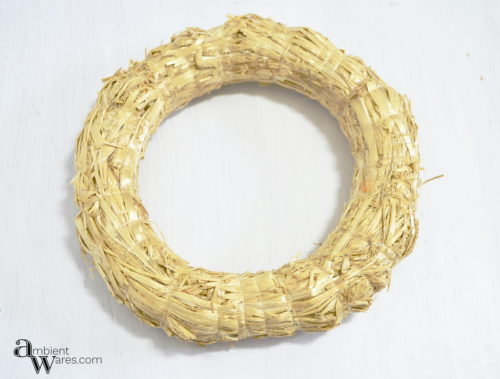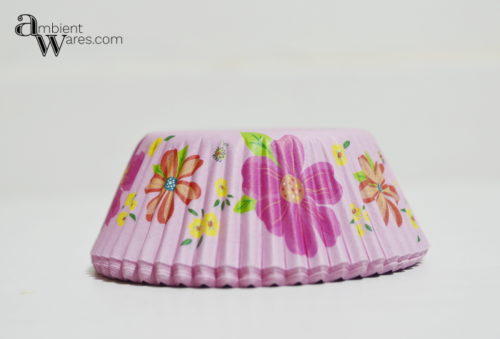 It started off really nicely. At first I was cutting the cupcake liners individually and soon learned to grab a good chunk of them to cut at once. It actually helped in getting a nicer, cleaner cut.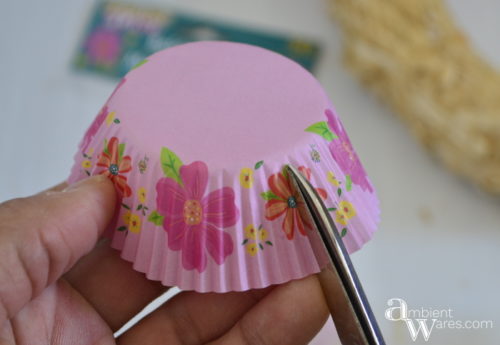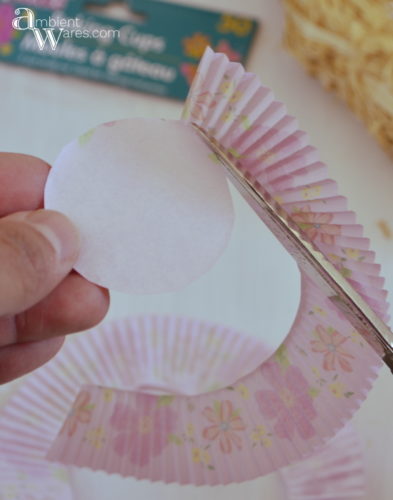 Be sure to cut as closely to the seam of where the circular bottom meets the "sides". It will help in wrapping around the wreath. I then just started wrapping around and pinning down the two loose ends of the cupcake liners.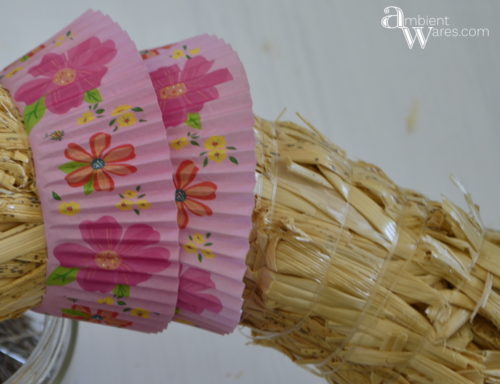 This is before it got wonky. The problem was that the straw wreath was not uniform in thickness and some spots stuck out while others were sunken in.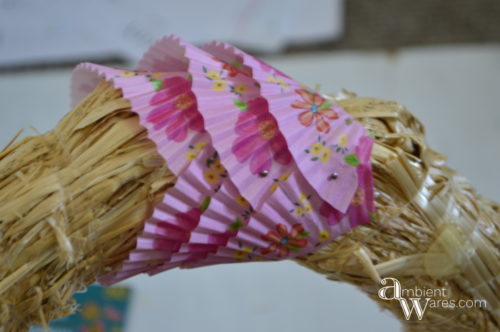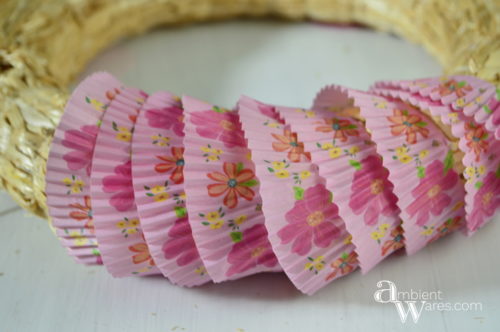 This is where it starts getting off track. In the thicker areas of the straw, the end pieces of the cupcake liners wouldn't meet without tearing which meant I would just pin where they ended making sure the pins were still on the back side.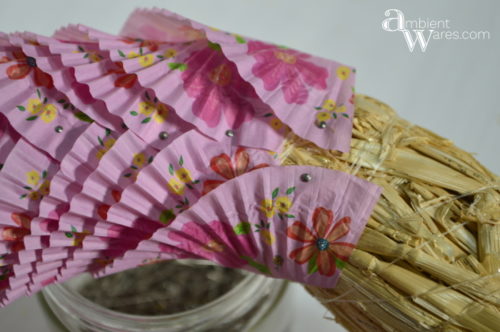 For crying out loud, it's getting even worse! This one is ripped and I had to pin it the worst spot. I'm pretty sure the dollar store liners are waaaay thinner than the average one. However, I haven't baked cupcakes in a long time.
The pin was still hidden just way off. I kept going and luckily, the mistakes ended up not looking like mistakes. Each cupcake liner was covered by the next one and I just had to pay attention to where the pinning was happening.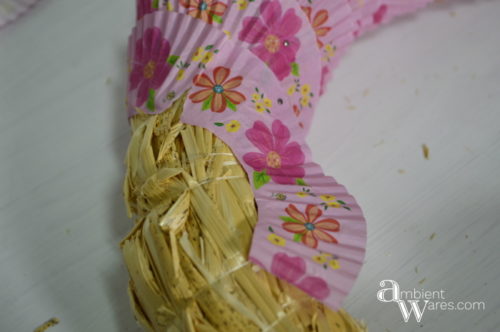 There were also some gaps that you can only see from the side and if a space was large, I snipped a small piece of a liner off and hot glued the strip in between. It looks just like an entire cupcake liner.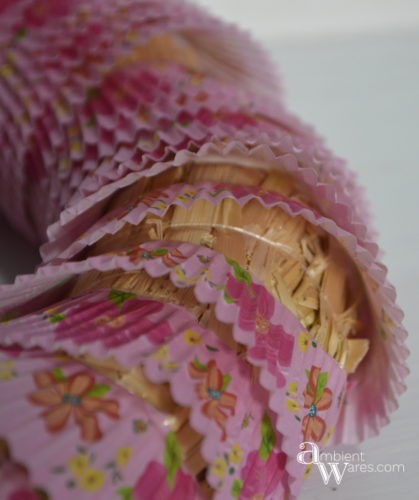 Towards the end, I was left with a gap I couldn't squeeze anymore liners into without tearing them. I just took some light green seam binding and hot glued it, filling the gap entirely.
I then attached a thin piece of twine and hung it up. I love how it turned out! Problems and all, I think it's beautiful. As I mentioned before, a
wreath is the way go. This is the cupcake liner wreath I found when I searched. You can tell how the foam would be so much easier to work with 😉 Had you ever heard of a cupcake liner wreath?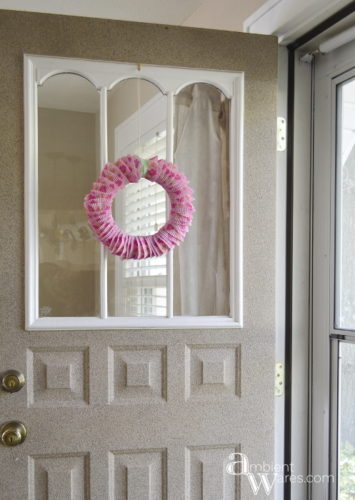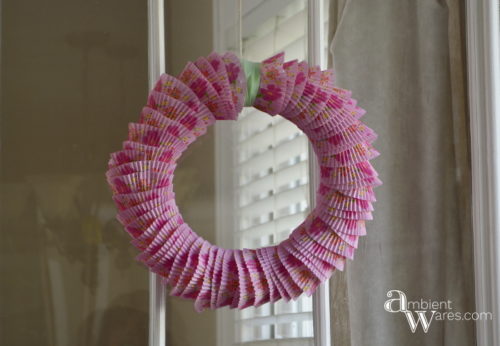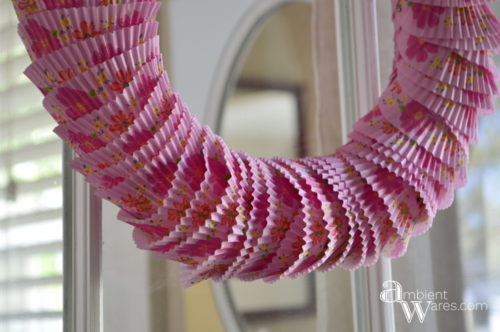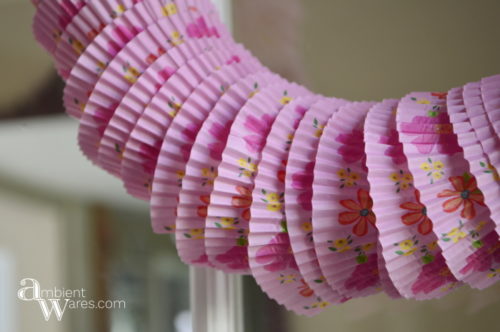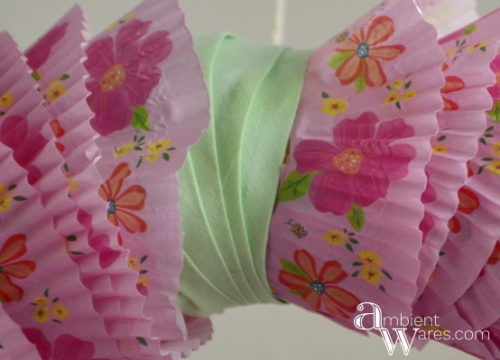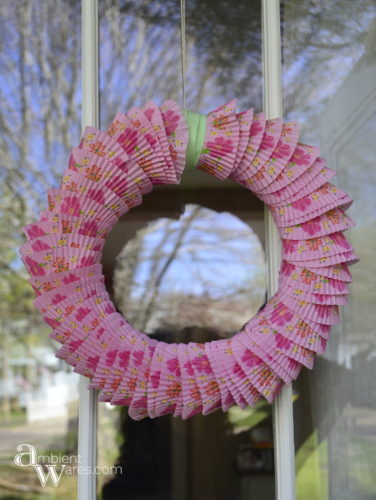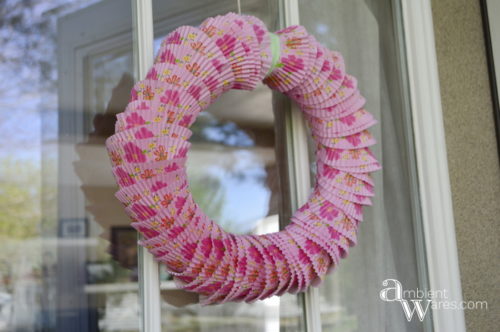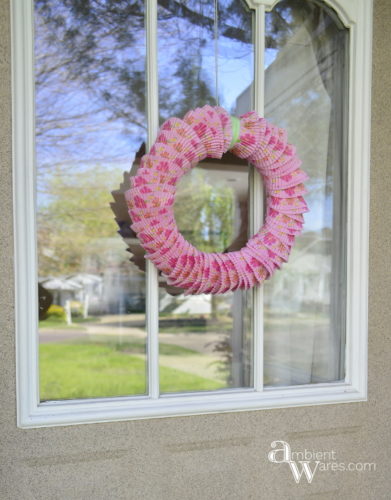 Click Image Below To PIN!