I love baskets of all kinds. When I'm out thrifting, I always look at the baskets and I have to tell myself I just don't need them. It isn't like I have a lot but, if I wasn't careful I know I could get into some trouble. They're just so versatile. You can use baskets for organization, for storage, simple home decor and they can be in any room of the house.
I found these 2 wire baskets and when I had a booth, I put both of them up for sale. Unfortunately only 1 sold. I had it in my attic office space holding some random things until recently when I decided I wanted to spray paint it. Before I painted it, I got the thought of adding a wooden piece to the bottom which turned into the thought of creating an entire wooden basket insert. That way I could use the wooden basket on its own if I wanted to.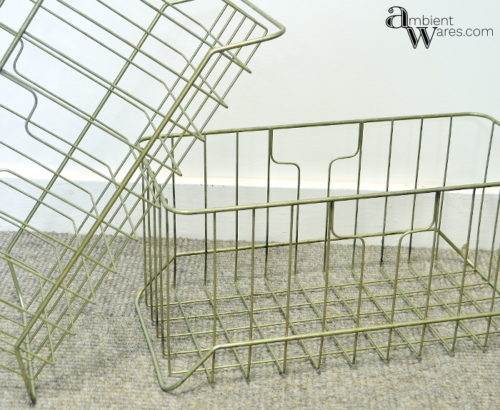 Please know some links in this post are affiliate links. If you click on a link and make a purchase, I may receive a small commission with no extra cost to you. Thank you. Click here for my full disclosure.
How to Make a Wooden Insert for a Metal Mesh Basket
As you may know, I won a Kreg Jig R3 and we used it to build our wooden storage unit. This basket project however, can be approached with just wood glue and a nail gun or wood glue and nails. We also had leftover pallet wood from our storage shelves that came from when we tore down our first couple of pallets ever.
In figuring out the steps, I found it easiest to slide the wood into the frame of the basket and mark in pencil where I should cut. I did the long sides first since the shorter sides would rest in between them.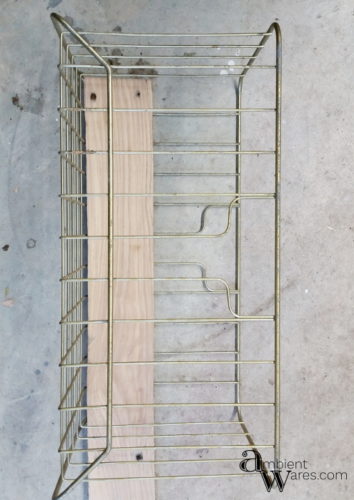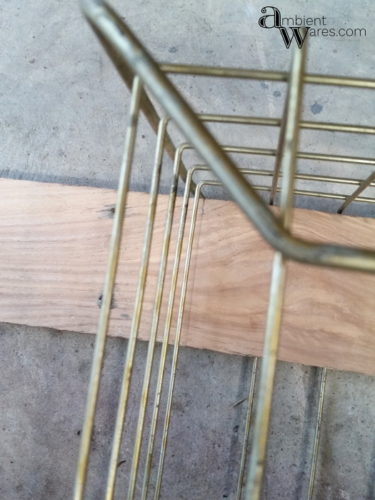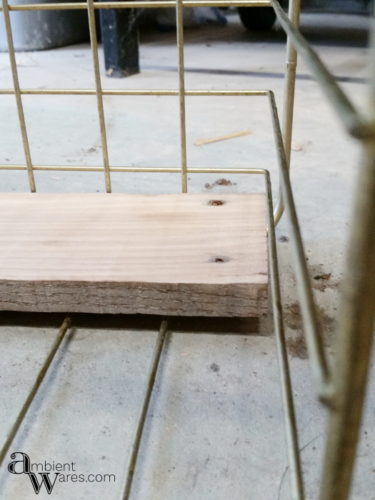 I cut all the pieces with the miter saw.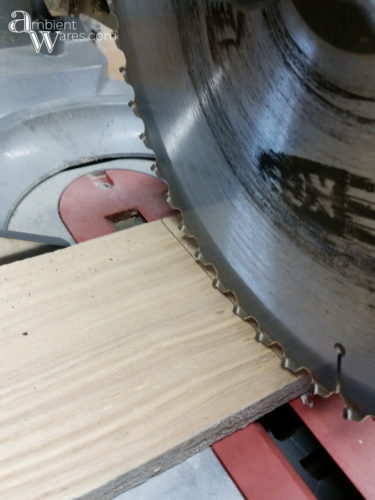 Do you know how to lessen the chance of cutting something too short with the miter saw? Maybe my little, pathetic drawing from when we repaired a drawer side will explain it? The "X" is the part you don't want so you make sure the blade's outer edge stays on the "X" side.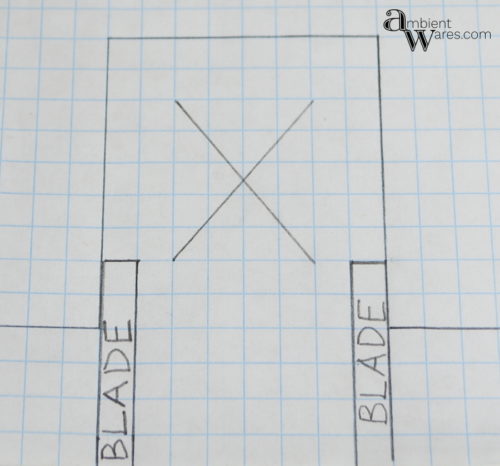 I laid out all the pieces and notice the middle piece, for what will be the bottom, is thinner. The metal basket wasn't wide enough for a 3rd pallet piece to fit so I had to cut one down thinner and of course, used the bandsaw (we use the bandsaw a lot).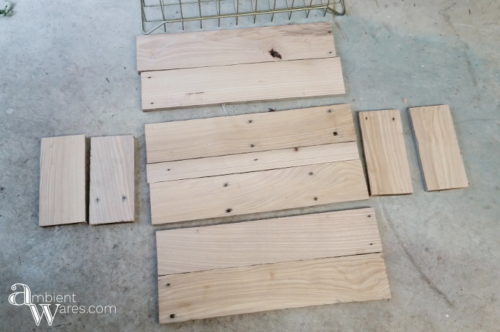 I measured the pallet wood at ½" thickness and set the jig up according to the easy to follow instructions. I slid the guide to ½" as well as set the drill bit to ½". I clamped down the jig and drilled all the pocket holes. In some spots I used the 2 holes and on others, I only drilled into one of the holes.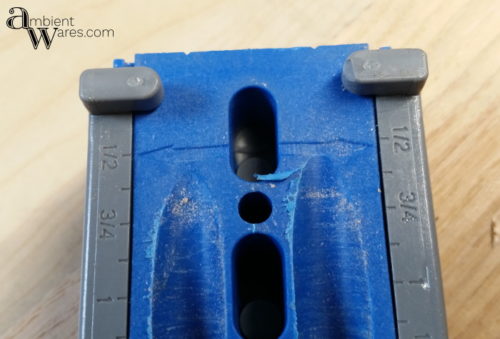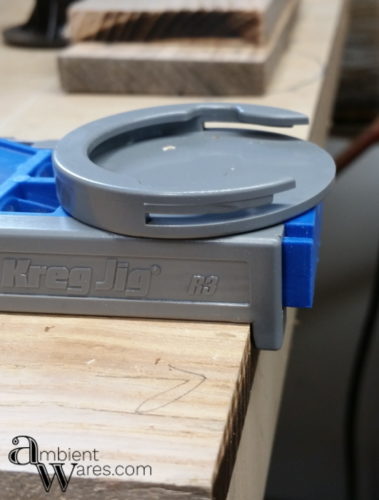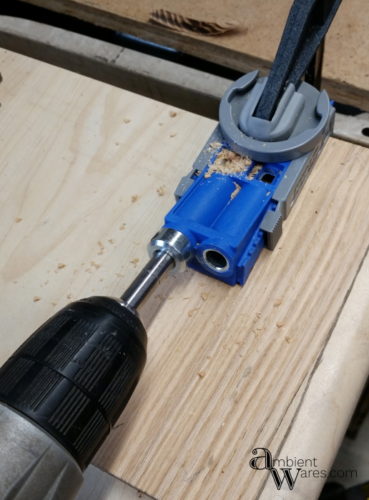 Holes are drilled here. I circled a couple and the arrows are where I needed to add another couple of pocket holes to attach the top layer to the bottom.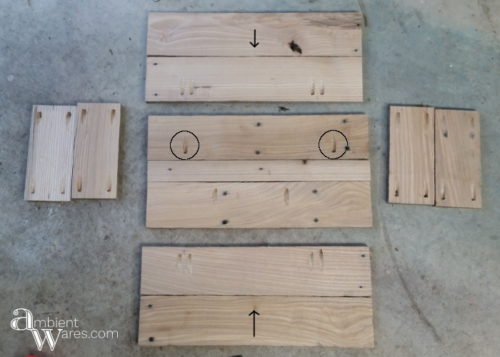 Then, I screwed in ¾" screws according to what the Kreg Jig instructions stated. Now, I've never used the Kreg Jig on a ½" thick piece of wood before. The wood we've used has always been thicker. So, when I used the ¾" screws to attach these wood pieces, they were way too short. They just didn't work. I then bumped up the screw to 1" and it held great.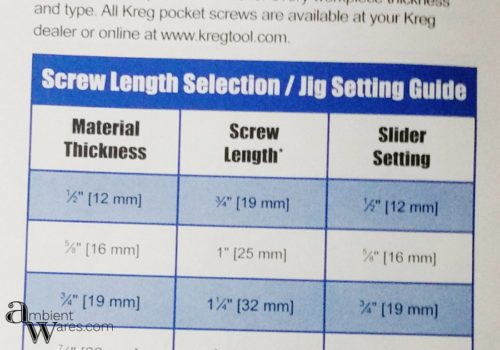 The next thing I noticed was that the head of the screw was not sunken down like I'm used to. It clearly shows. All the other pocket holes I made on this piece of wood were me testing out other measurements to see if they would make a difference, which they didn't. This wooden piece is also a part of the finished basket. I didn't feel the need to replace it.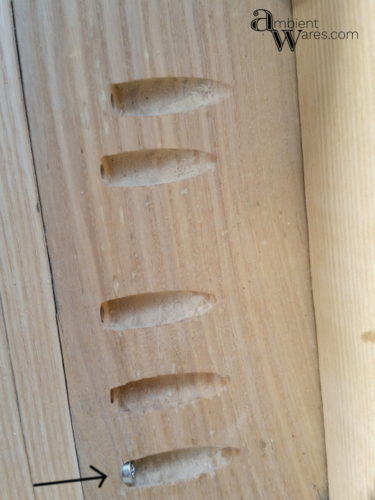 Here's what I'm used to seeing when we've used the Kreg Jig before. It's from the frame we made for a refrigerator shelf turned dry erase board. Do you see how the screws are sunken down and hidden?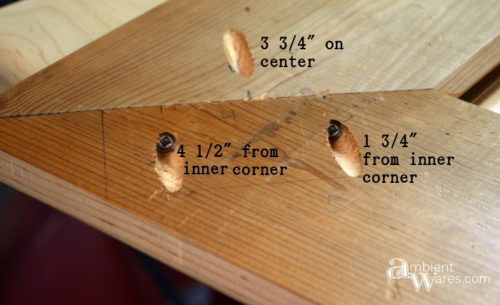 I tried searching on-line for an answer to both my ¾" screw problem and the fact that it wasn't sinking but, I couldn't find an answer so I emailed Kreg Jig to see what the issue was. I don't care that the screw doesn't sink down into the wood but, I wanted to know if I was doing something wrong.
My email to Kreg JIg:
I'm curious about working with 1/2″ thick wood. In the manual I received with my R3 it states to use a 3/4″ screw in working with 1/2″ material. However, the 3/4″ screw is just too short to join the wood. Is there something I'm missing? I ended up using a 1″ screw which worked just fine.

Another question is about the sinking of the screws. Is it even possible to sink a 1″ screw into a 1/2″ thick piece of wood since there isn't a lot of material to work with? I couldn't even sink the 3/4″ screw when I thought that was the length I should be working with.
Kreg Jig's response:
Thank you for your support and feedback. 1/2″ material is a little tricky, and the ideal screw / setting depends on its true thickness.  I generally recommend 1″ screws for the stronger hold, but if the material is on the thinner side of 1/2," a 1″ screw may end up poking out the far side.  In that case you'd need to either use a 3/4″ screw or make a custom adjustment to the guide block or stop collar to allow for the 1″ screw. 

However, the stop collar adjustment would make the pocket-hole even shallower.  As you noted, the standard 1/2″ settings already need to create a pretty shallow one in order to give the screw enough room, preventing you from hiding the screw.  Ideally, you can hide the pocket-hole itself by putting it on the underside or backside of your project.
What I got out of this response is, I'm not crazy, the 1" screw is better, and working with ½" wood will most likely not hide the screw head. Moving on…
I inserted the flat bottom piece first as a test fit and they fit. Then I attached the first layer of the basket and tried putting that inside the metal basket. Uh oh. It's a no go.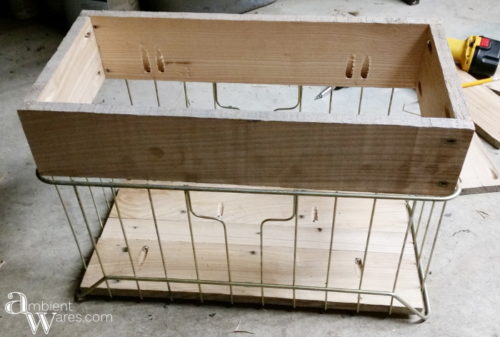 I trimmed every single piece again making sure all pieces would still fit together well and then boom, it fit.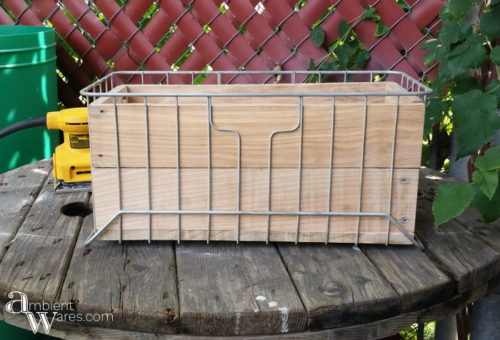 I also wanted the wooden basket to be as flush as possible with the top of the mteal basket and it wasn't. However, I found that if I added a couple of pieces of pallet wood to the bottom, it was more in line with what I was looking for. I cut 2 pieces and glued them down putting a couple gallon paint cans on top, letting them dry overnight.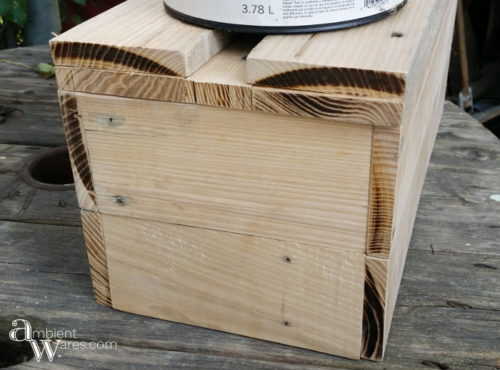 After the glue had dried I stained the wood.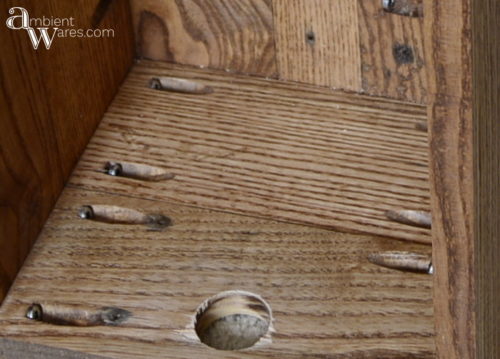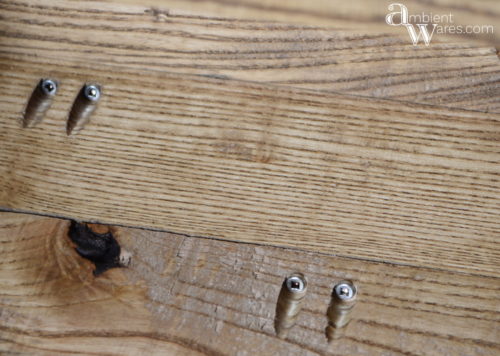 For the metal basket, I thought a yellow color would be nice. I've grown to really love yellow and added some yellows I had to this mirror as well as my secretary desk. This one is a pretty soft yellow and not a super bright obnoxious yellow. I really like it.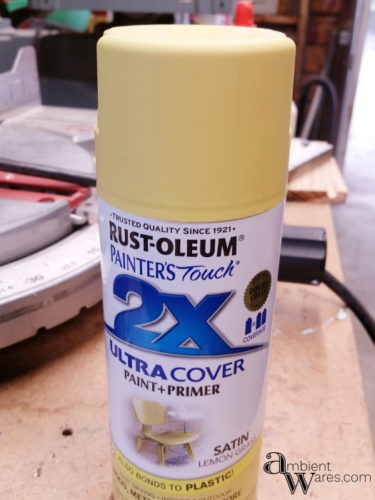 At the very end, I thought it would be best to drill a couple holes into the sides of the wooden insert so I could easily lift it out. While it fits, it's kinda snug. I even scratched up a teensy bit of paint on the upper corners 🙁 Maybe I should have shortened the pieces even more. Oh well, lesson learned. I used a ¾" hole saw for this. I've used the hole saw many times before and sadly, I forget how to assemble it each and EVERY time. Have you ever had that problem?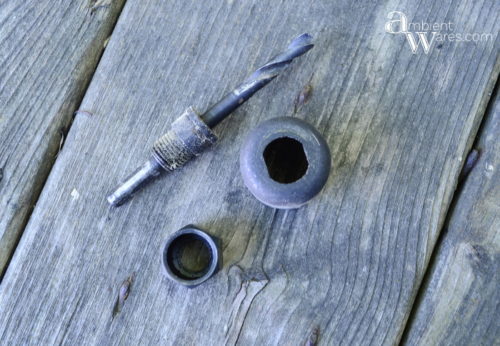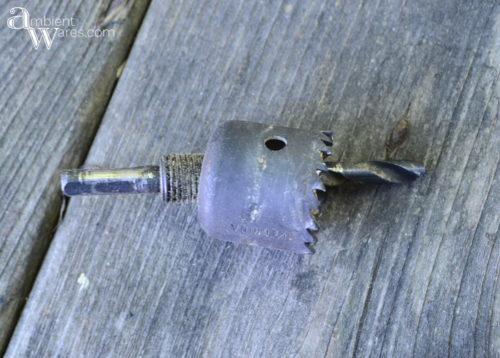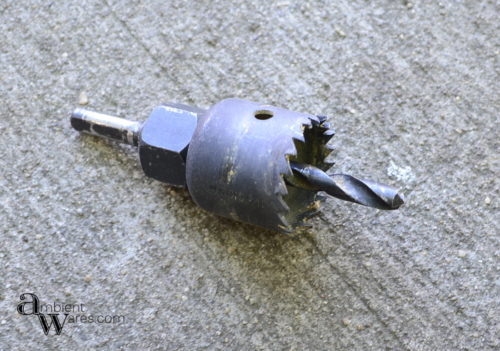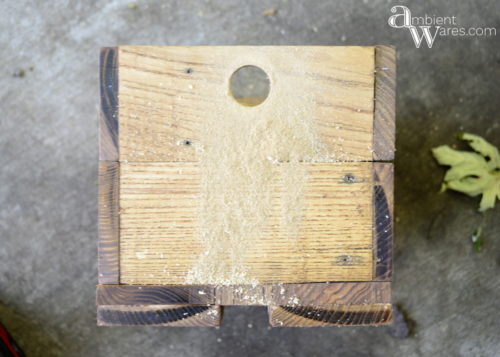 Tada! Holes made. Wooden basket inserted. Metal basket is painted. I love it. Can I just add, I don't need these baskets. I don't know what I'll actually do with it. I might use it. I might give it to a family member. I might just donate it. I cannot possibly keep (and honestly don't want to) keep everything I make. I just gotta make stuff though. My sanity depends on it ya know what I mean?