Yep, a Lazy Susan utilizing a salvaged lamp piece. There's nothing more awesome than coming up with unique ways of using items. I mean, you gotta know by now how much we love lamps whether we make them or find them to resell. Whether I find parts of lamps or dismantle them to make something entirely new.

I like taking them apart and piecing 'em out to make other things. In my crafting and DIY world, practically nothing is off limits. I've been known to borrow pieces from things we actually use. I like finding objects. I like taking them apart. I like putting them back together in a new and different way.
So, when my neighbor took his broken floor lamp to the curb for garbage, you better believe I marched right over, grabbed it and took it home. I like those days when I don't give a crap about what others think. Makes life so much easier.
Lazy Susan Tray Using a Salvaged Table Lamp Piece
The stand up lamp I picked up was similar to this one in the sense that it had a glass table with the exact same piece of gold trim. I found it at our local Habitat for Humanity.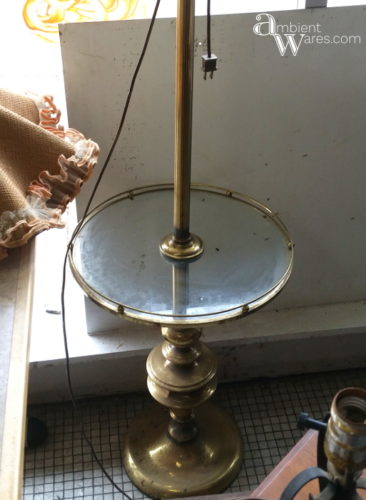 Then, wouldn't you know, I found yet another one at another Habitat. The gold trim around the glass is exactly the same. Straaange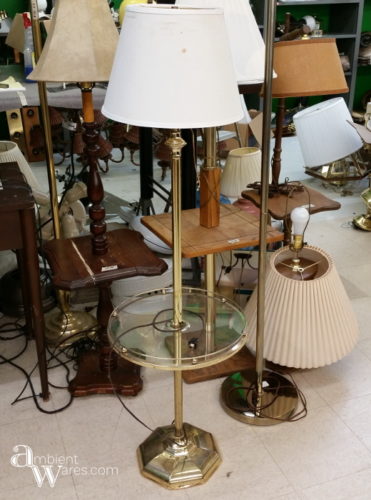 On my lamp, the glass was broken and little bits of it were stuck in this trim piece so first thing I did was clean it out.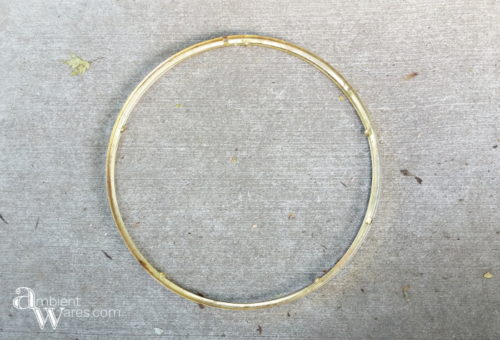 You'll need to find a piece of wood that the metal piece can fit over. Trace the ring out. Can you believe this is the same piece of wood I used for the mail organizer, Cosco stool, and the vanity chair I made for my niece? So, this is project #4 and not bad for a $14 piece of wood. See those 4 leftover pieces of wood? Love it.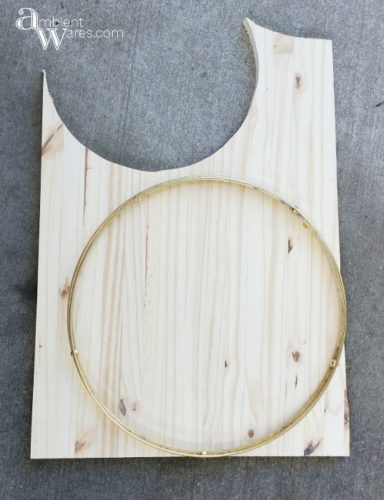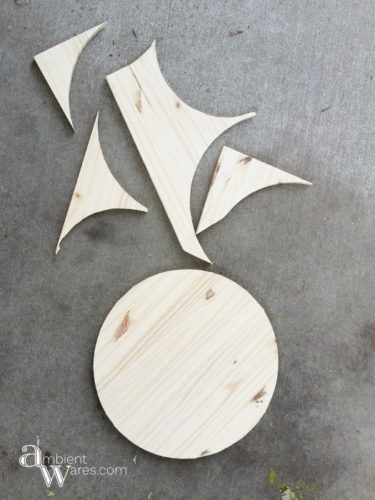 Please know some links in this post are affiliate links. If you click on a link and make a purchase, I may receive a small commission with no extra cost to you. Thank you. Click here for my full disclosure.
Cut along the traced line with a jigsaw or whatever you have that can cut curves. When I was done, there was still the smallest bit I needed to trim and I took it to the bandsaw. Worked like a charm. Look at that little sliver of wood.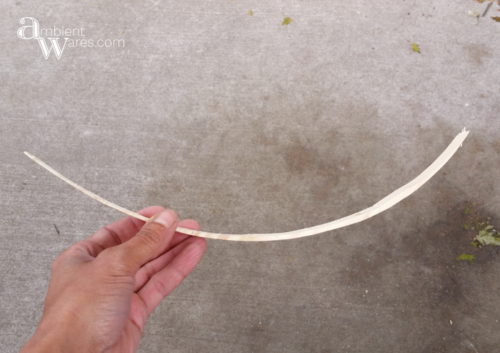 I trimmed off the excess until it fit the gold trim piece.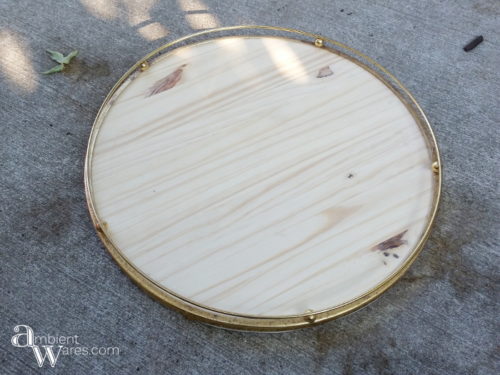 I realize the wood is too thick but, I certainly don't mind. Later, I'll end up breaking those tabs off.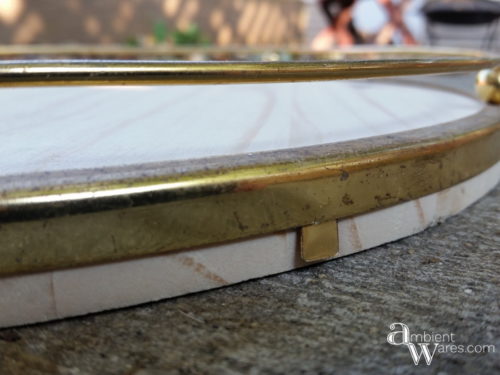 Stain or paint the wood. At this point, I really should have stained the bottom piece too but, I didn't until the end. I used my tiny can of gray stain that I love.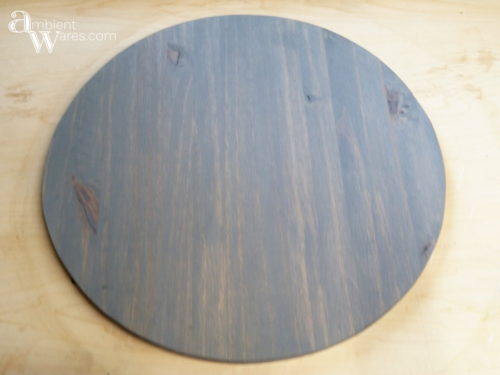 You'll need a bottom piece and for mine, I used a thrift store find. It's a wooden casserole dish holder that I ended up staining the same color.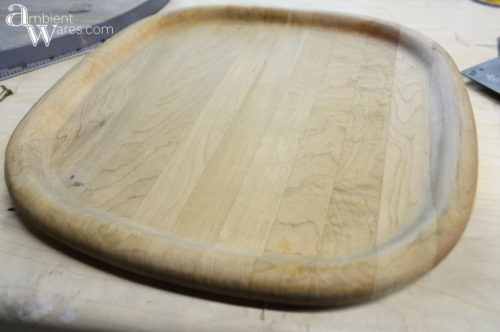 Once you have the two pieces, you'll install the Lazy Susan. I used this video which isn't the best but, she got the point across. I think I need to try making a video of my own on how to install a Lazy Susan. If you think I should, definitely let me know. I'm at least gonna show you a few pics of the process.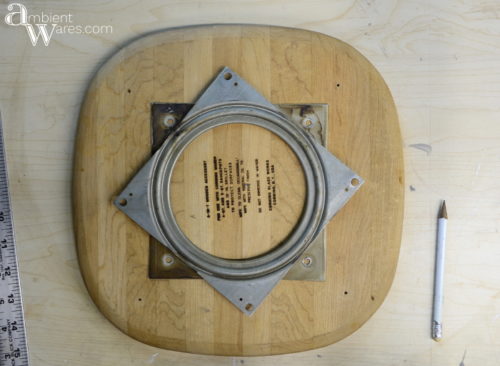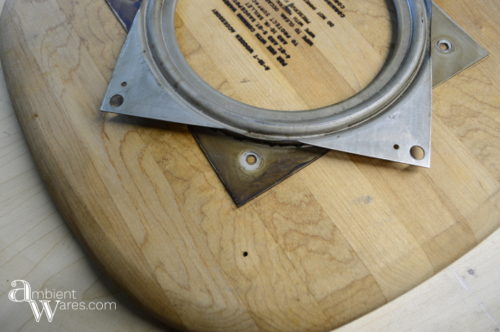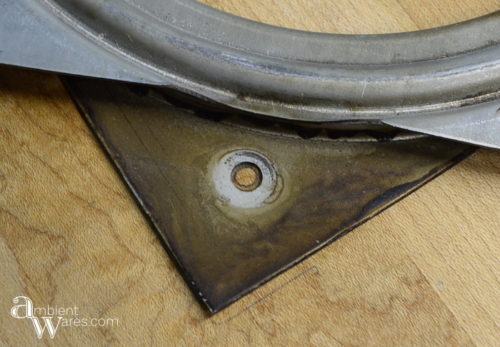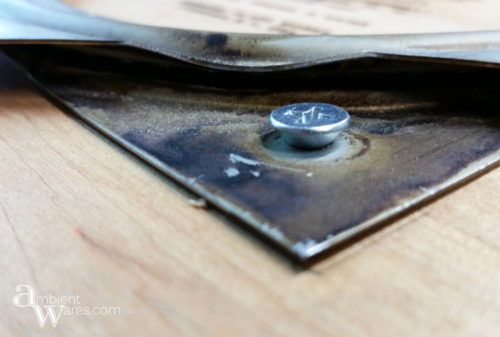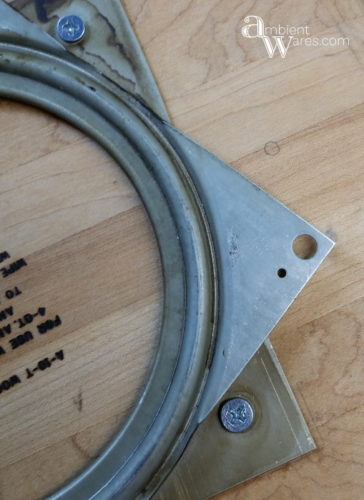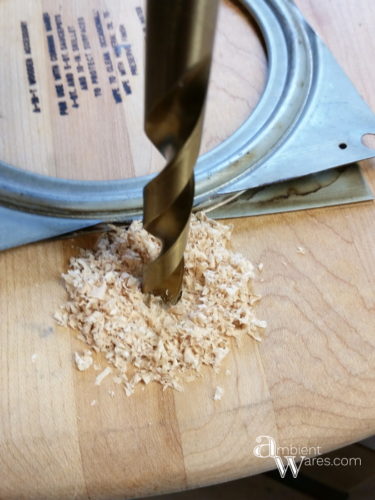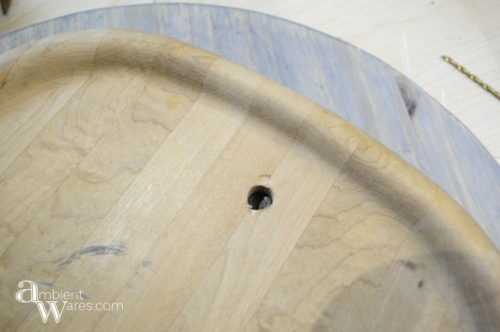 For the metal trim piece, all I did was spray paint it a matte white and then clear coated it. I may need to secure it further since it's just wedged on really snuggly but, as long as I don't pick it up just by the metal piece, it's good to go. Then came the fun part of trying to style it which I'm no good at so here it is staged in different ways.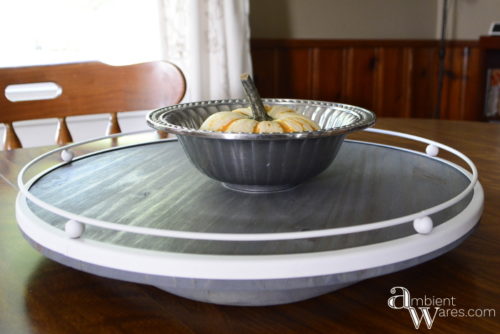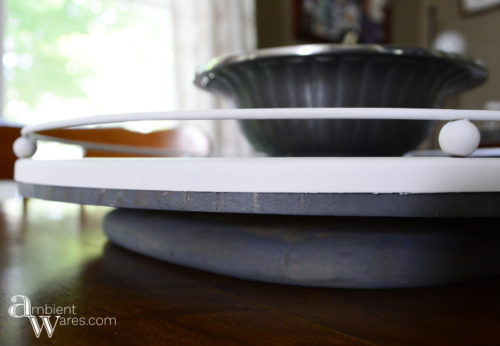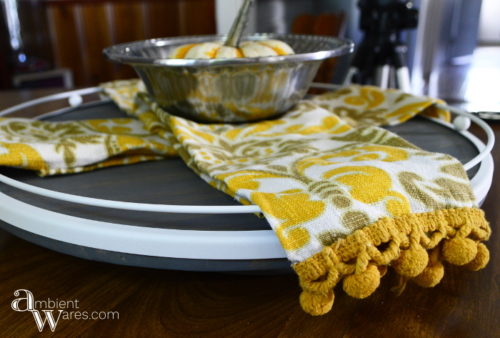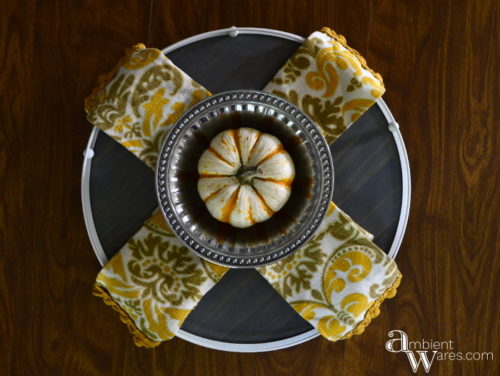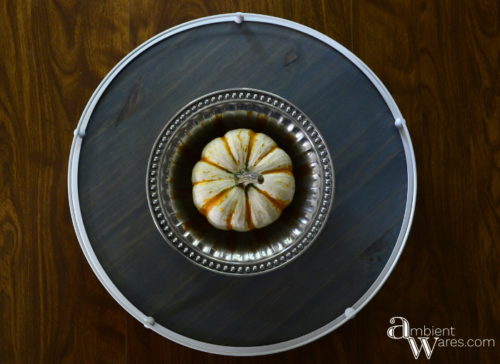 Pick a pumpkin, any pumpkin. Now, this Lazy Susan is a pretty big one measuring in at approximately 16 3/8" so, if you use a table lamp rim, keep that in mind. I need to scoot it for my apparently extra large dinner plates. Have you ever made anything completely unique and/or unusual using lamps or lamp parts? You bet I wanna hear about it.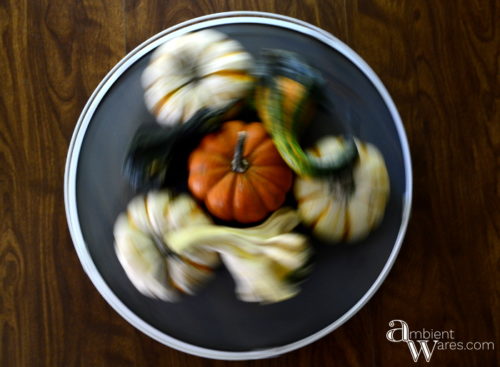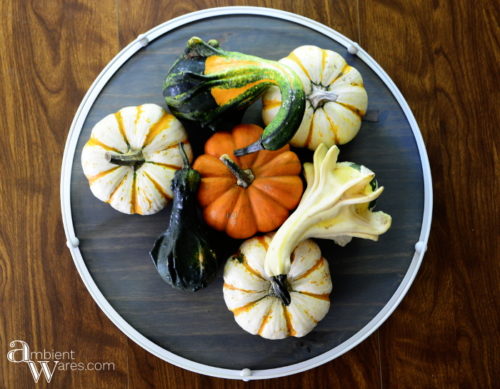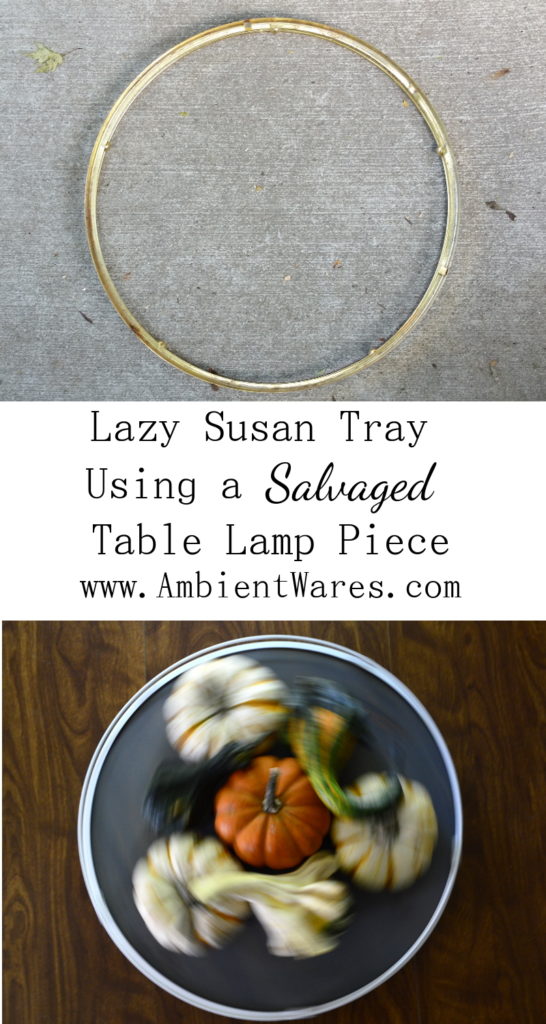 Here are a few other lamp projects you might like: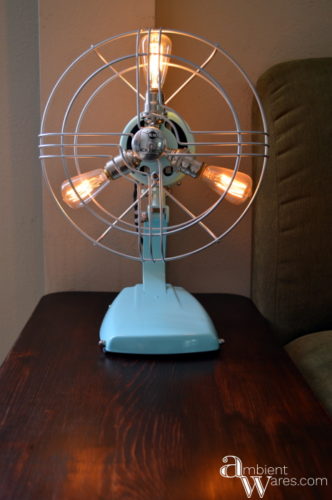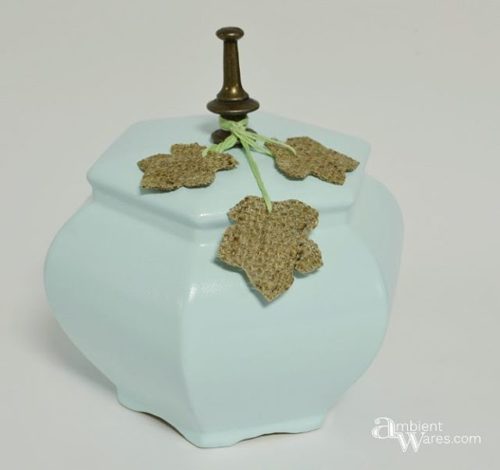 Ceiling Fixture Turned Industrial Table Lamp