Like most DIYers I love a good deal. In other words, I'm extremely cheap. I never know if I'm going to keep a refurbished piece of furniture or a repurposed thrift store find so when it comes to spending money, I want to make sure I'm not going to lose any if I decide to sell. So, when we walk into a church rummage sale as they're saying, "fill a bag for $5," my eyes widen, my stance is strong, and I've never moved so fast.
Please know some links in this post are Amazon affiliate links. If you click on a link and make a purchase, I receive a small commission with no extra cost to you. Thank you. Click here for my full disclosure.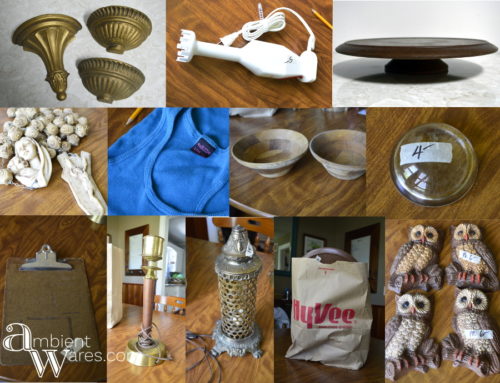 Their was one church lady apparently looking a little sullen and I'm not sure if it was due to the ravenous behavior of the shoppers, the fact that all of this stuff once loved is going for nothing, or if she ate way too many of the baked goods they were selling. Either way, the rummage sale had been going on for 2 days with a couple hours to spare and all of the stuff was still there.
I can tell you why the stuff was still there too. They were asking crazy amounts of  money, again, coming from me, the very cheap and frugal shopper I am. Can I also add they have a sign that states "for Hummer parking only" in the church parking lot? Take that however you will. All I'm saying is their idea of a good deal will obviously differ from mine.
I'll show you just what we got. I'll tell you right now if we'd paid full price, we would have spent $83 and if my calculations are correct it means I spent $.25 on each piece. Plus, there were a few items that weren't even marked with a price so we would have spent more. What's really crazy to me is that nothing we got was in great shape and some of it is what I would consider the poster children for junk. I was shocked as to how much we stuffed into this bag.


11″ diameter Lazy Susan – $4.00 – Just dirty and needs a cleaning. I plan on being crafty with it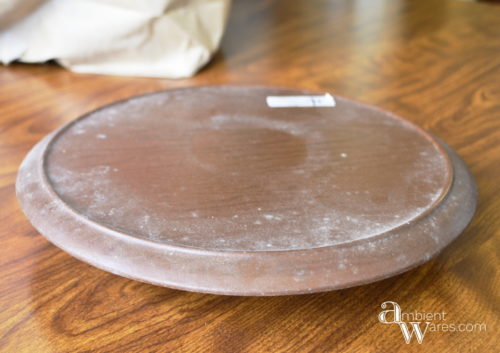 Giant Rosary – $20.00 – I'll be selling this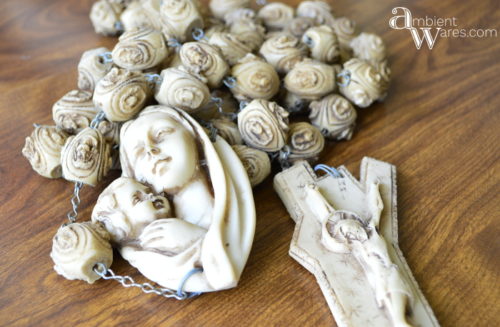 3 metal wall hanging decor pieces – $20.00 – The piece on the left is just a small shelf. Not sure what the 2 on the right are. They're hollow and looks like maybe someone had fake flowers displayed.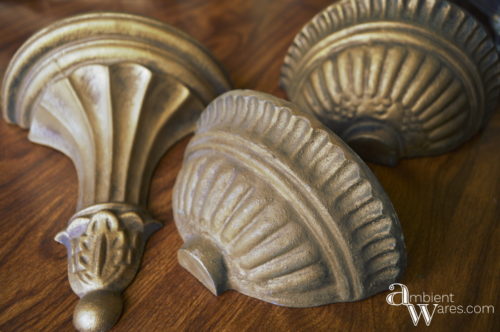 2 wooden bowls – no price tags – craft purposes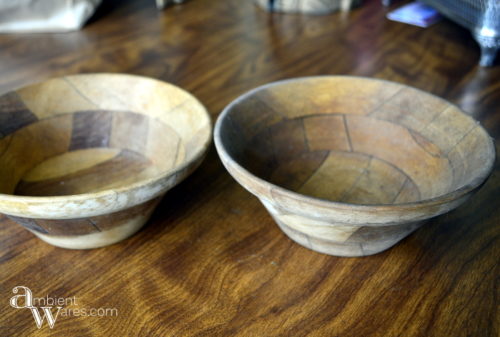 Had to show you I threw a tank top in there and wove it in between things to protect them – no price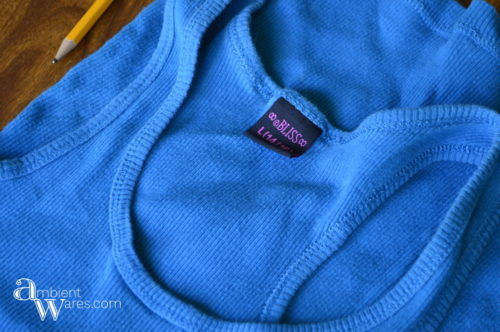 Immersion blender since I don't have one! $5.00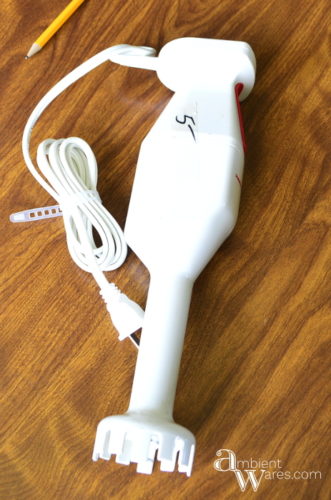 Clipboard – $3.00 – Isn't this the saddest clipboard? Why on earth would they charge $3 for a piece of crap? Ahh, but why did I buy it you ask? Well, I don't really know to tell you the truth. I've wanted a clipboard in my office for a long time now and I know I could just purchase a pretty one but, I think I'm physically opposed to buying new. Maybe…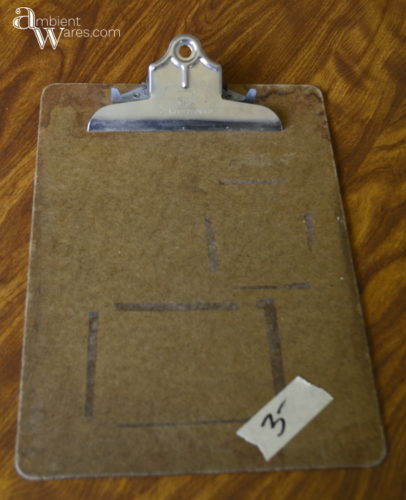 Brass & Wooden Lamp – no price – A simple project we'll probably paint, get a shade for and sell on Etsy.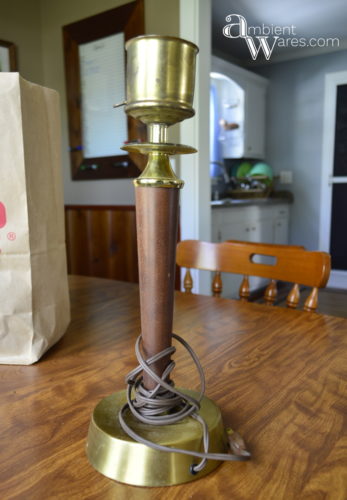 Domed glass – $4.00 – I think this is a paperweight? I'll be cutting out the atomic design from our plant stands and side table to display on my desk.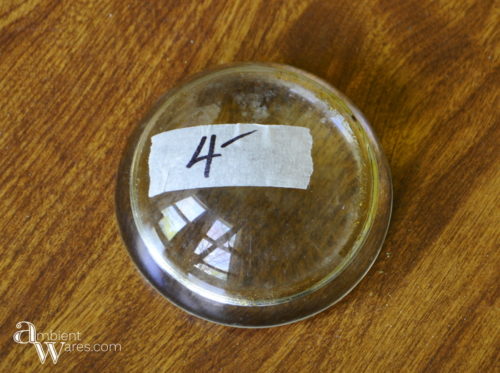 Vintage lamp – $15.00 – This was the most exciting find! It's missing liiiike everything it originally came with. It's a Falkenstein lamp that had a glass marble like wrap around covering the entire thing. It's also missing the finial. Regardless, the shell we have to work with in making a lamp is exciting. What's strange is, this is a similar cage like look we were going for when making the ceiling fixture into a lamp. It also kinda matches this refurbished lamp.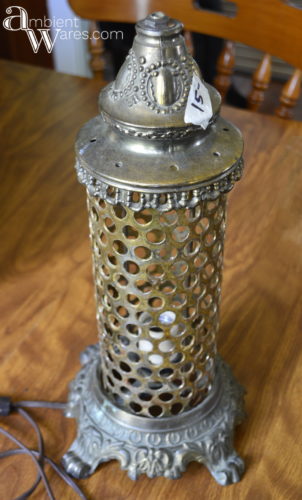 4 vintage plastic owl wall hangings – $12 for 4 – You already know I painted these adorable things. My hope is to hang them above the secretary I'm refinishing which is taking me so long and for no good reason other than not being organized. It's at least primed at this point. (UPDATE: It's done!)
There is no tutorial for the painting of the owls since all I did was clean them with soap & water and spray paint them 😉 I do have to say though, the purple and yellow were painted with Plutonium spray paint.  I love this spray paint and, as of right now, it only comes in a matte finish so I had to spray them with a clear glossy coat to get the shine.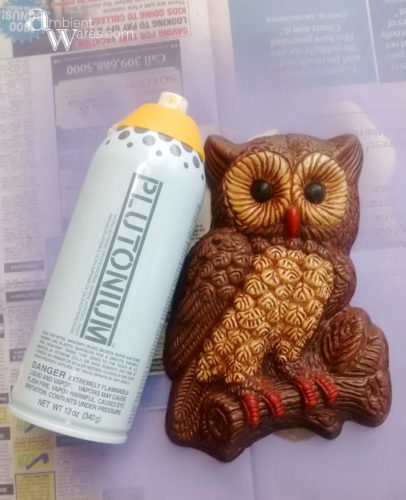 I was questioning whether I should paint the eyes a different color or leave them as one solid color. What would you suggest?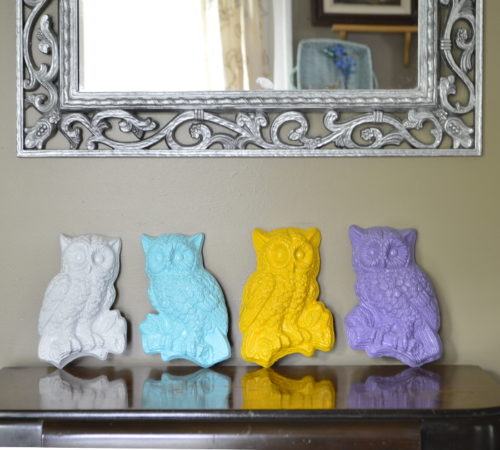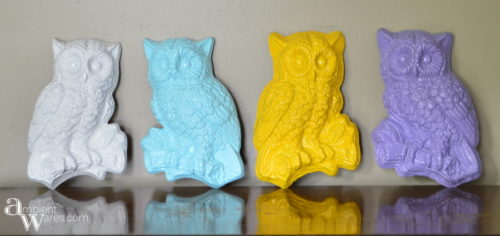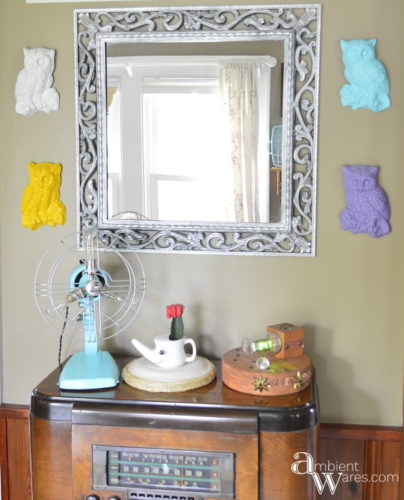 Click image below to PIN