I've recently acquired a true appreciation for the look and feel of vintage, mid-century items, especially those made of metal and the one thing which encompasses these characteristics are the old table top fans from around the 50's and prior. It's one of those things where you realize you like something and then you start seeing it practically everywhere.
Refurbished Industrial Styled Mid-Century Fan Turned Lamp
I'm not quite sure what came first, the fan or the idea. Who knew we'd start revamping these beautiful, heavy, pieces of the past into functional, beautiful works of art. When I say we, I totally mean Joe. Sure, I've been the one who's found a couple of them and I'll probably be the one to find more in the future but, he's the one putting in all of the time and work into making them new again. I do plan on learning from him so I can take these fan projects on myself.

I will say this post will not go into the how as much as it is about what these old fans can be turned into. This wasn't our first fan turned lamp and it won't be our last. I'll be sure to be precise with documentation and pictures next time around.
As you can see, the rust on it was horrendous. Before I decided to buy it, I felt around the rust spots to make sure it hadn't actually eaten through the base which it hadn't. Here it is in bits and pieces.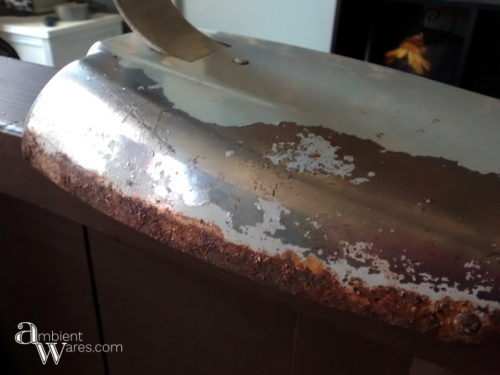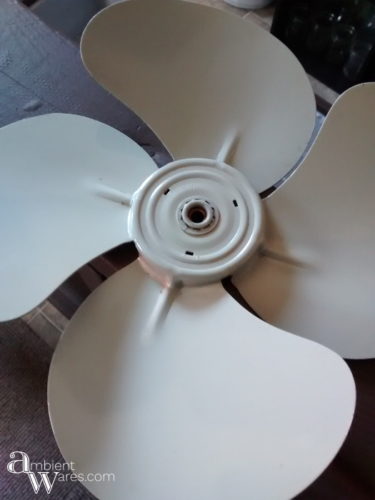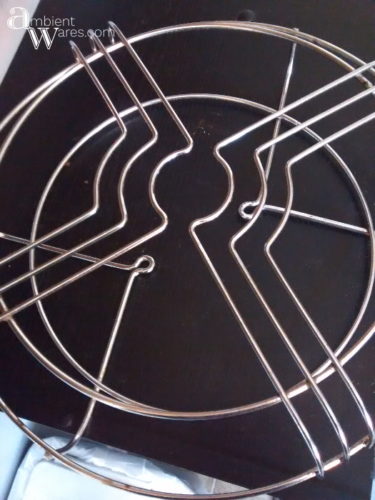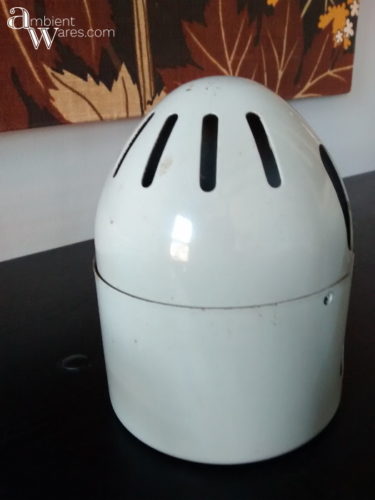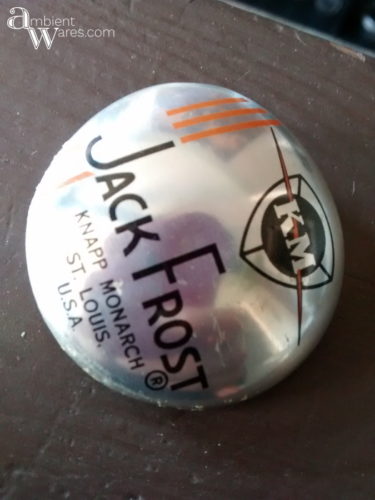 Please know this post includes affiliate links. If you click on a link and make a purchase, I receive a small commission with no extra cost to you. Thank you. Click here for my full disclosure.

I found a similar one, if not the same, on Ebay…just so you can see it as a whole. It seems to be the same original color as ours too.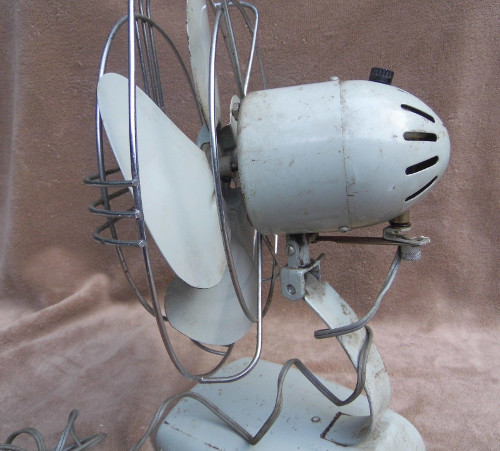 Joe sanded and cleaned up the entire fan and the rusty parts turned out so much better than we expected. He painted it with, what we think, is the color of all colors by Rust-O-Leum in Turquoise.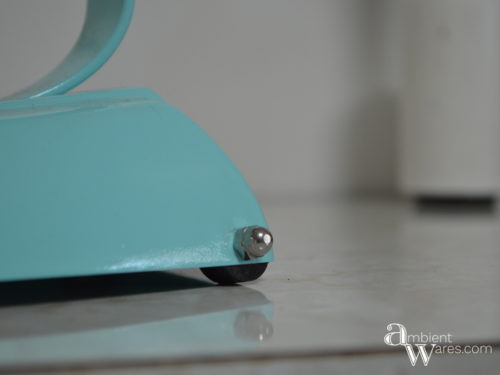 He purchased an old vintage styled twisted cloth cord similar to these. He also ordered a cluster with 3 sockets to hold 3 bulbs which were 25 watt incandescent Edison bulbs with a candelabra base but, the type of cluster body requirements you need may vary. In addition, 3 sockets were purchased to screw into the cluster body. In order to attach the sockets to the body, we needed threaded hollow pipes. We screwed the sockets into the pipes and the pipes screwed onto the cluster body.
We had some trouble with the original bulbs we ordered in that they did not last very long at all and 2 bulbs blew out waaaaaay too soon. The 2nd batch of bulbs we ordered are not handling the dimmer option well and jump from very low to very high with no in between. We're still trying to find a good, quality supplier of these candelabra styled bulbs.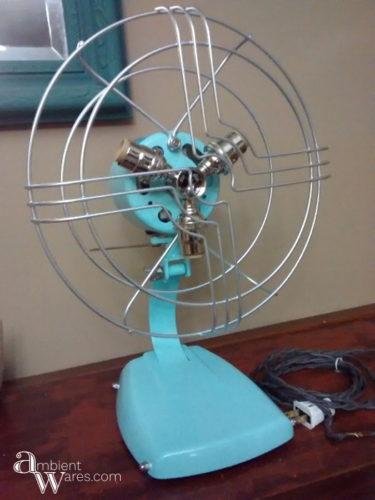 We wanted to keep the round emblem untouched and in original condition if at all possible and this fan's emblem originally had 3 metal tabs that clamped into the center of the fan blade but, since that's gone, we drilled small holes along the edge, then fed wire through so we could attach it to the front center of the cage instead.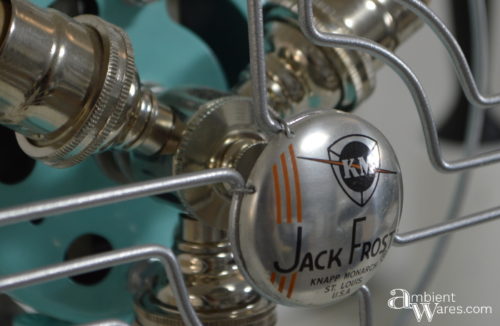 As I mentioned before, I'll get a much more thorough how-to in creating these beautiful fans turned lamps the next time around. While straightforward as far as wiring goes, each fan offers up a different set of challenges that need to be figured out.
Isn't it fun to think of these old, usually worn down and/or broken fans being made into something so functional and useful? What color would yours be?
I'd love for you to also check out the side table the fan is sitting on. It's the easiest side table I made using a scrap piece of wood and the metal legs of an old plastic chair. It couldn't be easier and I'll show you how!