I bought this cute little wooden wagon pull toy while out at a local neighborhood garage sale over the summer. It had the alphabet stenciled on it all around and the "axles" connecting the wheels were in bad shape. It was neither a toy nor pull-able at this point. This was an easy trash to treasure makeover!
While I loved the look as it was, I like painting old things too. I have no problem refurbishing furniture or knick knacks, especially when no one else wants it. Granted, if something is truly old and priceless I'd think twice but, most things I'm buying are neither of those things. How can I justify not changing something up when in the state it's in is undesirable to those who still pass it up when it's only $2.00? It had been there all day since I found it towards closing time.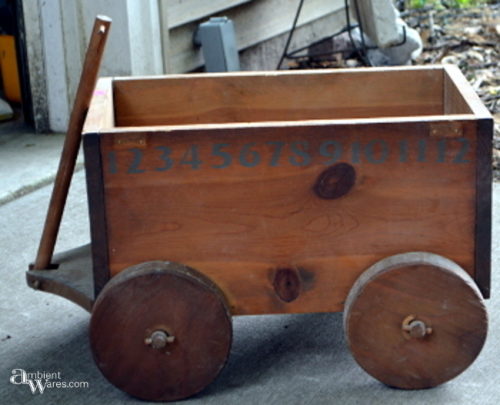 Please know some links in this post are affiliate links. If you click on a link and make a purchase, I receive a small commission with no extra cost to you. Thank you. Click here for my full disclosure.
Materials I used
Hammer
Handsaw
Tape Measure/Ruler
Pencil
Rag for cleaning
Something to spray paint on. I used cardboard & scrap wood
Painter's Tape (I use this)
Newspaper
Wood Glue (I use this)
Weights
This project went so fast; I missed a lot of photo opps including the underside. The rods/axles were dowels that went through one wheel to the opposite wheel and the dowels were nailed in a couple of places to the bottom of the wagon.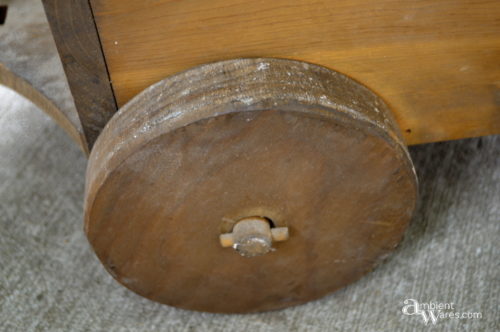 The rods were splintered and warped ceasing all fluid movement. I first thought I wanted to fix and replace the rods which I absolutely could have done but, I moved to the idea of making it stationary and more of a decor or storage item.
I pried both dowels off the base with a hammer and sawed through the ends with a handsaw to slide the wheels off. Once the wheels were off, I measured them, finding the center, drew a line and sawed down the line with our band saw. I only need two. We were left with 2 wheels and Joe ended up using one of them for this lamp.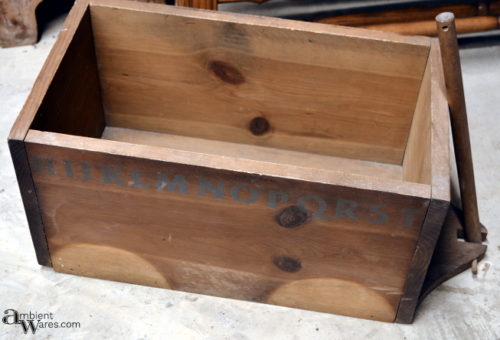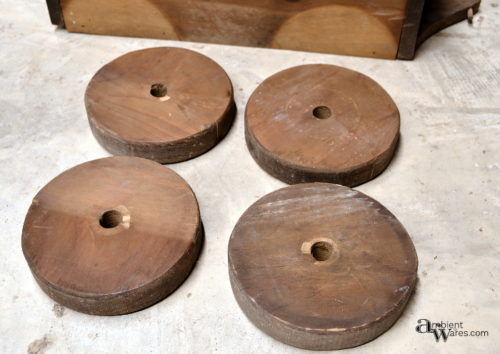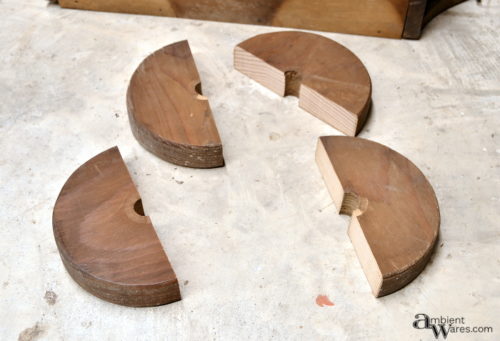 I cleaned the wheels and the wagon itself with a damp cloth. I then placed the wheels onto a piece of cardboard and spray painted them in a glossy black enamel. The entire base, except for the top edges and inside, were painted a light blue. I've definitely used this color before.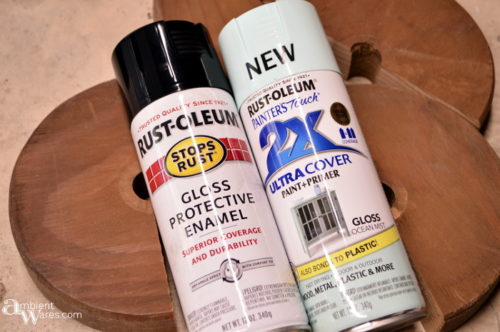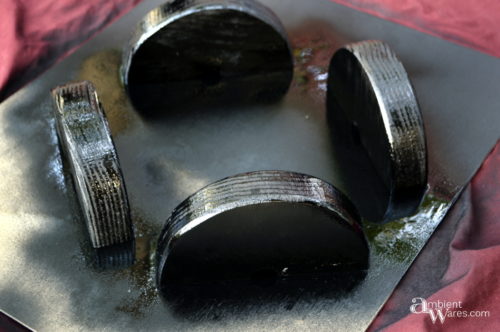 You can barely see but, along the top edge of the wagon, I used painter's tape and newspaper so I wouldn't paint the edges or the inside.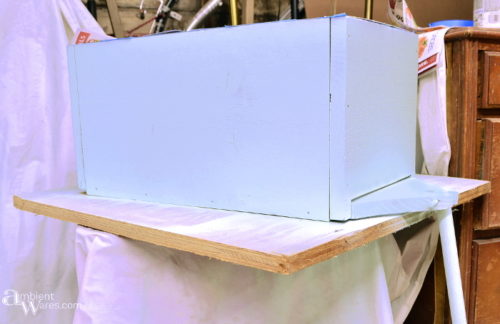 Once all was dry, which was really fast (read: I didn't wait the proper amount of time) I flipped the wagon upside down and on the now flat sides of the wheels, smeared a good amount of wood glue lining them up on the wagon's bottom side.
I placed a piece of wood large enough to cover all 4 wheels, and added some weights on top to secure them for 24 hours. After it had dried and I placed it back onto it's wheels, I placed those same weights on the inside of the wagon for another couple of days just because.
It was seriously one of those crazy easy projects that is so satisfying when done because I got the creative bug out of my system and it went off without a hitch. Can't beat it! I know some would've liked to keep it original without painting it but, I really needed to just get some creativity out of my system 😉 Also, it now belongs to my 1 year old nephew and I can almost guarantee he doesn't care what it used to look like.
Do you find yourself creating as a result of just needing to do something at any given time?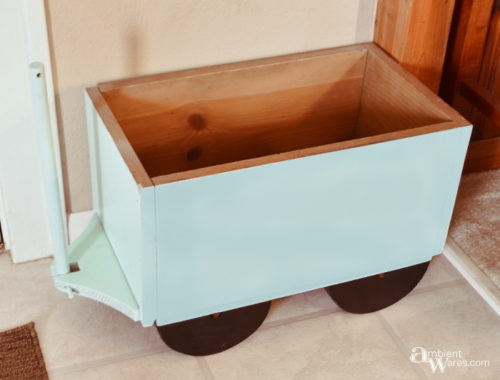 Click image below to PIN