I've said before when I'm looking at various potential projects, I take an item, flipping and spinning it, wondering what other uses can come of it. Just like my basket from a foot stool. Years ago, I saw this stool project. I can only kinda sorta sew but, I was getting a headache just thinking about sewing it. I absolutely loved it though and thought how smart it was. Someone flipping over a stool and making it a completely different animal. Then, I'm not sure when, I was reminded again of the gift wrapping station when I saw this stool.
I knew it was time I took it on and made my own. Like any other project I take on, I go into things knowing what I want but, as I start working on it, I don't always know what my next step will be until I'm actually doing it. Basically, I'm making it up as I go. I'm someone who ALWAYS makes mistakes. I don't think I've ever created something that went smoothly from beginning to end. It's a miracle if that happens. Sometimes I wonder if I'm somehow unconsciously sabotaging myself.

Please know some links in this post are affiliate links. If you click on a link and make a purchase, I receive a small commission with no extra cost to you. Thank you. Click here for my full disclosure.
This stool is no different. As you'll see I run into trouble forcing me to come up with a solution and sometimes I really like that aspect. Hence the sabotage consideration. Hopefully you don't run into troubles in your DIY world or at least not as often as I do however, I hope my mistakes help you look at things a bit differently.
It's a $3 garage sale find and underneath the seat it has a stamp saying it belonged to a Walgreens with a local street address. I've lived here for 25 years and never knew it to exist in that location. I really need to find out what years it was there. I taped over it so I wouldn't paint it.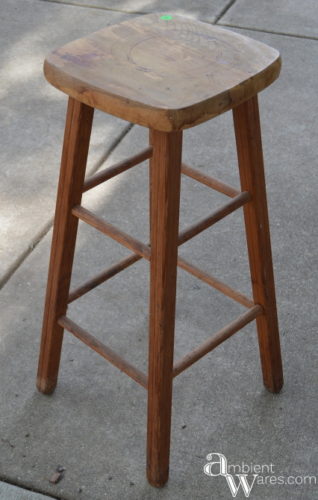 In thinking about any ribbons, I knew I wanted a removable crossbar or dowel. The only problem was the dowels were securely glued and I couldn't pry them apart. I tried different methods to loosen the glue but, nothing worked. The bar would need to be cut out. I started by using our new reciprocating saw. Our local Harbor Freight has it on sale right now for $20! I first tried the jigsaw but, there's a metal guide on it that made it too wide so I couldn't shave it off flush. The reciprocating saw let me get right up to the leg. It can be very jarring when you first use it but, you just stay steady and you're fine.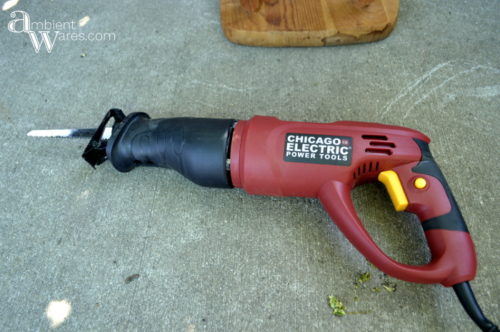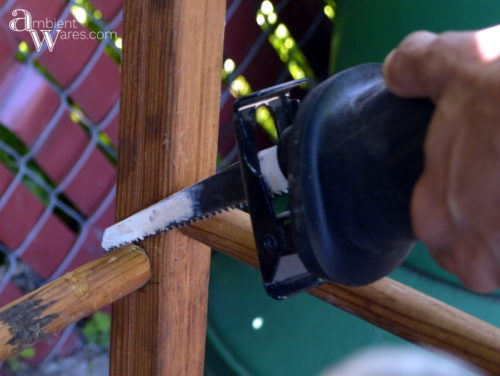 I lost some wood on the leg in the process.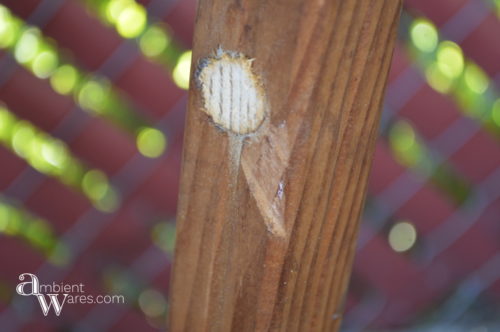 After the bar was removed, I used a 1″ hole saw on one of the legs. My plan was to drill all the way through so the bar could be slid out easily. I drew a line in pencil to get as close to the remaining wood from the bar I'd just cut out. In a perfect world, I'd drill right through where the leftover piece was.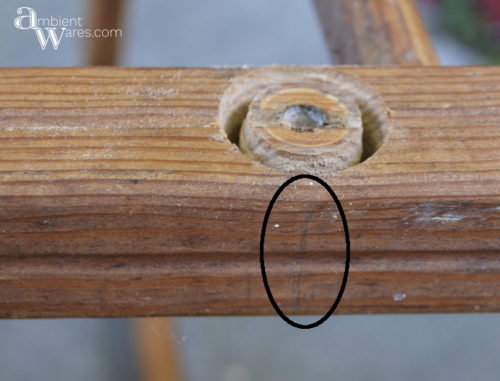 I sometimes don't have enough brute force to attach bits to the drill and they come wobbling out.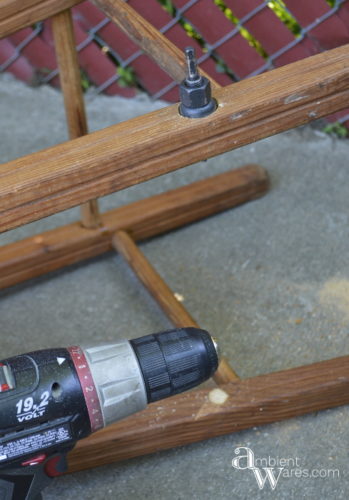 Now the hole has been cut out leaving the chunk within the drill bit.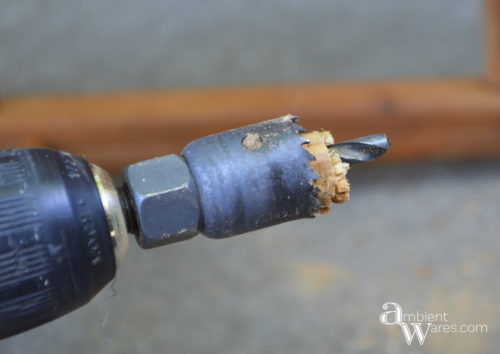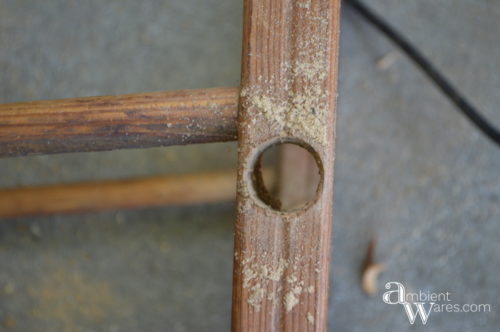 Of course, I splintered some wood but, I glued it back down, no problem.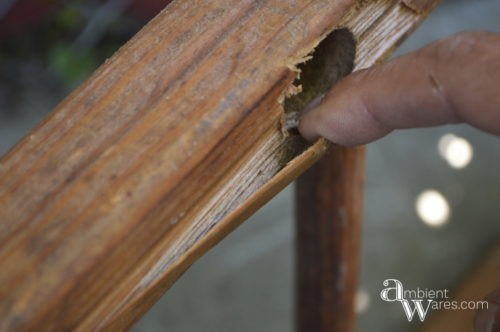 For the other side, I thought I only wanted to drill a hole half way or so just so the wooden dowel could be slid in one end and into the half way drilled hole as a stopper. The only problem was that my drill along with the spade bit was too large and couldn't fit in between making it too hard to go straight. I ended up drilling a hole all the way through from the other side.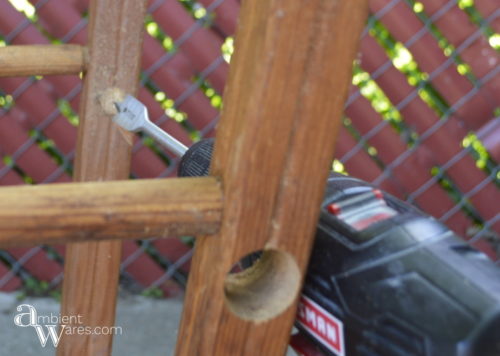 Now, the next steps I made up entirely as I was working. The feet, I thought, would be a great place to store a couple pens/pencils/markers and maybe even a pair of scissors. The 1st 3 went perfectly. I had to pay attention and not drill straight down though because the legs were angled. Then came the 4th leg. I drilled and popped the spade bit right through the leg! I went straight down when I shouldn't have.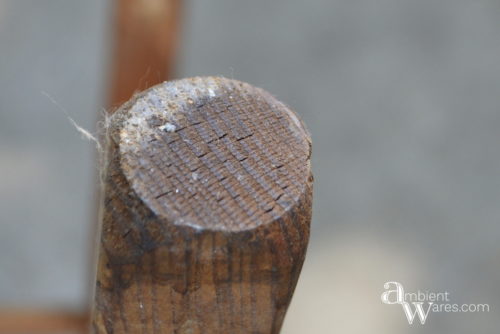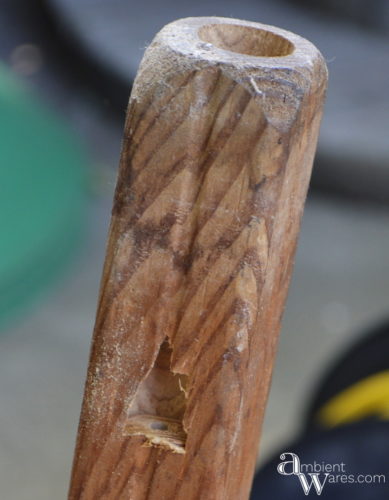 Great, how am I going to fix it? The hole wasn't something I could just fill with putty since it would fall right into the hole. So, I took the dowel that I'd cut off earlier, filled the entire hole with wood glue and using a mallet, tapped it into the hole. It was extremely snug and I ended up splitting the leg a little bit. Nothing that more glue along with clamps wouldn't fix.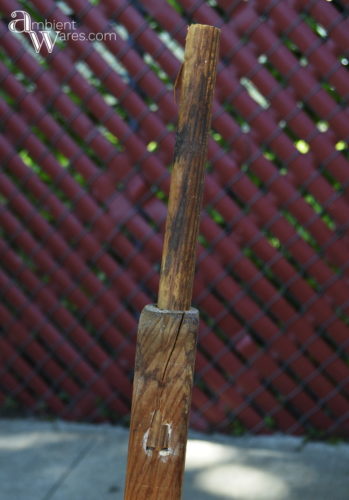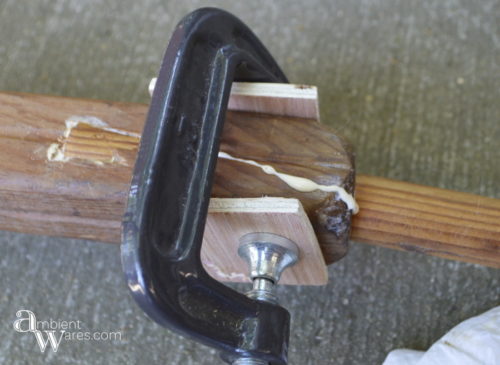 When I tapped the dowel down, where the hole was, a good part of the dowel stuck out so when it was all dry, I took my hand sander to it, shaving it down. It isn't perfect but, it was fixed. I didn't even bother trying to drill another hole because I was now afraid I would break it again.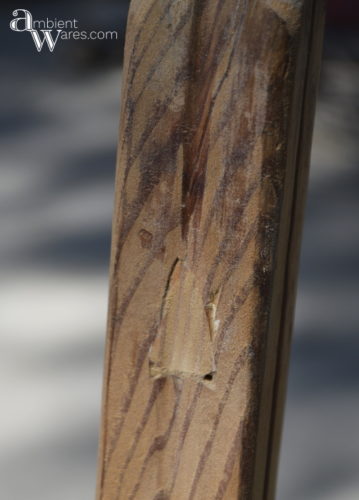 I ended up sawing off the part of the dowel sticking out, filled the gaps with putty and sanded.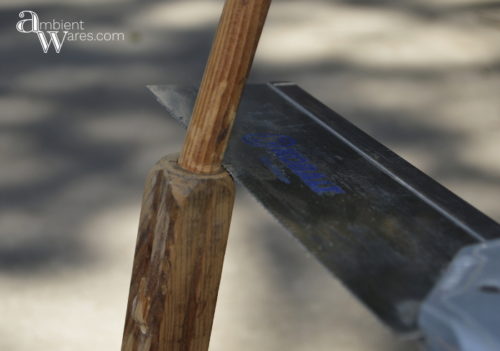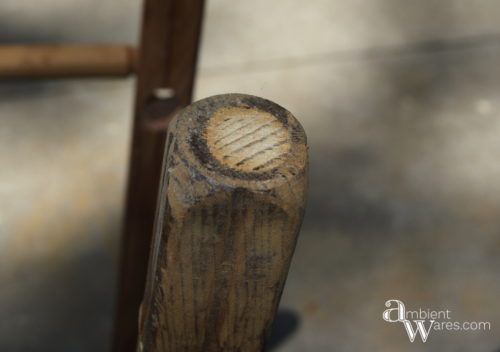 When I refinished the little wagon, I'd removed the "axles" to make it stationary and that leftover piece worked perfectly as the new removable dowel. It already had a tiny dowel through one end that works as a stopper since I now had 2 open holes in both legs. It prevents it from sliding right out, at least one way.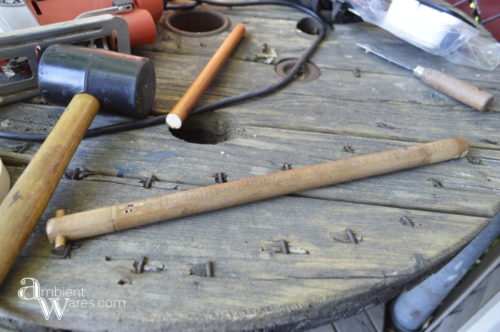 When it came to the casters, I marked them on the seat, drilled pilot holes and attached them with some screws just to make sure they were good. I wanted that done before painting it.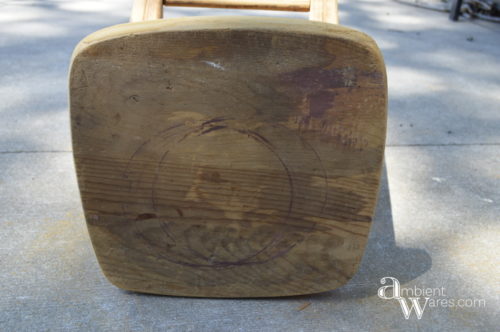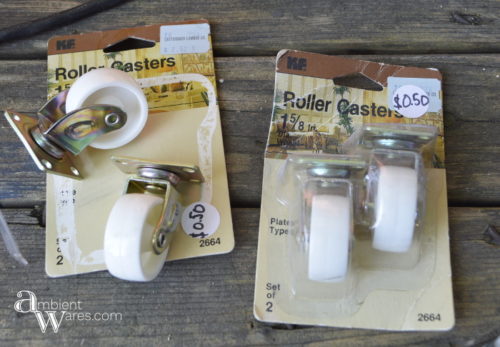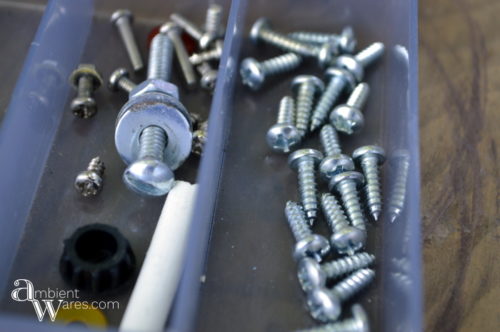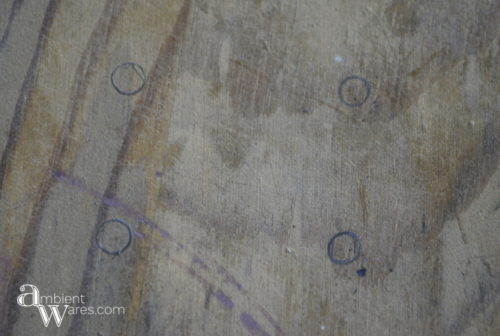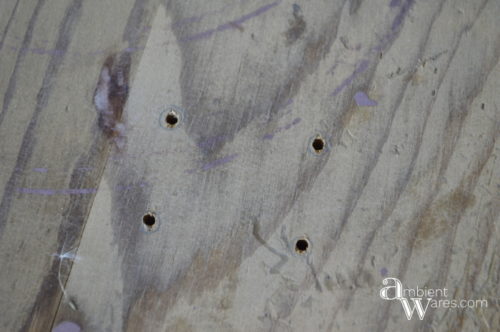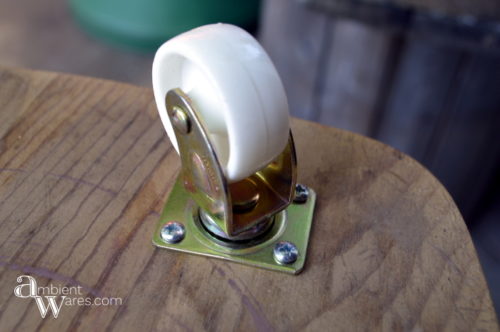 Would you believe that at the very end, one of the bars was actually loose? I'm guessing it was from all the cutting and drilling that loosened it. I grabbed the glue and a clamp and let it dry.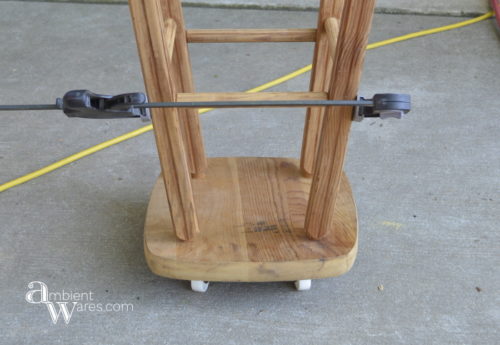 I started out by hand painting the stool and quickly moved onto using the
It just goes so quickly. My set up is in the garage with a large tarp.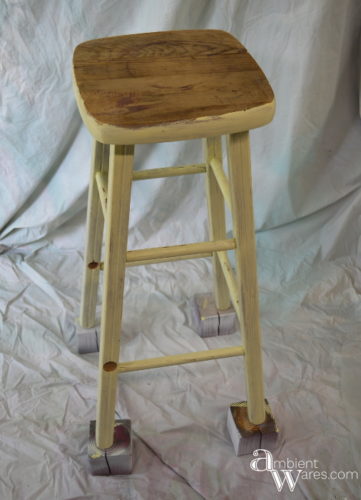 Once the paint was dry, I reattached the casters, put some ribbon and string along with a tape dispenser on the removable dowel. I also added a
where I can hang some gift tags. The gift tags are actually from an ancient Yankee Candle box. I cut out the images, hole punching the corners. The green and yellow bag is just hooked on with a little bungee cord. I really need to get a good sized S hook. Now I have a super cute way to store all my gift giving supplies! What would you do differently?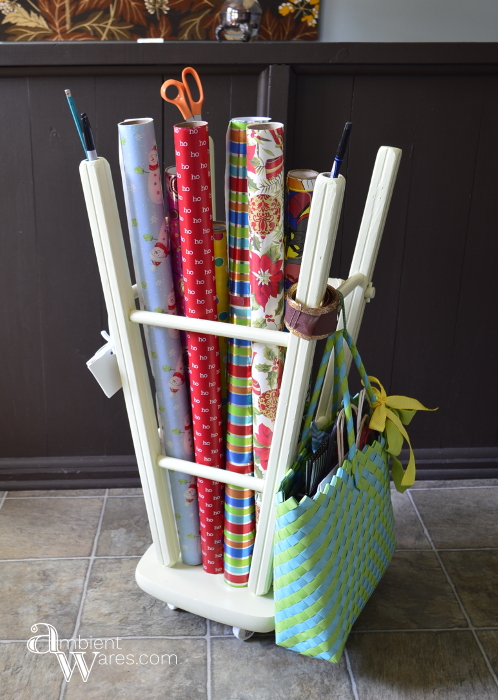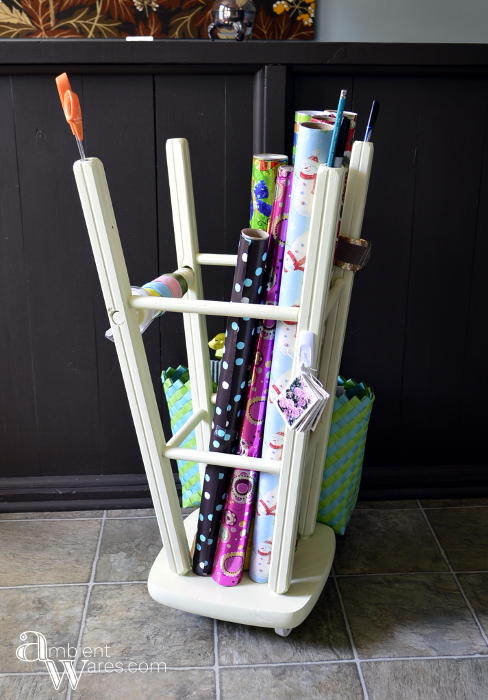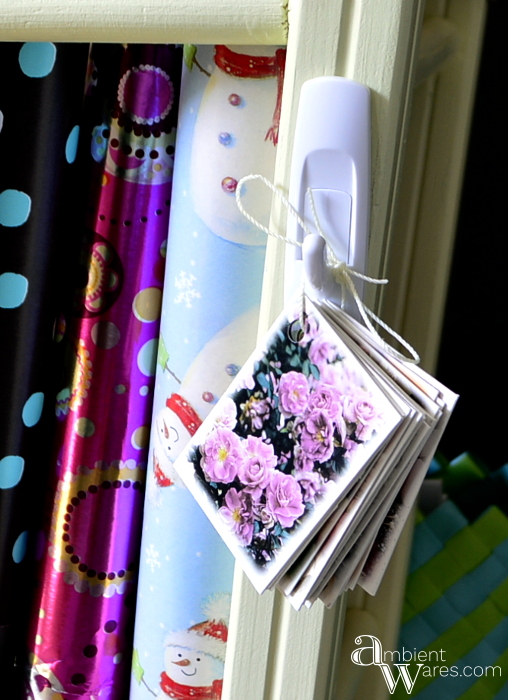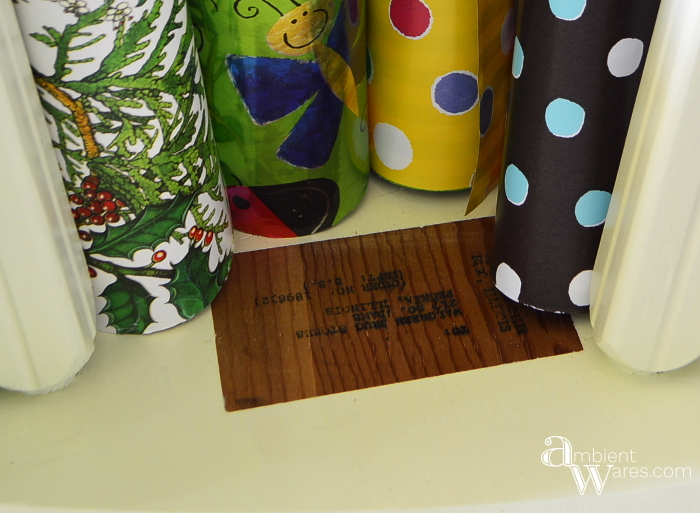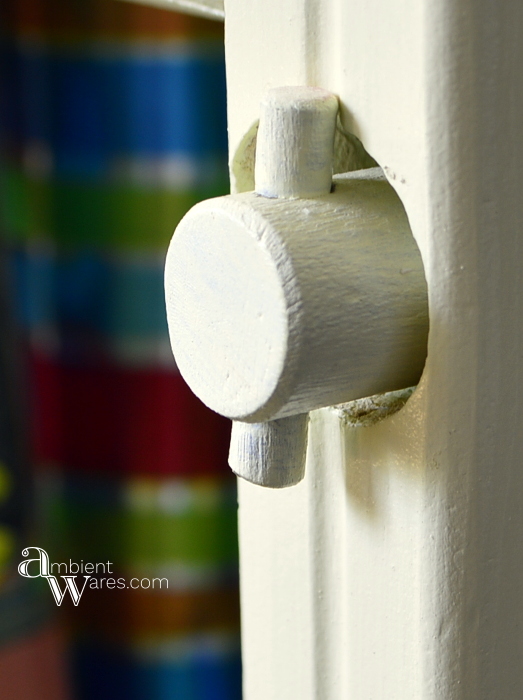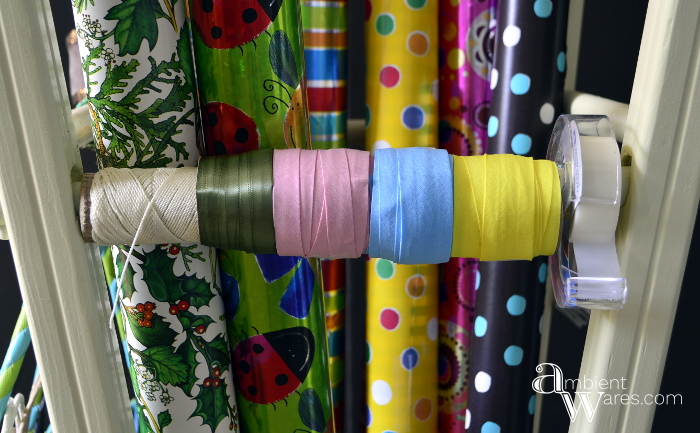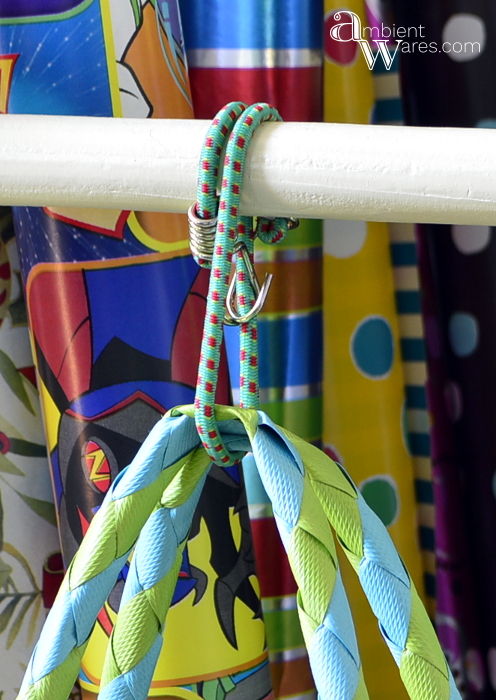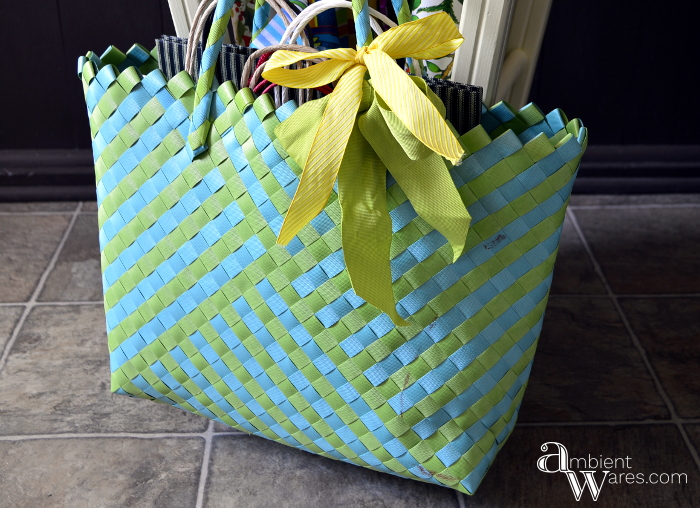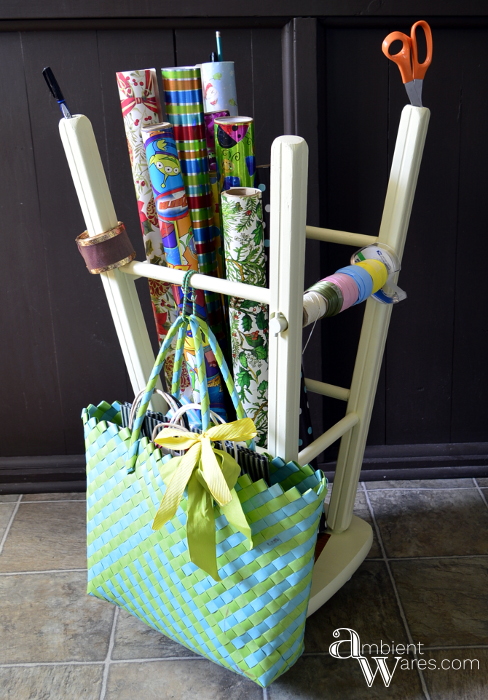 Click on image below to PIN!