I'm not a fancy person with expensive taste in clothing, lifestyle, or home decor. It just doesn't fit with our laid back way of living. The biggest thing is I'm not willing to spend lots of money on things just to achieve a look no matter what style it is.  It doesn't mean I don't like fancy decor styles. It just isn't something I lean towards when decorating. Oh, and I have no eye for decorating my home at all!
Having said all of that, I made a kind of fancy centerpiece to go on our dining room table. The table is a good example of boring and not fancy. Hey, can't beat hand me down furniture. That's yet another future furniture project I need to tackle. I don't have any placemats, I think I have one tablecloth, no beautiful flowers in the garden yet to display, etc.  Aaand, if you don't think this project is in the least bit fancy well then heck, I'm way more laid back than I thought!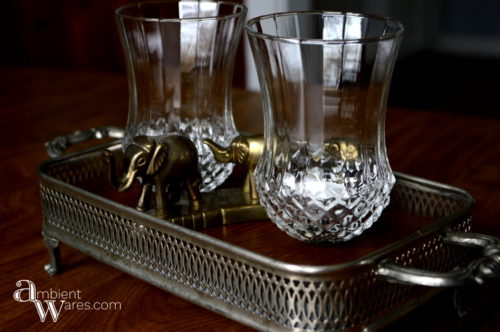 DIY Silver Plated Tray & Sconce Votive Centerpiece
Please know some links in this post are affiliate links. If you click on a link and make a purchase, I may receive a small commission with no extra cost to you. Thank you. Click here for my full disclosure.
Joe and I eat all meals at the dining room table. I usually have a little catch all bamboo basket filled with things like pens, paper, scissors, that little thing which we have no idea what it goes to so it's been in the tray for years. I know the second I decide to throw it away, we'll figure out what it goes to. See, not fancy but, we do live here and all.
I found this tarnished silver plated casserole dish holder at the thrift store with no project ideas in mind. I think it was $1.00, maybe even less. Another find were a couple of glass sconce votive holders. There are so many lonely votive holders out there.

I've found a ton of votive holders missing the gaskets which I've since found you can purchase replacements for. These two did come with gaskets that were also in good, sturdy shape.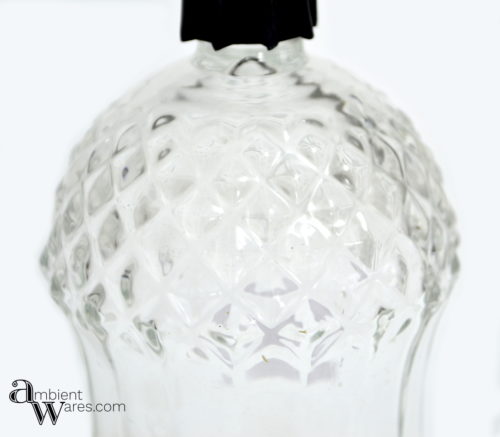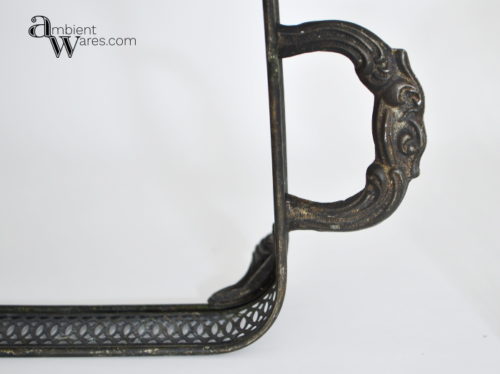 Cleaning
If you've ever wondered hot to clean a silver plated piece, read on. The first thing I had to do was clean the very dirty and tarnished basket. I looked up how to and found so many recipes. Some called for vinegar, others said to use hot water while some said boiling. A few swore you needed to use glass dishes and other said plastic tubs to place your piece in. This is what I used based on the various recipes. I'm not sure chemically why you need to add salt but, I used it.
Plastic Storage Tub
Aluminum Foil
Almost Boiling Water
1/4 Cup Baking Soda
1 tsp Sea Salt
Junk Sponge
Old Toothbrush
I placed the tub in the sink, foil at the bottom, and carefully poured the water in.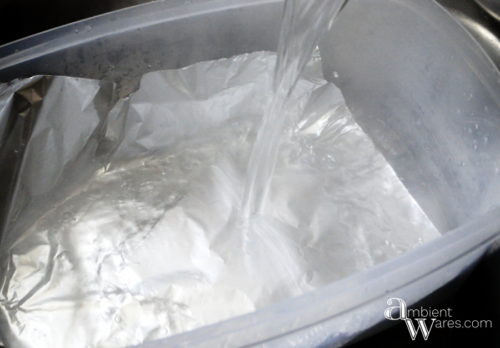 Then I poured in 1/4 cup baking soda and 1 teaspoon sea salt and mixed it. I wasn't sure if this was a good quantity based on the size of the dish, the tub I was using, the amount of water etc., but it worked just fine. The most important thing was making sure the dish was covered entirely. I placed the dish in letting it soak for about 10-15 minutes.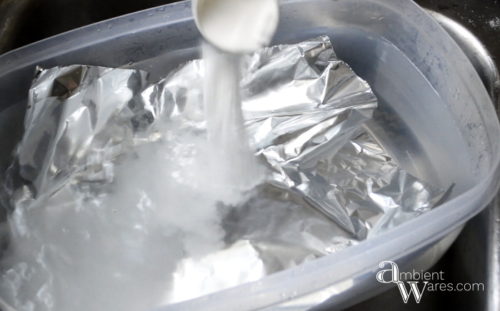 I scrubbed and scrubbed going back and forth between the sponge and the toothbrush. I watched the black tarnish drip back into the dish. I didn't wear gloves but, maybe you'd prefer to? When I was done, I made sure to rinse it extremely well and dried it off immediately. I read salt could start pitting the metal.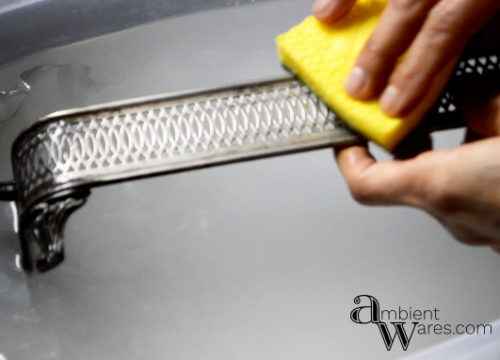 There's a little black spot in the foil and that's the tarnished particles. There was a bunch more in the tub I rinsed out.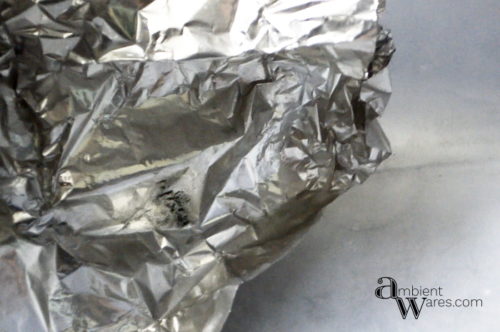 You can see how much better it looks. While I probably could have done another round of cleaning, I thought it looked pretty darn good.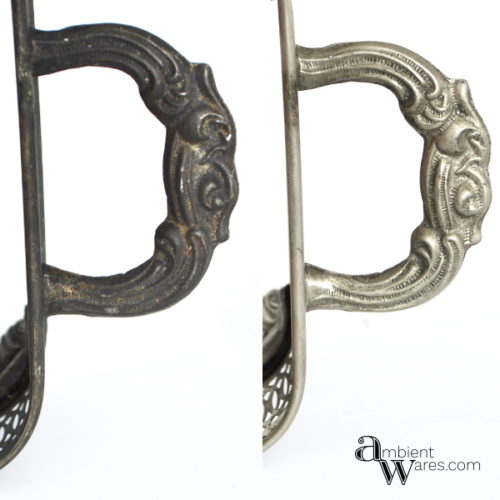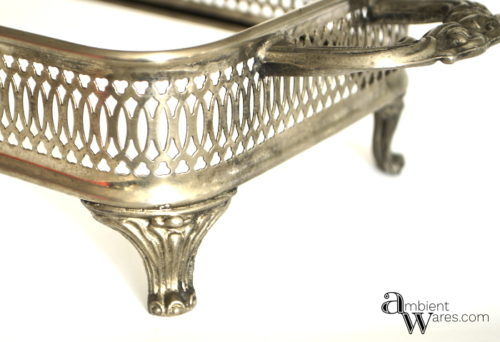 Creating the Wooden Base
The basket has small "ledges" on the inside just above the feet and I figured I would place a piece of wood inside and it could rest on those just as a casserole dish would.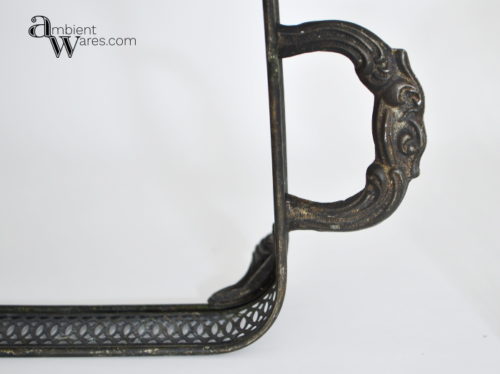 I held the gasket part up to a scrap piece of wood to make sure it wasn't too shallow or thick. I wanted it to be wedged snuggly.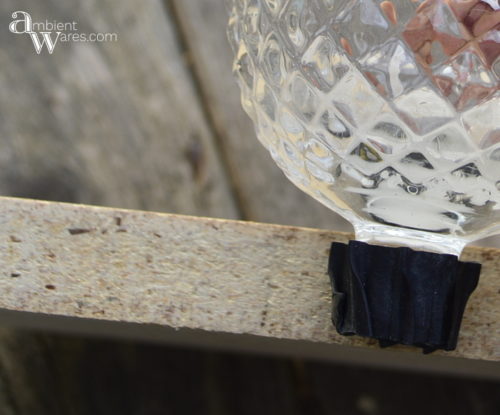 I started with a piece of MDF until I remembered having an already stained piece of real wood scrap I could use instead. This image is of the MDF. When I did make the switch to the stained piece, I made sure the stained side of the wood was facing down. I traced the inner part of the basket onto the wood and cut it out with the band saw. You could also use a jig saw but, I'm in love with the band saw 😉 I got it at a garage sale for $60 and it was pretty much brand new.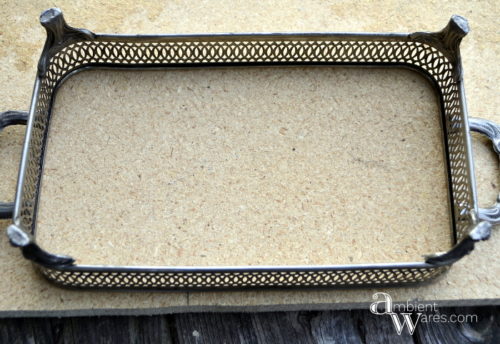 The gaskets were tapered and at their widest measured 1″ thick. The hole saw bits we have did not have a size just under an inch. It went from 3/4″ to 1″. I used the 3/4″ first but, I couldn't squeeze the gaskets in without fear of breaking the glass so I upped it to 1″. While they're kind of snug, I think they would fit better with a slightly smaller bit.
I haven't used the hole saw very much but, it definitely comes in handy. I had drilled through one side of the wood and forgot didn't even think to remove the wood that had gotten stuck.
As I working on the 2nd hole, I was wondering why the heck it was taking me forever and why it smelled like it was burning. Duh, the 1st piece was still in there. I found this video on an easy way to remove a wedged piece of wood and I wish I'd found it before because I had a heck of a time removing two pieces.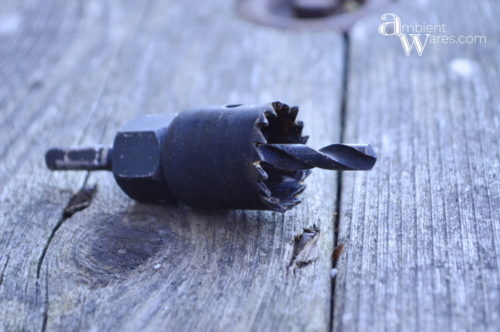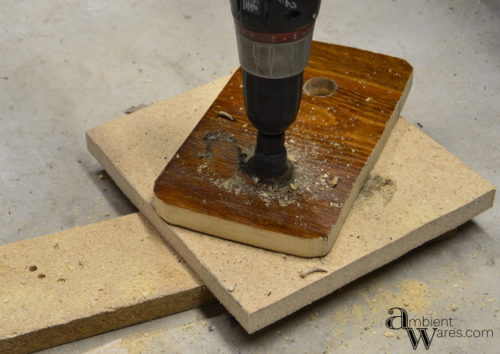 Also, all I did was eyeball where the holes would go. I marked where I would drill and made sure they weren't so close that the glasses would touch each other.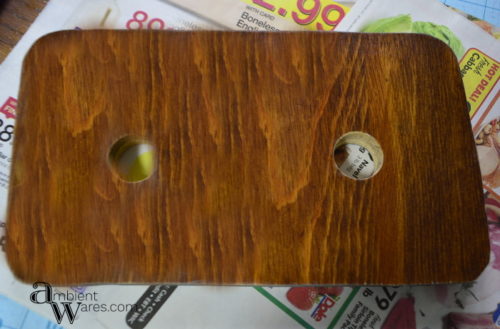 Since the sides of the wood would show through the tray, I painted them gray with craft paint and painted the bottom just because.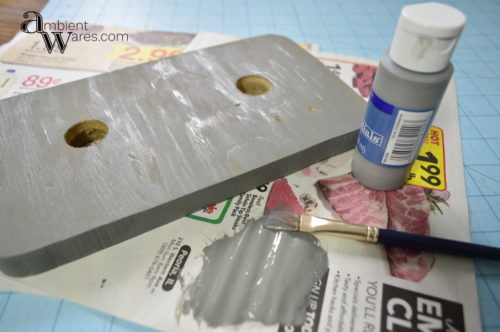 Once it was dry, I placed it inside the tray and inserted the votive holders. So, while I'm not fancy, my new centerpiece is. Kind of. Maybe not? I think it is. How about you?