I'm really excited about how my embroidery hoop mobile turned out! When I first had the idea, I thought pumpkin. Somewhere along the way, I ditched that idea and I'm glad I did. Although a pumpkin would be great and timely, I think it looks so nice in our mud room as is.  At least I used an orange theme 😉
It's really easy to make but, you might need a little patience which I don't usually have. I had glue all over the place; the floor, the scrapbook paper, my hands, because it's basically an orb and won't stay put no matter how many times you try to stand it upright.

When I trimmed off excess paper, I did so carelessly and some of the edges are a little rough but, by the time you hang it up in the air, you don't notice a thing. I'll be making more of these and I'll have my patience at the ready.
---
Please know some links in this post are affiliate links. If you click on a link and make a purchase, I receive a small commission with no extra cost to you. Thank you. Click here for my full disclosure.
---
Materials I used:
12″ wooden embroidery hoop

4 sheets of 12″ x 12″ scrapbook paper of different designs. 12″ x 12″ paper didn't completely cover the hoops as you'll see below. Just make sure your paper is larger than your hoops

Pencil
Regular scissors
Wood glue (I use this kind)
Fine tip scissors (I use this kind)
String to hang
ATTACHING THE HOOPS
I slid the inner/smaller hoop over the outer/larger hoop making sure one end slid under the tightening screw. I didn't use any glue but, you could tie it in some way to secure. I did use glue to attach the other ends and again, you could tie it.
After wiping up the glue with a damp cloth, I put a little something on top of the joined pieces to weigh it down and let it dry overnight.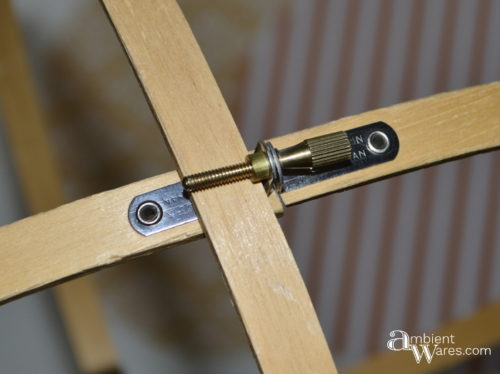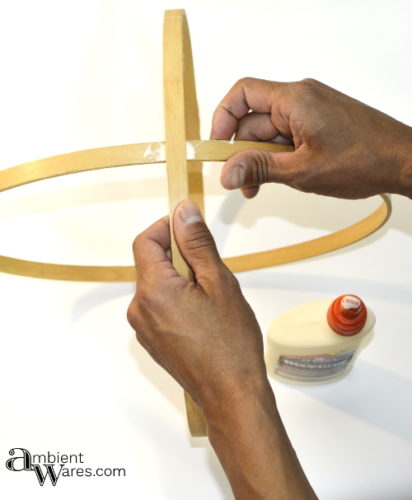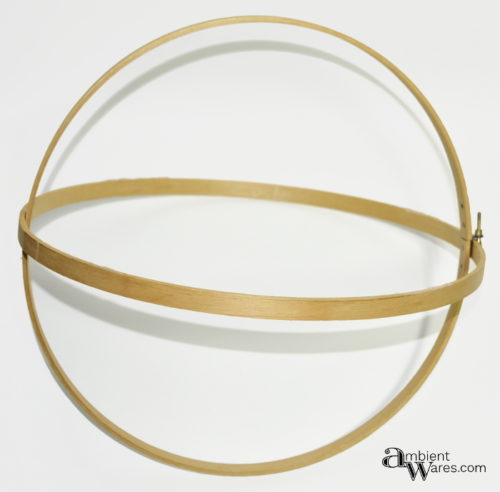 GLUING SCRAPBOOK PAPER TO HOOPS
I traced the outside of the larger hoop onto each piece of 12″ x 12″ paper and cut it out. With the hoop being 12″, the paper was actually too small but, I didn't have pretty paper larger than that. Regardless of it being just shy of fitting top to bottom, it left plenty of excess over each of the sides.
Taking one piece of scrapbook paper, I folded it in half. I didn't crease it; just a gentle fold and put the curved part (wrong side of paper) up against one section of the hoop's "frames" making sure I'd have enough of the paper to reach both sides and again, there was plenty to fill each 1/4 section of the mobile.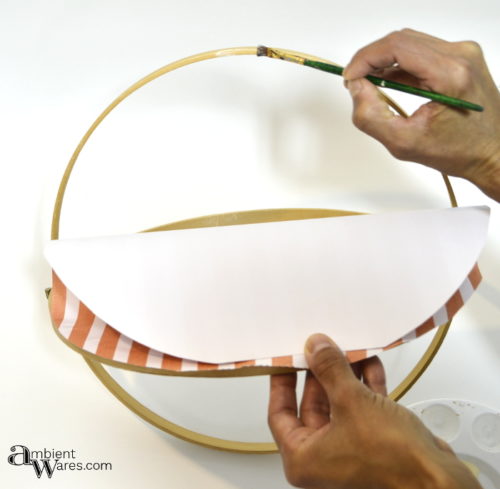 I spread the glue on one frame, pressed the paper, and did it again for the other side of the frame. I waited around 10 minutes. It'll take longer to cure but, this seemed to be a good amount of time to let it sit so the paper wouldn't continually move around on me as I finished the other sides. Now 1/4 of the mobile is covered.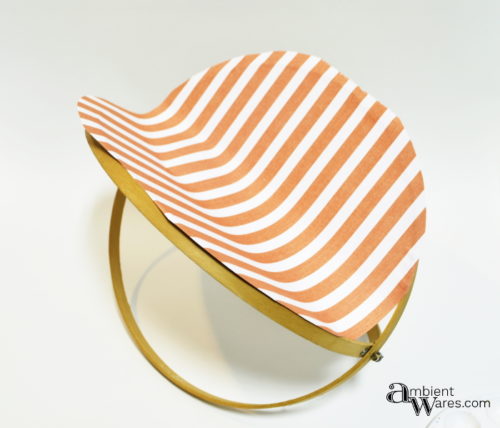 I did the same as above for each 1/4 section.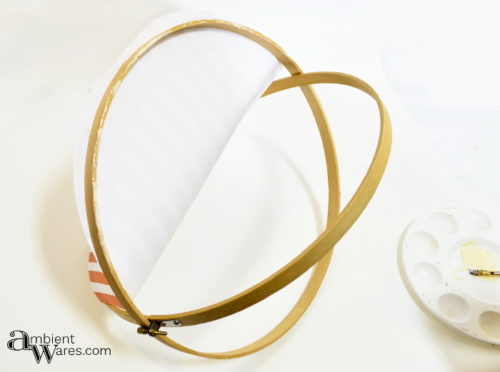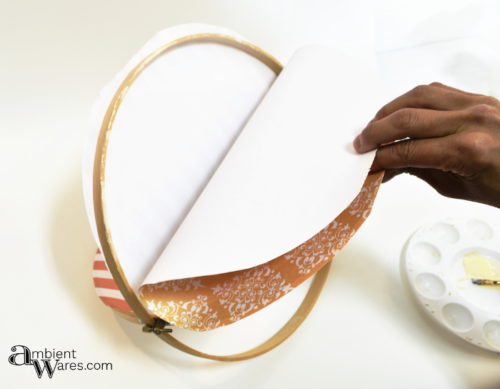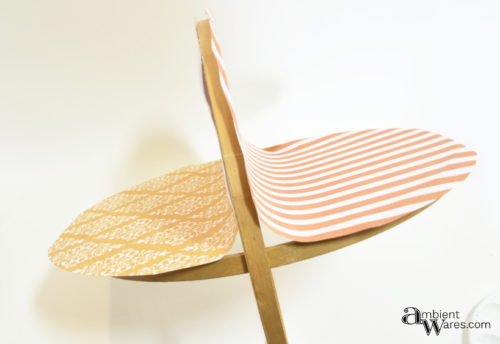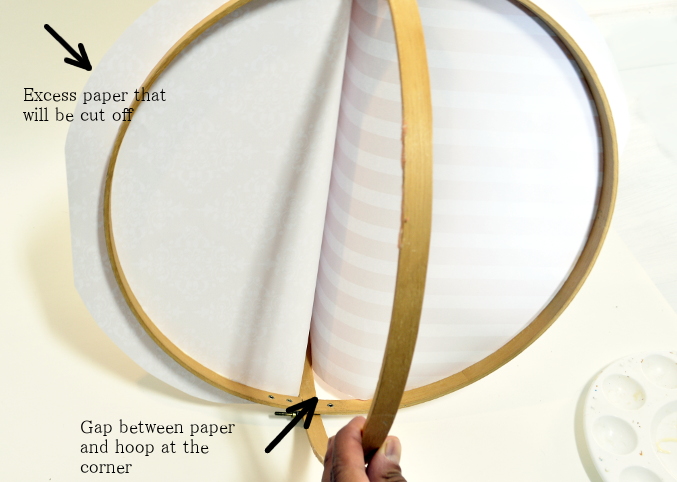 Now that all 4 sides are covered, you can see the gaps in varying degrees where I didn't push the paper in all the way. This doesn't cause a problem other than aesthetics and if you happen to have a problem with unevenness which, sometimes I do.
Since I didn't think I wanted to have a sharp crease, I was afraid to push it all the way into the corner but, now that I've done it, I could push it further in and still have a gentle curve.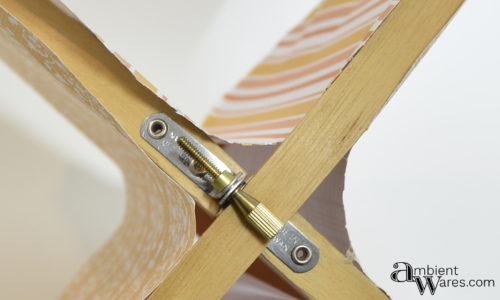 TRIMMING THE PAPER
I trimmed off the excess using my fine point scissors and went in at an angle to start, carefully snipping close to the hoop. I ended up going back and forth and all around a few times until I was happy. You may want to wait for the glue to be completely hardened…you can bet I didn't wait long enough.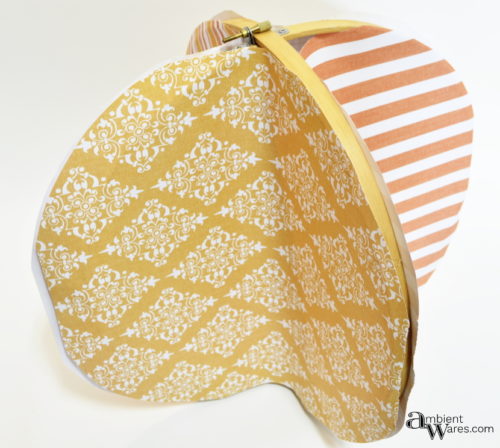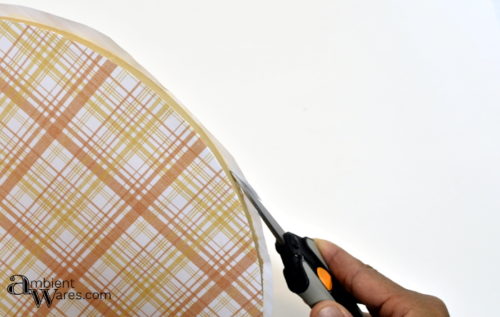 After trimming, I put a piece of string through the top and hung it in our back, catch all room. Knowing my idea actually worked has me excited to try more. Next time I'll try a couple of things:
Fabric
Plastic hoops (I use this chart to help me with what glues work best with certain materials)
Different shaped hoops
So, whaddya think?! I can't wait to make more and hang at different heights. Can't you see them in a nursery or at a shower or party?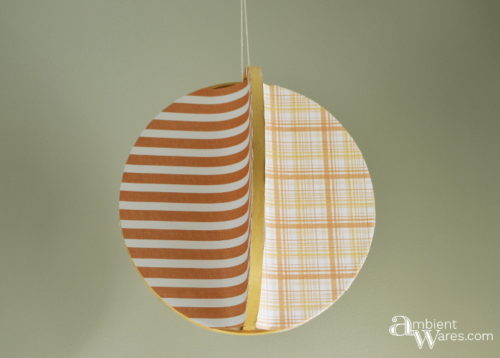 PINNY PLEASE!