Isn't old decor funny sometimes? Someone gave this old, extremely heavy clock to their mother, what? In the seventies? It was decoupaged with a poem on one side and a cheap plastic hour hand for the clock on the other side. The amount of resin or epoxy was complete insanity. I had an idea to add it to my creepy Halloween decorations.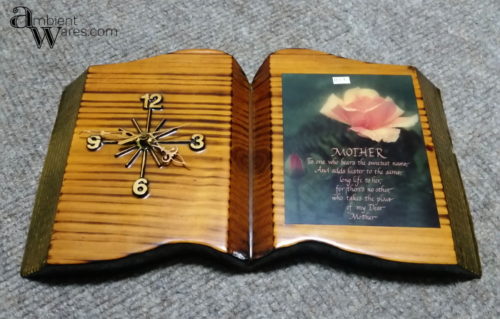 Thrift Store Clock Makeover into Creepy Halloween Decor
The first thing I did was detach the battery operated clock parts along with the hour hands.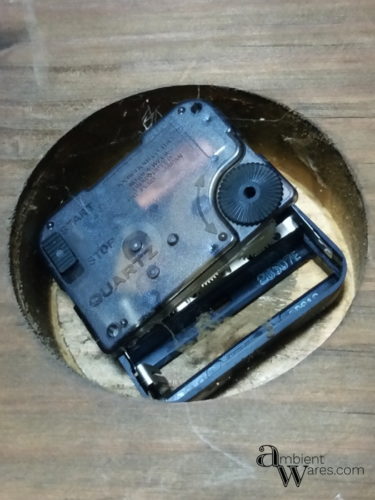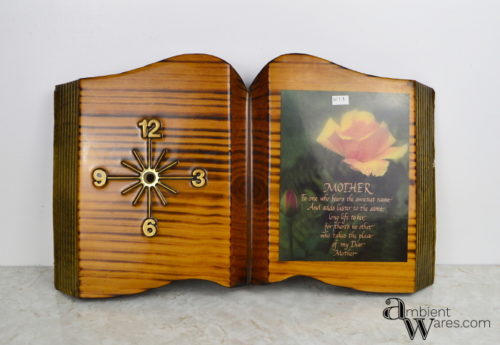 This book was also coated with the thickest resin or epoxy layer ever and I knew I wouldn't be trying to remove it, just rough it up. Can you tell how shiny it is? Using my heat gun on low and a putty knife, I waved it back and forth periodically trying to slide the putty knife under the hands and the numbers. Always watch where your hands are when using the heat gun.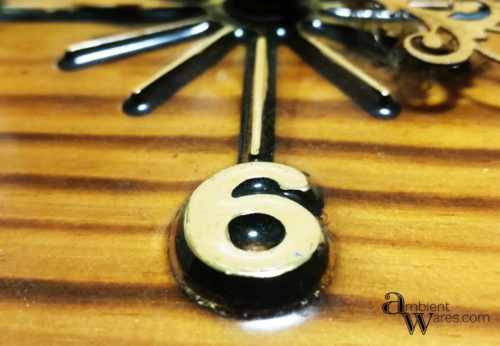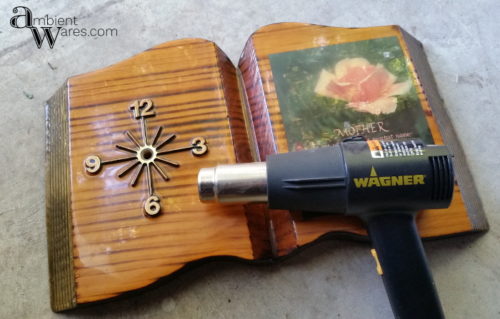 Once I got it removed, you can see the type of imprint it left behind. Again, I wasn't about to try and remove the epoxy because, #1) I didn't have to, and #2) C'mon, it's a Halloween decoration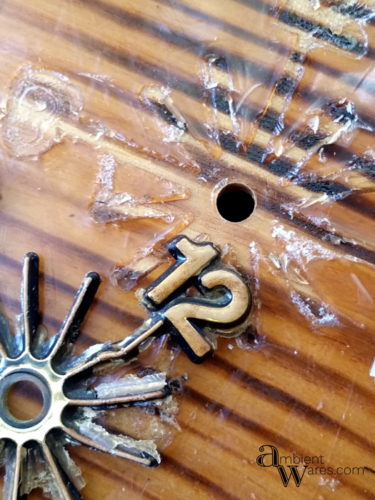 I then moved onto the belt sander with 80 grit paper and scuffed up both the left and right side. I didn't bother touching the spine or the outer edges.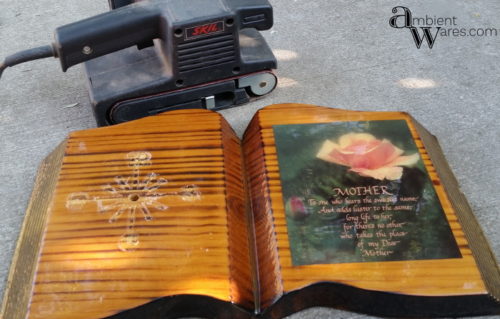 Since the poem was paper underneath all that resin, as I sanded, it went down further in certain spots over others so it left uneven spots. I had an idea to make those spots work for me as you'll soon see. You can kind of tell what I'm talking about here in the upper right hand corner.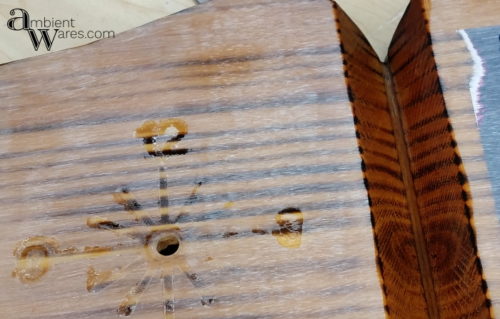 I spray painted both sides in a black matte spray paint until the wording from the poem was covered. The clock hands, as I said, left major imprints which I didn't worry about since I'll be covering it with a styrofoam skull.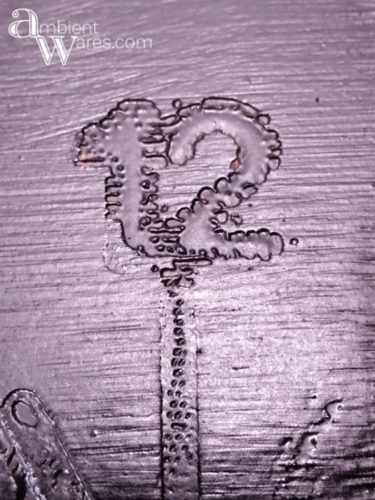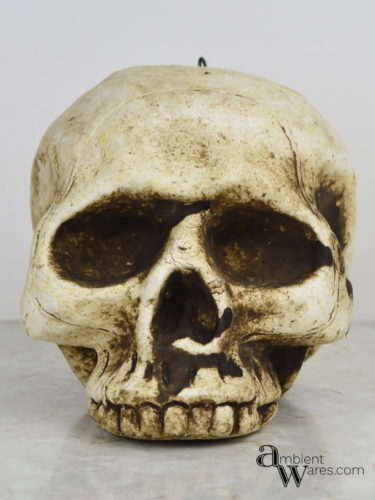 The skull however, was too thick for what I wanted so I stuck it in the bandsaw and sliced right behind the jaw line. Geez, if someone read that out of context I might just be committed.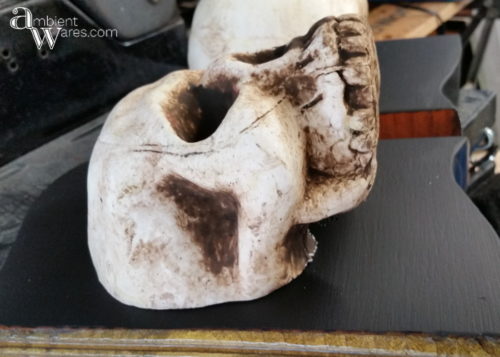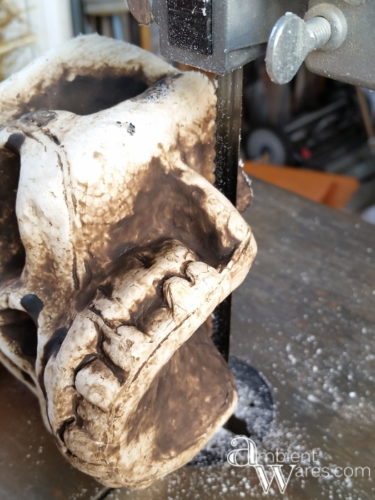 I really wanted some mirrored sheets on the right hand side so I could put some creepy Halloween related wording above or below it. I cut the mirror down to size with a utility knife. The back of the mirror has a paper you peel away and then stick on. The front of the mirror has a thin film you peel away that reveals the actual mirror part.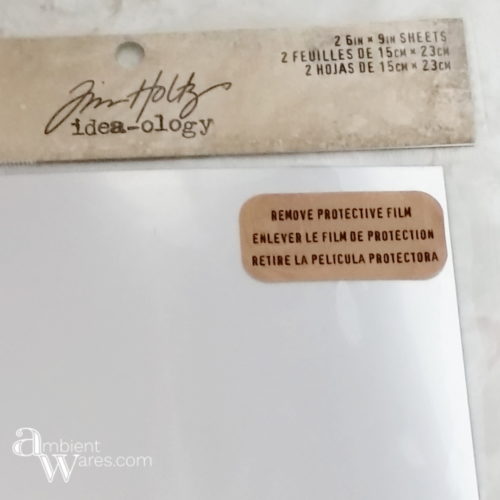 Back to the divots I talked about from sanding. I thought they'd be perfect filled with red paint to look like blood. I also used a glitter pen to write a phrase. I found the phrase on-line with no credit at all so I don't know where it came from. There was more to the wording but, I shortened it.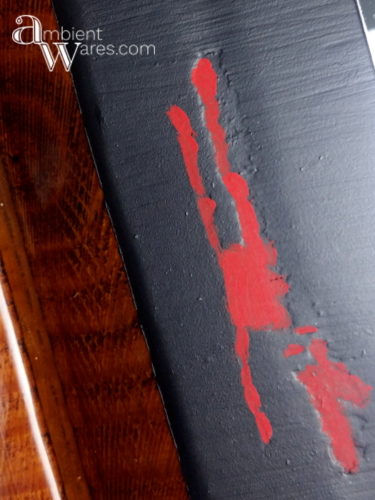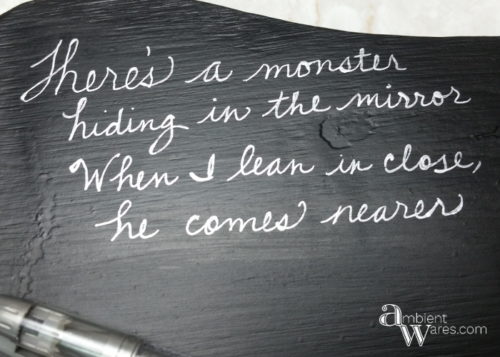 Then, I just felt like something was missing on the skull side. Have you ever heard of the Graphics Fairy? I had but, have never once visited. In scrolling through the Halloween Clip Art archives, I found it. The perfect skeleton hand that looks like it's reaching for the skull. Yep, that was the last touch, I printed it off, crudely cut it out and mod podged that sucker down.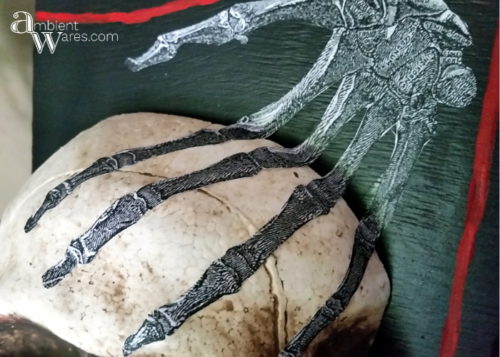 This, my friends, is one I will happily add in with other creepy Halloween decorations like the resin cups and the spooky lantern. How's the Halloween decorating going on at your house?