I received an old changing table from my sister-in-law because she knew I'd do something with it and lemme tell you, it's flattering when someone knows you'll do something with the something they give you. Sure, I can repurpose it but, what route should I go with the old table?
I've seen various projects on the web about repurposing changing tables into potting benches so I decided to go that route since we do garden and I've always wanted a potting bench.
Please know this post includes some affiliate links. If you click on a link & make a purchase, I will receive a small commission with no additional cost to you. Thank you. Click here for my full disclosure.

---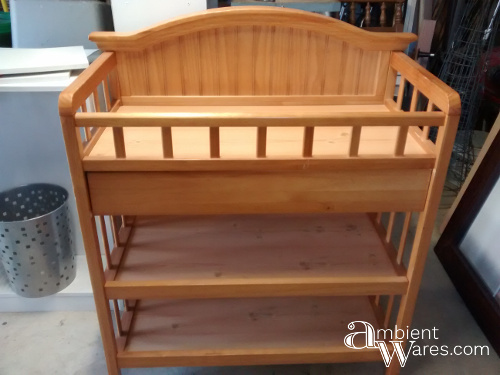 The shelves were as slick as glass so I hand sanded for what felt like days; or maybe because it did take days…many of them. I went back and forth between my old belt sander, my old palm sander, and hand sanding.
I then used numerous coats of primer using my cheap paint sprayer I got on sale at Harbor Freight for $10! I'm definitely one of those who does not trust the "no prep" claims no matter what the paint can or jar says.
It was a bit muggy on the days I began priming and it took quite a while for the paint to just dry. A few days into the process, I nicked a small spot and the paint peeled looking like what a price tag looks like when you try remove it and it becomes a little blob of a mess.
I touched up the spot I'd ruined and pretty much left it alone for about a week. Also, it seemed the spot where the paint peeled was an area I may not have sanded down enough because of being in a cramped spot. That's my excuse anyway and this is why I will never paint over slick, shiny surfaces without prepping.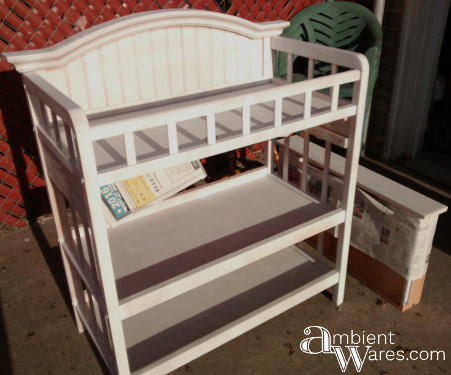 Eventually, I did flip the table over to paint the underside and the only parts I didn't worry about painting were each shelf's bottom which you can see covered in newspaper.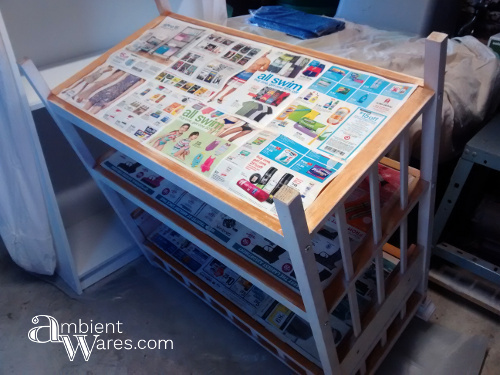 We had some leftover paint we used in our basement which was an indoor/outdoor latex paint in a bluish gray color and I finished it off by sealing with 4 coats of Pro Spar Urethane by Minwax since it too, is for outdoor use.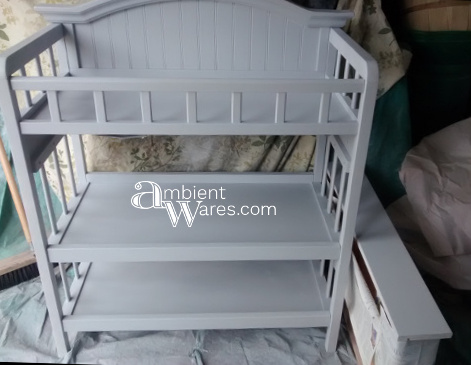 The original handles on either side were originally a bright gold color so to tone it down, I gave them a few coats of Rustoleum's Hammered Bronze.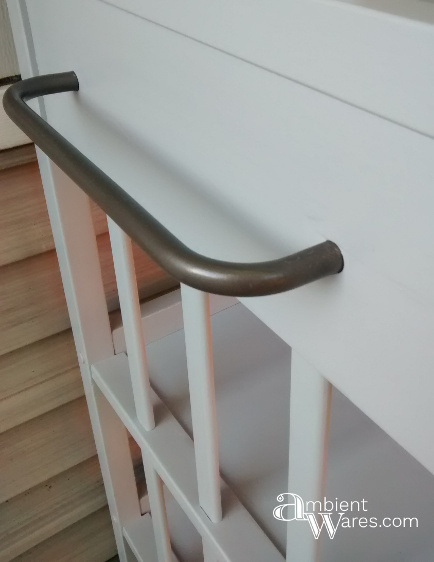 I went ahead and scuffed up a few spots and sealed those areas again but, I know we will legitimately abuse this thing in no time so I'm not worried.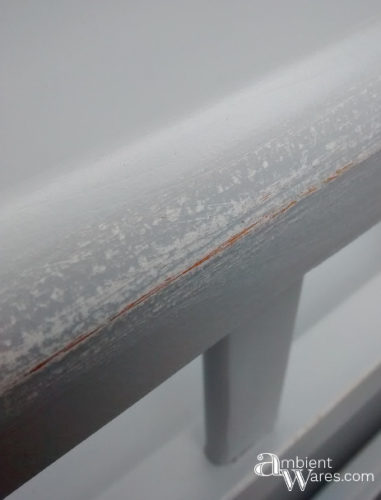 Now it can house our "soon to be planted" plants, tools, towels, etc.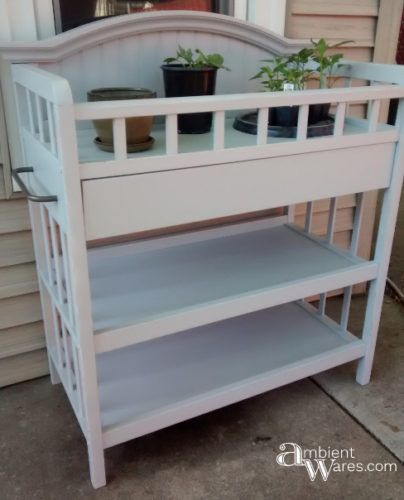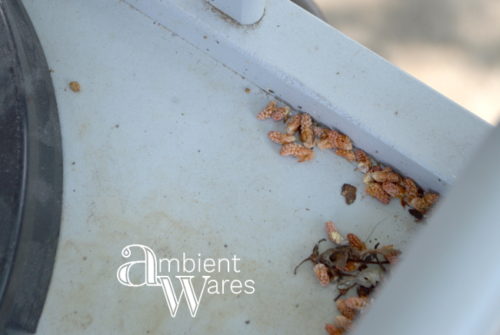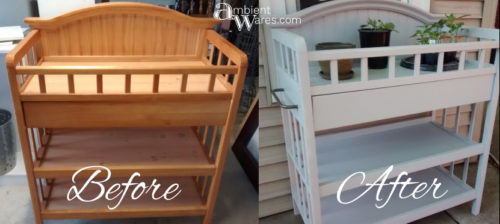 UPDATE 8 months later: I decided to leave this potting bench outside so it's been rained & snowed on. We don't have enough room in the garage for it due to all of my unfinished projects. We also don't have any overhang to protect it from the elements. I knew full well that no amount of protective sealer would hold off the eventual deterioration of the table and I was fine with that. I did think about buying a grill cover or something along those lines but, never did.
What I didn't know was that the very slick shelves I mentioned were actually a paper like coating/material. So, while the piece itself (wood pieces/frame) have held up beautifully. The paper on the shelves, have not. I knew the shelves were strange when I was painting them but, I chalked it up to being a plastic coating of some sort. Lesson learned.
This spring I'll be taking a look at it in more detail and until then, just a heads up if you have any strange, super slick looking surfaces on your changing table, be wary. I'm not even sure how I would have removed the paper had I known it was paper before starting the project.
Check out my updated post on what I did to remedy these problems.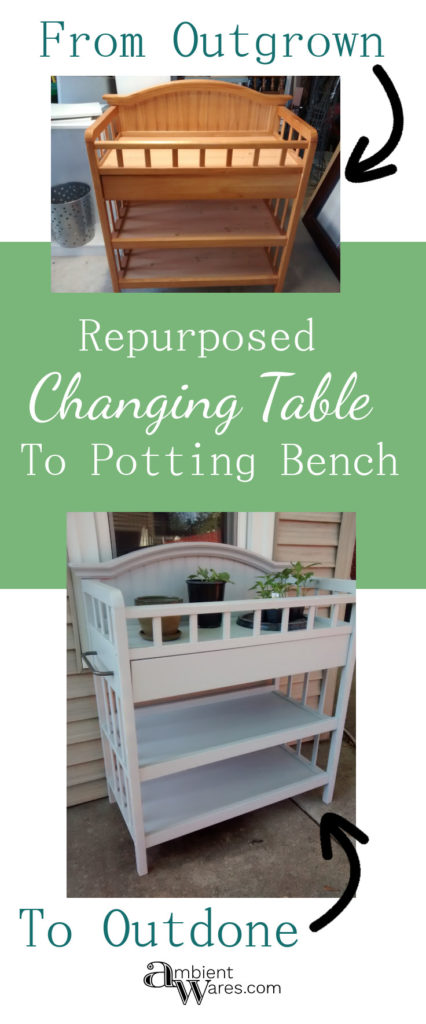 Related ambient wares posts: