I don't know what took me so long to make this furniture dolly. Instead of boo hooing about how I don't have what I need to make my furniture painting just a little bit easier, Joe and I worked together to create a simple dolly and now I can't complain. Well, I guess I can but, that's annoying. All I needed this whole time was 4 pieces of wood, some screws, bolts, a saw, and casters. Geez, coming from someone who likes to make, repurpose, and refurbish, I feel kind of pathetic that it took me so long to do what needed to be done.
We had a couple of 8′ long 2″ x 4″s in the rafters of the garage that we bought for something else. Can you believe we both can't even remember what we bought them for? This secretary was what I had in mind so the measurements are based on this.

Please know some links in this post are affiliate links. If you click on a link and make a purchase, I receive a small commission with no extra cost to you. Thank you. Click here for my full disclosure.
How to Make a Furniture Dolly
Supplies & Tools Used
(2) 8′ x 2″ x 4″
Tape Measure
Pencil
Straight Edge Ruler
Miter Saw (hand saw and miter box could be used)
3/4″ Spade Bit
3/8″ Drill Bit for Caster Stems to fit
4 Threaded Stem Casters
4 Hex Nuts
9/16″ Socket & Wrench
Drill Bit for pilot holes
(16) 3″ Wood Screws
Measurements & Layout

The base of the secretary measures 33 1/2″ x 18 1/4″. The furniture dolly measures 34″ x 18 1/2″. That leaves as little as 1/4″ if the secretary is perfectly centered on the dolly. You may be thinking it isn't a lot of room and you'd be right. It does work though.
I measured and marked the lengths of each piece, drew a line with a straight edge, and cut them down using the miter saw. I was able to get 3 of the 4 frame pieces out of one of the 8′ boards.
2 pieces = 18 1/2″
2 pieces = 34″

The 34″ pieces will sit on top of the 18 1/2″ pieces.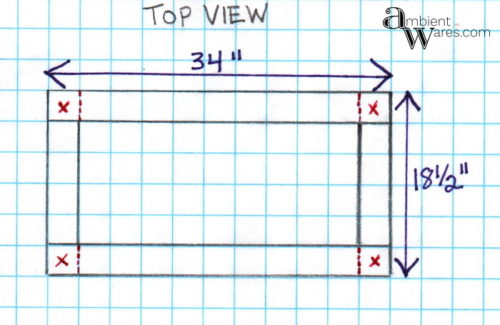 Installing the Casters
Each end of the shorter 18 1/2″ pieces were marked with an "x". This is where the stems of the casters will slide into. This is a larger version of the type of caster we used. There are much easier casters you could use like these, where you screw through a flat plate. Easy peasy. No matter which casters you use, you'll just need to consider weight, do they swivel, do you need locking, etc.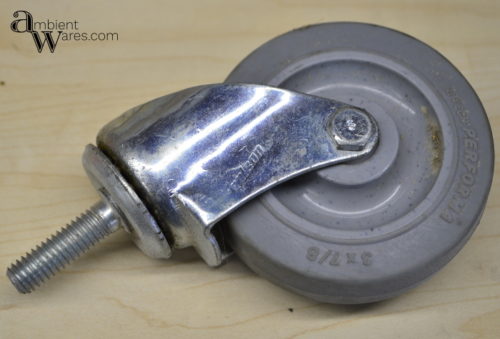 Once slid through the wood, a nut will be used to secure each caster.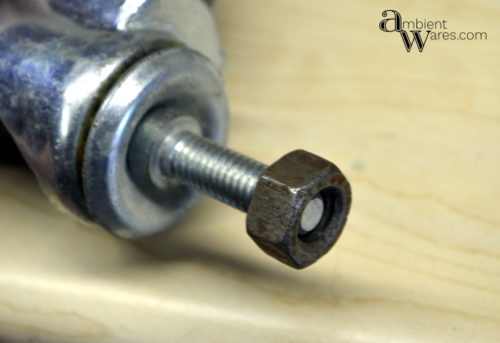 We can't have them sticking out since the longer frame pieces will be attached to the top of the shorter ones. I created a hole large enough for the nut to sit flush or a little below the wood. Using a 3/4″ spade drill bit, I drilled a hole going a little deeper than the thickness of the nut. I first marked the stopping point on the bit with tape so I didn't go too crazy.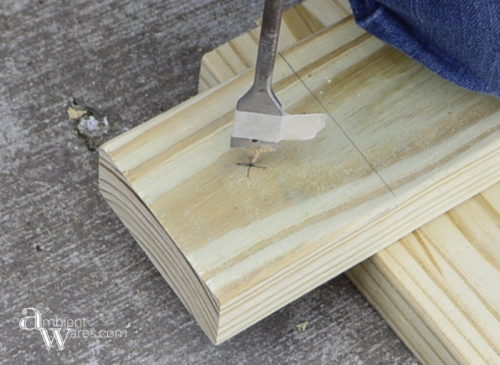 The next step was drilling 3/8″ holes straight down and through the center hole for the stems of the casters. Depending on where you're drilling, you may want to add a piece of scrap underneath. I may or may not have hit the concrete on my first piece.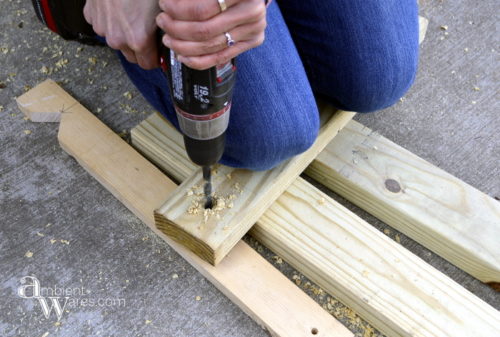 I ended up not drilling directly in the middle of the counterbored hole for the nut to fit, so I had to widen the opening using the Dremel and a sander bit going around and around.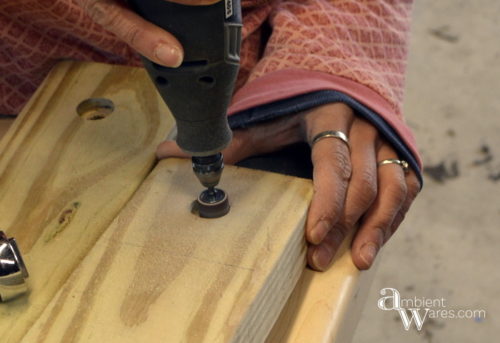 Once I could fit the nut in, I used a 9/16″ socket and wrench to tighten. Enough room is definitely needed in order to fit the nut along with the wrench.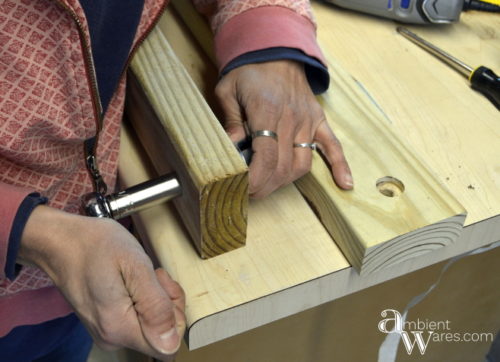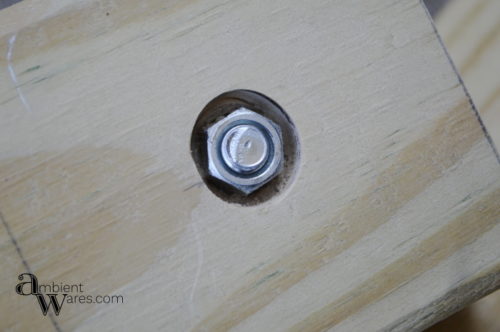 Securing the Frame

Now it's time to connect the longer pieces to the wheeled ones. Again, on the ends, an "x" was marked in the center and about 1″ from the center we marked where the 3″ screws would go. We thought the 3″ screws would end up poking out a bit in which case we'd file them off but, to our surprise, they did not stick out so just keep that in mind when choosing screw length.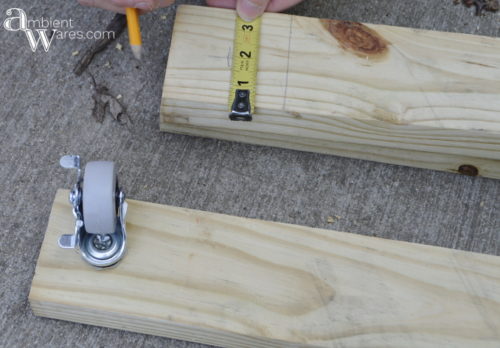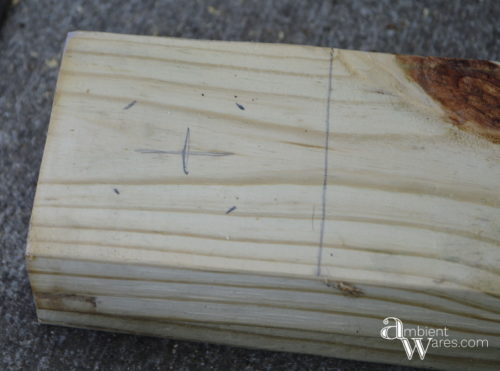 4 pilot holes were drilled and finished up with screws. We did clamp the pieces together since the screws wanted to push the pieces apart. Clamping them prevented that.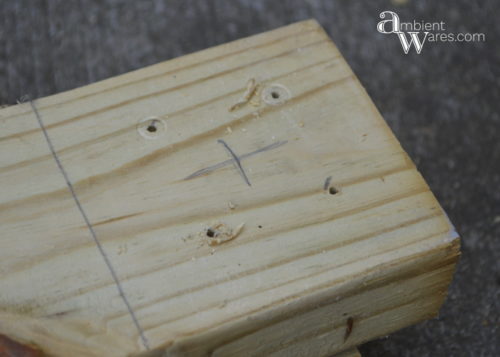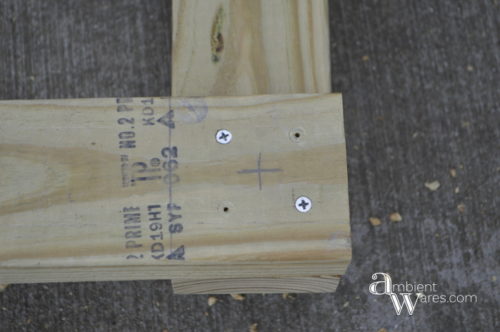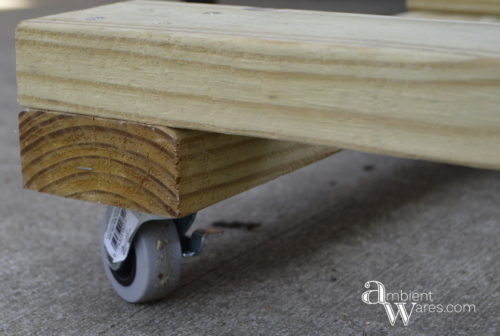 The only thing I think I'll add are some scraps of carpet on the corners for grip. Also, be aware of bumps. Our garage floor doesn't meet up flush with our driveway so I just have to remember not to run full speed ahead while pushing it. Which would never happen since I'm only running if I have to. I'm so happy I now have the furniture dolly I've always complained about not having! Grow up, Angie. Grow up.